Film, TV + Theatre
15 Addictive films and TV shows to stream in August 2023
Peak entertainment
FEATURED IMAGES: Sarah Tai for BURO Malaysia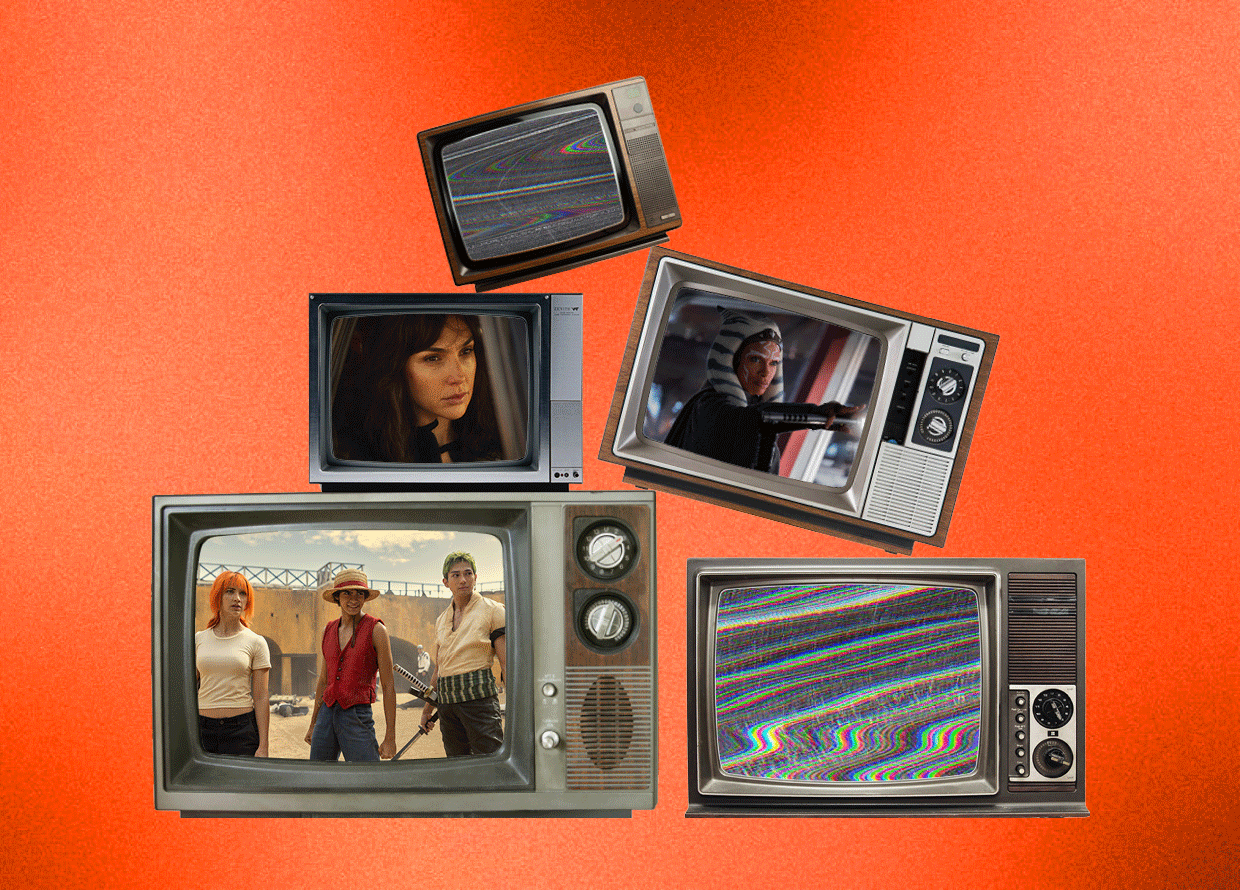 We know, we can't believe it's August either. Luckily for us, that also means a new month of binge-worthy content! From action-packed blockbusters and zombie-fests to wild adventures, here are 15 new films and TV shows to stream in August 2023.
Zom100: Bucket List of the Dead
When and where: 3 August 2023 on Netflix 
Watch if: Making a bucket list during a zombie apocalypse sounds like something you would do 
Starring: Eiji Akaso, Mai Shiraishi, Shuntaro Yanagi
Akira Tendo is the definition of a corporate slave: constantly working overtime, bullied by his superiors and with no social life whatsoever. He feels every bit like a zombie—until an actual zombie outbreak happens. Most people would see that as the end of the world but for Akira, it's a freedom like he's never experienced before! Feeling more alive than ever, he takes this opportunity to make a bucket list to do the things he couldn't do before, all the while fighting zombies along the way.
Watch here.
38 at the Garden 
When and where: 7 August 2023 on HBO GO and HBO Astro channel 411
Watch if: You remember the Linsanity phenomenon 
Starring: Jeremy Lin
Whether you're an avid basketball fan or not, you've probably heard of the Linsanity craze that blew up in 2012. When Jeremy Lin scored 38 points at Madison Square Garden with the New York Knicks, his extraordinary ascendance started a revolutionary wave that would become bigger than the sport itself. In this documentary, witness the stunning journey of Lin, an undrafted Harvard graduate, who stunned teammates and galvanised Asians around the world. 
Watch here.
Shark Week 
When and where: 7 August 2023 on Astro Discovery Channel 552
Watch if: You love anything to do with sharks
Starring: Jason Momoa
This summer, it's chomping time! Tune in to Discovery Channel's highly anticipated Shark Week, which returns for its historic 35th year. This time, Aquaman's Jason Momoa, who is dedicated to protecting and preserving our oceans, is joining along for the thrill ride as the host of Shark Week. Watch the world's greatest oceanic predator in adrenaline-inducing original content of sharks from new and continuously explored destinations, all captured on-camera by Discovery's dedicated science and research field teams.
Zombieverse 
When and where: 8 August 2023 on Netflix 
Watch if: You've always wondered what it's like to be in a zombie apocalypse
Starring: Lee Si Young, Noh Hong Chul, Park Na Rae, DinDin, Fukutomi Tsuki, Yoo Hee Kwan, Jonathan, Patricia
A zombie virus outbreak has taken over Seoul in this upcoming survival reality show. Follow a group of survivors as they try to outwit the dead in a series of challenging quests to stay alive. If you've ever wondered what it's like to be in an actual zombie apocalypse, you can live vicariously through these characters who are put in an immersive simulation! With death and deception lurking at every corner, will your favourites make the right decisions?
Watch here.
Moving 
When and where: 9 August 2023 on Disney+
Watch if: You want a South Korean version of X-Men
Starring: Ryu Seungryong, Han Hyojoo, Jo Insung, Cha Taehyun, Lee Jungha, Go Younjung, Kim Dohoon
In this super-powered South Korean drama, a group of ordinary students find themselves on the run from government agencies who discover their gifts. Based on the breakout webtoon of the same name by famed Korean author Kangfull, Moving tells the story of a trio of superpowered individuals who have kept their abilities hidden from the world in order to protect their families from harm and exploitation. Featuring an all-star cast, this highly anticipated series will show how being different doesn't always mean dangerous but special.
Watch here.
High School Musical: The Musical: The Series Season 4 
When and where: 9 August 2023 on Disney+
Watch if: You've been waiting for an HSM reunion
Starring: Joshua Bassett, Sofia Wylie, Dara Renée, Frankie Rodriguez, Monique Coleman, Lucas Grabeel, Corbin Bleu, Kaycee Stroh 
It's the High School Musical reunion we've all been hoping for! Return to East High for the show's fourth and final season that is going out with a bang. Starring characters from the original film franchise which became a worldwide sensation, the meta series sees the students of East High and other familiar Wildcats take part in the filming of a fictional HSM 4. Another reason to tune in? To see if Zac Efron, Vanessa Hudgens and Ashely Tisdale will also make a cameo!
Watch here.
Only Murders in the Building Season 3 
When and where: 9 August 2023 on Disney+
Watch if: You're obsessed with mystery crime content 
Starring: Steve Martin, Martin Short, Selena Gomez, Meryl Streep, Paul Rudd
The three true crime-loving squad is back in the Arconia to solve another mystery. In the hit whodunit, the series will start off from the previous season's major cliffhanger i.e. Paul Rudd's character suddenly collapsing at the debut of Oliver's Broadway play. Oh, and Meryl Streep is joining the cast. Enough said!
Watch here.
The Killing Vote
When and where: 10 August 2023 on Prime Video 
Watch if: You love being presented with huge moral dilemmas 
Starring: Park Hae Jin, Park Sung Woong, Lim Ji Yeon 
What happens if society has the opportunity to vote for the death penalty against criminals? This is the premise The Killing Vote presents in the upcoming 12-part series. Based on the popular webtoon of the same name, the suspense thriller drama explores the meaning of justice and an intense cat-and-mouse chase between the police and a mysterious figure who carries out the results of the death penalty vote.
Watch here.
Heart of Stone 
When and where: 11 August 2023 on Netflix
Watch if: You want to see Gal Gadot kick butt
Starring: Gal Gadot, Jamie Dornan, Alia Bhatt, Sophie Okonedo, Matthias Schweighöfer, Jing Lusi, Paul Ready 
In this high-octane film, Gadot stars as an elite secret agent Rachel Stone who works for the Charter, a covert peacekeeping organisation, which uses cutting-edge technology to neutralise global threats. When a routine mission is derailed, Stone and her team of operatives must race against all odds to retrieve the Charter's most valuable and dangerous asset: the Heart. 
Watch here.
The Monkey King 
When and where: 18 August 2023 on Netflix 
Watch if: You love the story of the Monkey King 
Starring: Jimmy O. Yang, Stephanie Hsu, Hoon Lee, Jo Koy
It's the classic Chinese mythological legend that we're all familiar with—this time, in stunning animation. The action-packed family comedy follows the charismatic monkey and his magical fighting stick on an epic journey to reach immortality. Tune in as he battles over 100 demons, dragons, gods, and his biggest adversary of all, his ego.
Watch here.
Star Wars: Ahsoka 
When and where: 23 August 2023 on Disney+
Watch if: Ahsoka is your favourite Star Wars character 
Starring: Rosario Dawson, Natasha Liu Bordizzo, Mary Elizabeth Winstead, Ray Stevenson, Ivanna Sakhno, Diana Lee Inosanto, David Tennant, Lars Mikkelsen, Eman Esfandi
A beloved character from The Mandalorian, Ahsoka Tano returns in her own eponymous series. Set after the fall of the Empire, Star Wars: Ahsoka follows the former Jedi Knight as she investigates an emerging threat to a vulnerable galaxy. The Force-sensitive Togruta is best known as the former Jedi Padawan of Anakin Skywalker and was first introduced in the animated series, Star Wars: The Clone Wars in 2008.
Watch here.
Invasion Season 2 
When and where: 23 August 2023 on Apple TV+
Watch if: Alien invasions are your thing 
Starring: Golshifteh Farahani, Shioli Kutsuna, Shamier Anderson, India Brown, Billy Barratt, Azhy Robertson, Paddy Holland, Tara Moayedi, Enver Gjokaj, Nedra Marie Taylor, Naian González Norvind
Strap in for the second season of Apple TV's gripping sci-fi series. Invasion is a sweeping, character-driven series that follows an alien invasion from different perspectives around the world. In season two, the aliens have evolved to become deadlier than ever. But with their survival at stake, the surviving humans must adapt and evolve to give themselves a fighting chance. 
Watch here.
Wanted: The Escape Of Carlos Ghosn
When and where: 25 August 2023 on Apple TV+
Watch if: You want to know how a CEO turned into a fugitive
This riveting four-part documentary, Wanted: The Escape Of Carlos Ghosn tells the shocking story of Ghosn's fall from grace from a successful CEO to a wanted fugitive. Exploring his relentless climb to the top of the corporate ladder, his arrest in 2018 and his unbelievable escape that stunned the world, the series will feature never-before-seen interviews and in-depth access from key players of the saga—including the man himself who tells his side of the story for the first time.
Watch here.
One Piece
When and where: 31 August 2023 on Netflix 
Watch if: You're a fan of the manga and/or anime 
Starring: Iñaki Godoy, Mackenyu, Emily Rudd, Jacob Romero, Taz Skylar 
In this live-action series based on the bestselling manga by Eiichiro Oda, get ready to set sail for a pirate adventure like no other in One Piece. Follow Monkey D. Luffy and his crew of bandits as they explore a fantastical world in search of the world's greatest treasure in order to become the next Pirate King.
Watch here.
Choose Love 
When and where: 31 August 2023 on Netflix 
Watch if: You want to choose your own destiny 
Starring: Laura Marano, Scott Michael Foster, Avan Jogia, Jordi Webber 
In Netflix's first-ever interactive rom-com, Cami Conway's love life is in your hands! Between the steady boyfriend, the charming rock star and the one who got away, who will you choose for her? Tough and tempting decisions have to be made so choose wisely! 
Watch here.
For more TV shows and film recommendations, head here.
| | |
| --- | --- |
| SHARE THE STORY | |
| Explore More | |