From teen rom-coms to sci-fi horror flicks, these must-watch films and TV shows are the perfect way to kick-off the second month of 2021
Have you been scouring the internet for the past hour and still have no idea what to watch? Look no further than our guide to the most anticipated movies and TV shows coming your way this February:
Kung Fu Hustle
When: Available now
Where: Netflix
Starring: Stephen Chow, Danny Chan Kwok-kwan, Yuen Wah, Yuen Qiu, Leung Siu-lung, Xing Yu, Chiu Chi-ling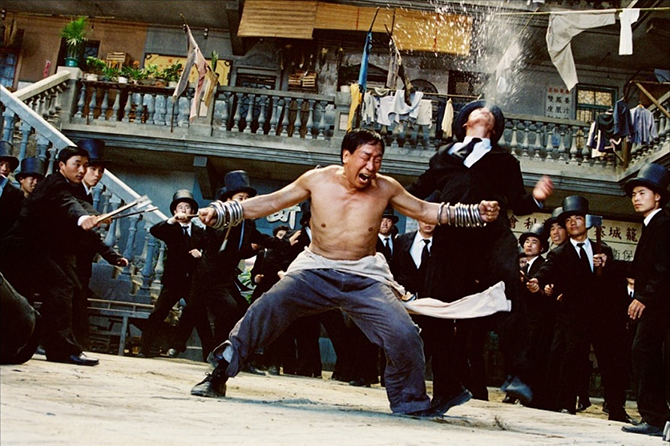 Who can ever tire of this classic comedy that is practically a must-watch every Chinese New Year? The 2004 martial arts film directed by Stephen Chow is a cult favourite—a story of an aspiring gangster trying to terrorise a neighbourhood yet unbeknownst to him, three kung fu experts live there and are ready to teach him a lesson.
Space Sweepers
When: 5 February
Where: Netflix
Starring: Song Joong-ki, Kim Tae-ri, Jin Seon-kyu, Yu Hae-jin, Kim Dae-han, Park Ye-rin
February is seemingly Song Joong-ki's time to shine. You can expect two upcoming releases this month featuring the actor as the protagonist—in both Space Sweepers and Vincenzo. Space Sweepers is said to be his first project since the historical fantasy drama Arthdal Chronicles back in 2019, and many of his fans have been eagerly awaiting for this film's release. This K-movie tells the story of four misfits chasing after space debris and faraway dreams in the year 2092—together, they unearth secrets during the attempted trade of a wide-eyed humanoid robot.
READ: 7 Upcoming Korean drama series to binge-watch this February 2021
Malcolm & Marie
When: 5 February
Where: Netflix
Starring: Zendaya, John David Washington
Emmy-award winning actress Zendaya lends her acting and producing chops for black and white strident romantic film, Malcolm & Marie. Not only that, the film was written and directed by the acclaimed creator of HBO's successful dark-teen drama, Euphoria, that garnered a substantial amount of buzz globally. Malcolm & Marie tells the story of a lovers spat that occurred after the couple returns home from Malcolm's (John David Washington) latest movie premiere. While giving a speech, he forgets to acknowledge Marie—which led to a tempestuous discussion that will eventually test the strength of their love for each other.
Unpregnant
When: 6 February, 9pm
Where: HBO GO and HBO (Astro Ch 411 HD)
Starring: Haley Lu Richardson, Barbie Ferreira, Alex MacNicoll, Breckin Meyer, Giancarlo Esposito, Sugar Lyn Beard, Betty Who, Mary McCormack
Based on the novel of the same title by Jenni Hendriks and Ted Caplan, the film follows the journey of Veronica, (Haley Lu Richardson) a star student who somehow finds herself in a sticky situation. After making her choice to abort her foetus, she resolves to asking her ex-best friend for a favour—to drive her to an abortion clinic located a thousand miles away. During the road trip, Veronica and Bailey (Barbie Ferreira) begin to rediscover their friendship.
To All The Boys: Always and Forever
When: 12 February
Where: Netflix
Starring: Lana Condor, Noah Centineo, Jordan Fisher, Anna Cathcart, Janel Parrish, Ross Butler, Madeleine Arthur, Emilija Baranac
Arriving just in time for Valentine's Day, the third and final instalment to Netflix's romantic comedy franchise is here. The To All the Boys I've Loved Before franchise that started with an old love letter is finally coming to a poignant end. Adapted from Jenny Han's famous young adult trilogy that blew up in 2014, the latest film explores the next big step in Lara Jean's (Lana Condor) life as she moves to college, which causes a rift between the two. Will she and Peter (Noah Centineo) be able to work their way through the storm?
Birds of Prey
When: 13 February, 9pm
Where: HBO GO and HBO (Astro Ch 411 HD)
Starring: Margot Robbie, Mary Elizabeth Winstead, Jurnee Smollett-Bell, Rosie Perez, Chris Messina, Ella Jay Basco, Ali Wong, Ewan McGregor
Just like the Avengers, DC Comics has also formed their very own squad, well, besides the Justice League of course. After Harley Quinn dumped the Joker, she teams up with the ultimate villains of Gotham City such as Huntress, Black Canary and Renee Montoya in order to save a young girl from the city's tyrant Roman Sionis—all while creating more malevolent mayhem.
Animals on the Loose: A You vs. Wild
When: 16 February
Where: Netflix
Starring: Bear Grylls
British adventurer, environmentalist and survival expert Bear Grylls is finally returning to our screens. Instead of the typical venturesome series, Animals on the Loose will be an interactive movie that's similar to Black Mirror: Bandersnatch—a complex and engaging film that allows the user to direct the course of the story. With this movie, you can decide Grylls's actions i.e. whether he climbs a tree or hides under a van to escape a ferocious lion.
The Invisible Man
When: 27 February, 9pm
Where: HBO GO and HBO (Astro Ch 411 HD)
Starring: Elisabeth Moss, Aldis Hodge, Storm Reid, Harriet Dyer, Michael Dorman, Oliver Jackson-Cohen
The Invisible Man is a sci-fi horror film that tells a terrifying modern tale of obsession where Cecilia Kass (Elisabeth Moss) is trapped in a violent and controlling relationship with a wealthy and genius optics engineer. As she tries to escape from the toxic relationship, her husband apparently commits suicide and leaves her a portion of his immeasurable fortune. Convinced that her husband's death was a trick, she desperately tries to prove it to the authorities who instead locked her up in an asylum.
For January's movie and TV recommendations, click here