Film, TV + Theatre
7 Classic black and white movies to watch this festive season
Perennial favourites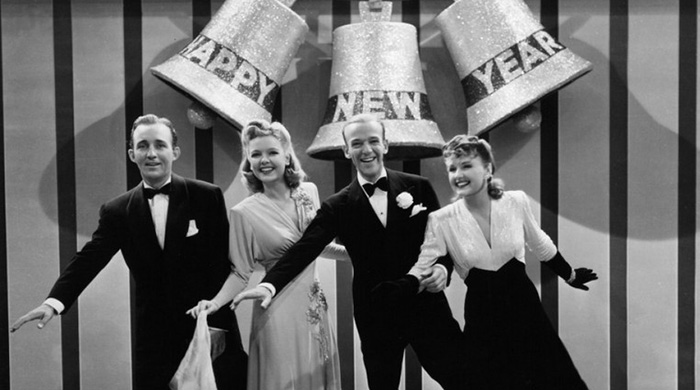 Babes in Toyland (1934)
Based on Victor Herbert's 1903 operetta of the same name, the Laurel and Hardy musical film takes place in a fantastical world of nursery rhymes, where they scheme to raise money and pay off the mortgage on Mother Peep's shoe home so that Little Bo Peep doesn't have to marry the evil Barnaby.
The Thin Man (1934)
Not quite your typical holiday movie, but this comedy-mystery set at Christmastime follows the lead characters Nick and Nora (played by William Powell and Mryna Loy) as they throw a Christmas Eve party in their hotel room and get swept up in a murder mystery case. With snappy dialogues and great chemistry between the leads, it makes for a fun holiday film.
The Shop Around the Corner (1940)
Have you watched You've Got Mail starring Tom Hanks and Meg Ryan? Well, that was loosely based on this 1940 classic – and this is arguably better. The romantic comedy tells the story of Alfred Kralik (James Stewart) and Klara Novak (Margaret Sullavan), two co-workers at a gift shop in Budapest who can't stand each other, but they are also pen pals – but they don't know the latter fact yet.
Holiday Inn (1945)
There is no going wrong when you have charismatic Hollywood's Golden Age stars Bing Crosby and Fred Astaire in one production. Holiday Inn is about a crooner (Crosby) and hoofer (Astaire) who vie for the affection of the same woman while operating a hotel that is only open on the holidays. This is also the film where the classic Christmas song 'White Christmas' made its debut.
It's a Wonderful Life (1946)
It would be a crime to talk about classic black and white holiday films and leave out It's a Wonderful Life – that is how wonderfully it captures the spirit of Christmas. Another James Stewart film on the list, here the actor's character George Bailey is a man who has given up his dreams in order to help others, and his imminent suicide on Christmas Eve sees the intervention of his guardian angel. It is a bittersweet, heartwarming film that has rightfully earned its place as one of the best Christmas movies of all time.
Scrooge (1951)
There has been numerous retellings of the Charles Dickens' classic A Christmas Carol in which three ghosts visit Ebeneezer Scrooge in an effort to make him less grumpy, and more cheerful about Christmas, but nothing is quite like this 1951 original that stars Alistair Sim in the titular role.
A Miracle on 34th Street (1947)
If Sim set the standard for Scrooge, Edmund Gwenn did it for Santa Claus in this perennial Christmas film. Gwenn plays an old man by the name of Kris Kringle, who fills in for an intoxicated Santa actor during the Macy's Thanksgiving Day Parade and tries to restore belief in a skeptical little girl named Susan, while her mum Susan tries to keep her grounded.
You may also like…
H&M and Wes Anderson come together for a Christmas film
Upcoming movie remakes that are in the works
For the monochrome lover: B&W outfits to wear this festive season
| | |
| --- | --- |
| SHARE THE STORY | |
| Explore More | |