From a workshop session to a scratch off movie poster gift, this is a list you need to look through!
It's almost that time of the year again where most of us would say: "I have no idea what to get for (insert person's name here) this year". Fear not, say goodbye to the dreadful process of finding the perfect gift; we have you covered! Our list here is made up of fun, humorous, and creative gift ideas that you can dive through, making your Christmas shopping easier and stress-free.
Side note: While it's tradition to get presents for others, you can also find something for yourself. Who's to say Christmas is a season only to gift others? Be kind and treat yourself to a deserving jolly splurge to end the year with a stellar gift!
Shin-Kintsugi workshop by Genevieve Ang @ Snackfood, Bangsar
The best gifts don't always have to come wrapped — as part of bringing a meaningful end to the year, Snackfood presents its collaboration with Gellyvieve for a special workshop on Kintsugi. It is the Japanese art of mending imperfections and flaws on unwanted or old ceramics, with gold. It is also a way to convey the beauty of one's healing from the individual's own brokenness. Participants can transform broken ceramic pieces into earrings, brooches and clips. Materials are provided but they also encourage you to bring your own unwanted ceramics. An ideal gift for those who love all-things art and creative!
When: 30 November and 1 December 2019. For more information, visit here.
Where: You can book your seat(s) here. Just drop Snackfood a DM and you're set!
Price: RM250 per pax for 2.5 hours
Lego Harry Potter advent calendar
This Christmas, get a geeky present for your Potterhead friends or family members. The advent calendar has 24 doors, consisting of Lego toys from Harry Potter movies, including 7 minifigures such as Harry Potter, Hermione Granger, Ron Weasley and more. Fans can also recreate the memorable holiday scenes from the movies, notably the Christmas dinner in the Great Hall and the arrival at Hogwarts Express. Another bonus gift recommendation—there is also a Lego Star Wars Advent Calendar, perfect for fans to get psyched this festive season!
Where to purchase: For the Lego Harry Potter Advent Calendar, visit here. | For the Lego Star Wars Advent Calendar, visit here.
Price: RM129.90 | RM149.90
100 Movies Bucket List Scratch Off Poster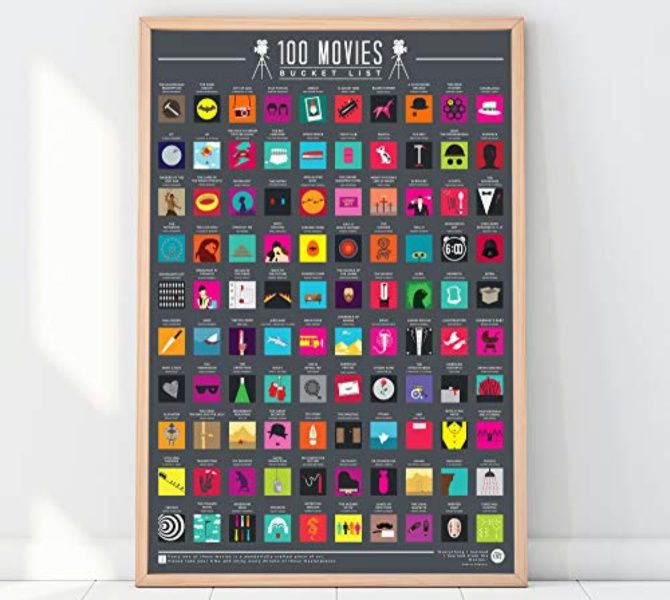 The scratch off poster features 100 must-see movies, ranging from classic films to cult favourites, animations, and modern blockbusters such as The Lord of the Rings (2001 – 2003), The Rocky Horror Picture Show (1975), Spirited Away (2001), and Her (2013). This is definitely a fun gift for cinephiles, or budding movie buffs to get adventurous. Bonus: There is also a scratch off poster for bibliophiles—a '100 Books Bucket List Poster' that features 100 must-read titles, varying from Alice's Adventures in Wonderland and Macbeth to The Kite Runner and The Girl with the Dragon Tattoo.
Where to purchase: For '100 Movies Bucket List Scratch Off Poster', visit here. For '100 Books Bucket List Scratch Off Poster', visit here.
Price: $14.99 for the movie poster (approximately RM62) | $13.90 for the book poster (approximately RM57)
Louis Vuitton I (RED) candle
Louis Vuitton is joining hands with (RED), a non-profit organisation to raise money for the Global Fund in the fight against AIDS. You can check out how (RED) and Global Fund are working to help defeat AIDS here. For her, for him, for anyone—Louis Vuitton's Master Perfumer Jacques Cavallier Belletrud created the candle's fragrance with the finest-quality natural ingredients. The perfumed concoction uses peony flowers to achieve a calming scent of sweet, not-too peppery, and floral olfactory notes while raspberries add fruity accents. The candle's white ceramic holder is engraved with Louis Vuitton's name, and topped with the signature Louis Vuitton hand-sewn, natural leather handle. It comes complete with a stunning red-coloured box too. For each candle sold, USD 60 (approximately RM250) is donated directly to the Global Fund.
Where to purchase: Louis Vuitton Marina Bay Sands, Ngee Ann City, Changi and Ion Singapore and online.
Price: RM840
Aesop: the book
The linen-bound, 336-page hardback chronicles Aesop's earliest history to its present day, in an intimate and reflective story—it's an exclusive behind-the-scenes look into the innovative ideas that were carried out, from product formulation to design spaces. The book has a good mix of photographs shot in natural lighting by Yutaka Yamamoto, archival images as well as narratives from founder Dennis Paphitis and author Jennifer Down. An ideal gift for aesthetes, design enthusiasts, and curious readers. This gift would also make a good coffee table book.
Where to purchase: Aesop's Pavilion store and online.
Price: RM330
Rock paintings by Bojen Low
Ever joked with a friend or a loved one that you will be gifting them a rock? Well, that idea is not far-fetched now; you can do it for real this time. The artist, Bojen Low does acrylic paintings on beautifully-shaped rocks that balance well on its base by 'standing' or 'sitting'. Each rock is meticulously and individually hand-painted with intricate details. In addition, his artworks feature many types of adorable animals, ranging from dogs to Star Wars' Chewbacca (check them out here)! Definitely an interesting gift for someone to have as an art display on their tables, coffee tables or shelves.
Where to purchase: You can liaise with the artist directly here. Drop him a message!
Price: Depends on the art pieces, starting price is at RM70.
Ceramic dinnerware by @bendangstudio_official
It doesn't hurt to add to one's dinnerware collection, especially when it comes to aesthetically pleasing ceramic goods. Bendang Studio is a local brand that offers a variety of well-made ceramic dinnerware sets that come in artistic and abstract designs. This would be an exciting gift for the minimalist, contemporary design lovers, or just someone who love having their meals with visually stunning plates. Look out for the Christmas collection launching on 13 December.
Where: Lot 2-5, Level 2, The LINC KL, 360 Jalan Tun Razak, 50400 Kuala Lumpur
Price: Depends on the items, you can check with them here. Drop them a DM!
Parody Parlour's wall art prints
If someone you know is into pop culture and art, you might just find the right gift here. Parody Parlour is a local homegrown brand that incorporates humour and pop culture references into its collection of artworks. Their creative designs come in extremely high-quality canvas prints; ideal for a room decor. Some parodies include The Joker as Ronald McDonald, Johannes Vermeer's Girl with a Pearl Earring, and Edvard Munch's The Scream. A must-not miss gifting for those with a sense of humour! Swipe through the gallery above and see for yourself; guarantee to send anyone into a fit of laughter, or smirk!
Where to purchase: You can get the prints online or shop at A Day Lifestyle at Intermark Mall, KL
Price: Starts from RM150, depending on the sizes and frames
Marks & Spencer Christmas baubles and tree decorations
Christmas is not complete without a seasonal gift! Marks and Spencer is most certainly not playing when it comes to the holiday season. A few must-have adorably fun ornaments and tree decors include a dog with a party hat bauble; rose gold luxury glass baubles; London's iconic postbox, cab, bus and Big Ben; a traditional twist nutcracker; and fairy and Santa tree decorations. If you're looking for something more than ornaments—the M&S Christmas Nutcrackers would look fabulously seasonal as a table decor. Comes in three different colours: Nordic Wonder Nutcracker Decoration, Traditional Twist Nutcracker Decoration, and Bronze Nutcracker Hanging Decoration.
Where to purchase: Available at Marks & Spencer KLCC store and online.
A Masterclass workshop
For someone who is looking to improve in an area of expertise (but also don't have the time), this is just the gift for them. Masterclass is a flexible and convenient platform that provides a wide variety of online classes, taught by industry experts at the top of their game. The online classes are conducted in a one-to-one class format, allowing viewers to understand the lessons easily, making it personalised and conversational. Featuring Helen Mirren, David Lynch, Martin Scorsese, Gordon Ramsay, Natalie Portman, Margaret Atwood, and more; Masterclass includes subjects such as photography, writing, filmmaking, acting, cooking, and so many more. (PS: it's also nice to take a break from all the Christmas wrappings! Gah!)
Where: Check out the "Browse" section (top right) when you click here.
Price: $90 (approximately RM373)
For more holiday content, visit our Buro Christmas Village.