The shade is a go-to amongst male K-pop idols for its ability to portray everything from masculine energy, boyish charm to even delicate grace. We can't possibly list all the male K-pop stars that gave the bold hue a go (we would be here forever) but we can certainly list the ones that have left an impression in recent years.
BTS v
---
With a face that was voted 'The Most Handsome Man in the World' consistently on polls every year, V has tried a myriad of colours throughout his musical career in boyband phenom BTS. From pastel washes to eccentric hues, V has pretty much covered most of the colour wheel. But the vibrant cherry red hair that he debuted on the 2018 MAMA red carpet was a true fan-favourite. The vocalist also ditched the usual move to dye his eyebrows the same shade which worked great in drawing more attention to his sharp and distinct features. Minimal eye makeup which only consisted of lightly lining the waterline with a maroon eyeshadow and ruby earrings were nice accents to make the flaming head of hair the highlight.
BIGBANG G-DRAGON
---
Tenor
Uh, can we say iconic? Of course, we had to include the 'King of Kpop', G-Dragon himself–leader of the legendary group BigBang (admit it, even if you're a non-K-pop fan, you still know of him). Bang Bang Bang was undoubtedly the headbanging K-pop song of 2015 for many reasons–a big one being G-Dragon's jaw-dropping red-haired look. Like the maximalist that he is, the rapper went all out to sell it, and that he did. From his intense kohl-lined eyes, frosty blue contacts to the splattering of gold glitter all over his face and neck, the makeup was the perfect blend of sensual allure and crazy firecracker energy, much like the artist himself. Paired with a buzz cut and the popular wet hair trend, the whole ensemble was truly a sight to behold.
SEVENTEEN THE8
---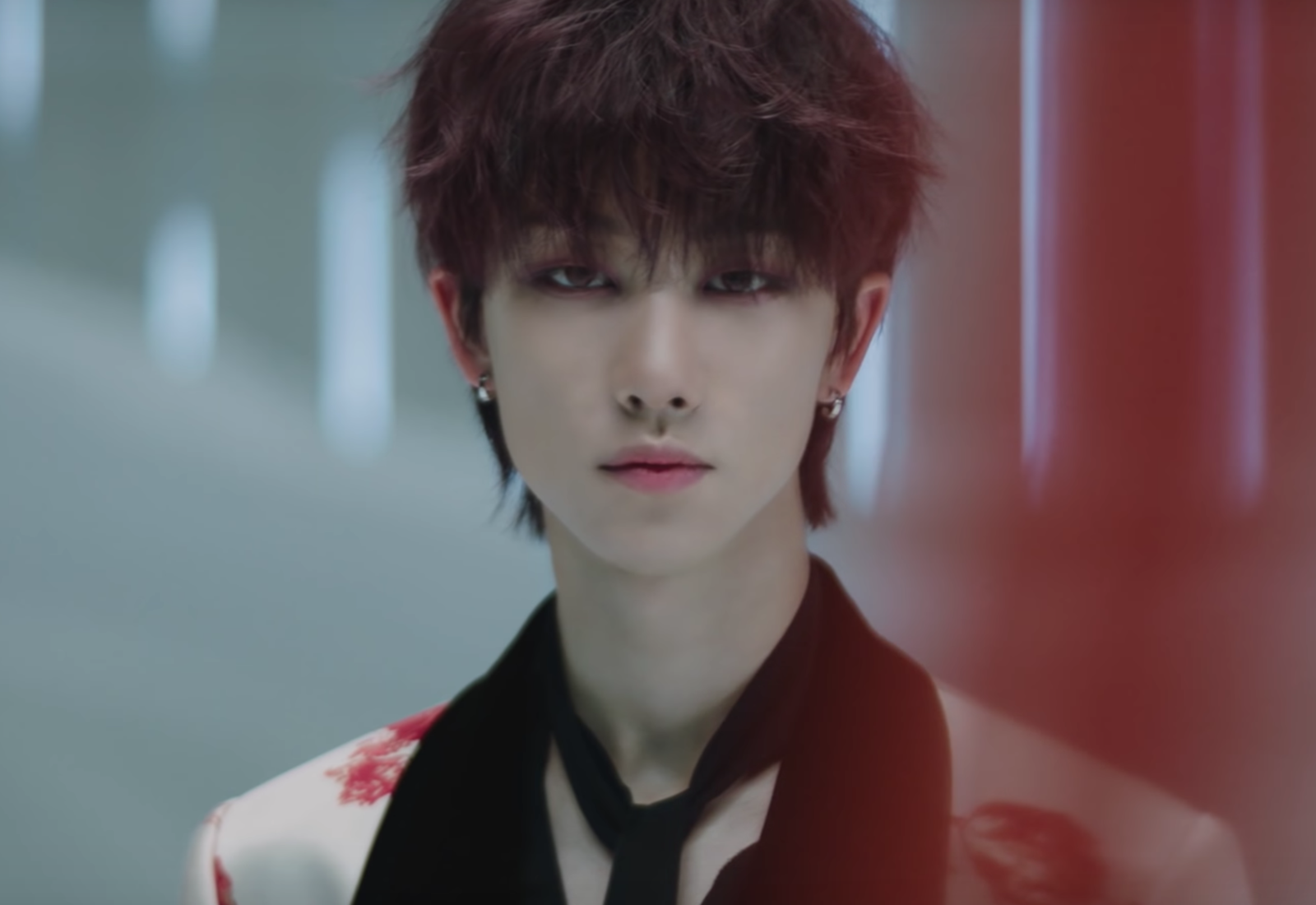 Fear was one of Seventeen's most dramatic comebacks to date and the makeup donned by the thirteen-member group reflected that. One of them was the member who hailed from China and who chose a more subdued shade than the typical cherry red to match the gothic theme. To tie the whole look together, The8 matched his mane with similar coloured contacts, blended the red wine shade all over his eyelids and tightlined them with a similar hue showing that a monochromatic look is anything but boring.
EXO BAEKHYUN
---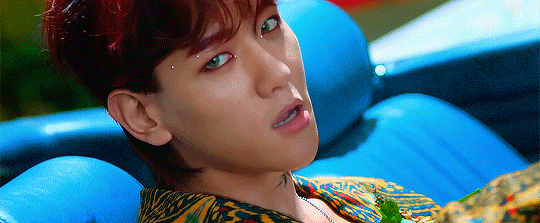 Unlike other idols who tend to douse red dye all over their heads, EXO's main vocalist shows that an understated red look can also go a long way in making an impression. The red highlights with slight orange undertones in the group's Kokobop promotions perfectly matched the laid back reggae-toned single without being too in-your-face. With the silver specks of jewels adorned across his eyelids, dark red brows and a burgundy smokey eye combo, this red-wined themed look was an absolute scene stealer.
SHINEE KEY
---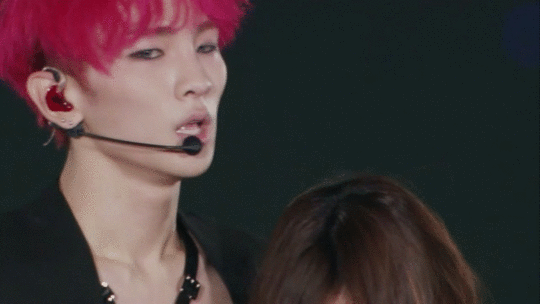 If there was one male K-pop idol that could pull off all sorts of hair colours, it would be Shinee's and resident K-pop diva, Key–he even slayed the buzz cut rainbow look with ease (just saying). So naturally, a fluorescent amaranth hue is no biggie for him. For the group's performance at the Tokyo Dome, the rapper-singer sported this bold hairdo with similarly dyed eyebrows, icy blue contacts and heavy eyeliner, creating a whimsical and mesmerising union of colour and charm.
BTS JUNGKOOK
---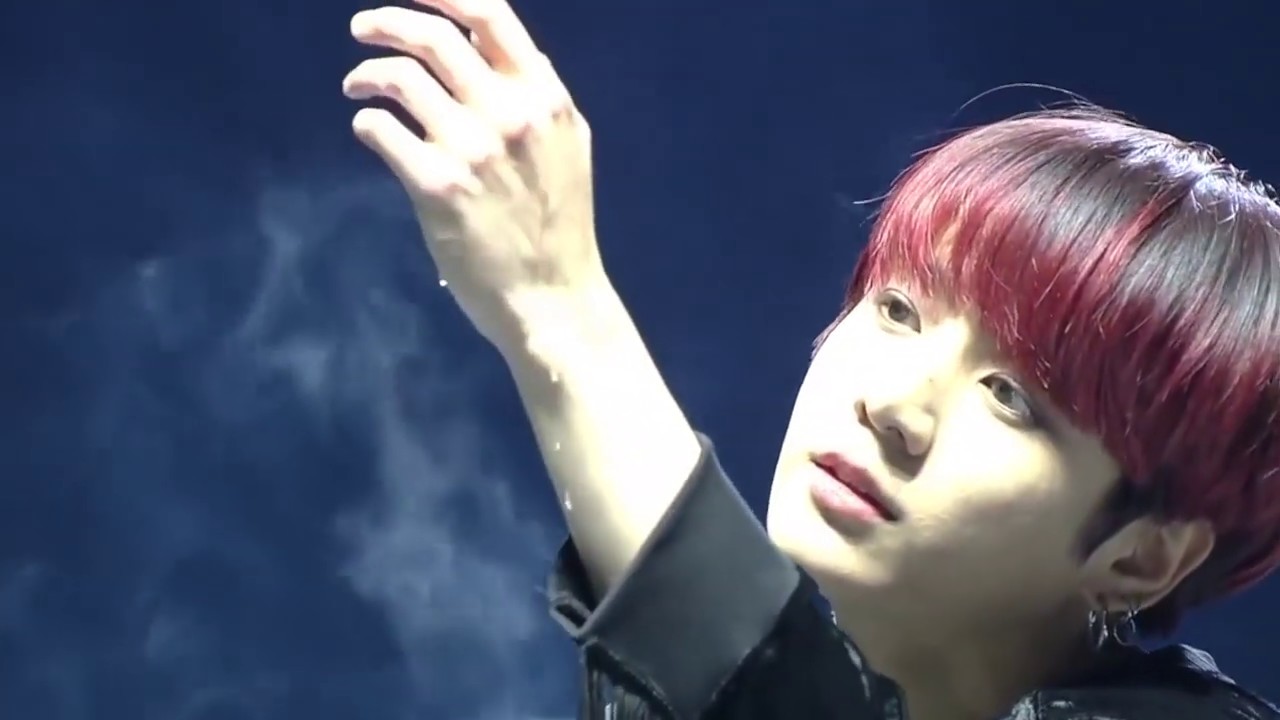 Another BTS member to make it on the list is the youngest of them all. Compared to his older group mates, Jungkook is not one to constantly dye his hair. But his dark cherry ombre hair is a cool look for those wanting the best of both worlds. The talented singer debuted this style for the year-end award seasons in 2019 with a tinge of brown smokey eye for the perfect subtle yet eye-catching look.
NCT 127 YUTA
---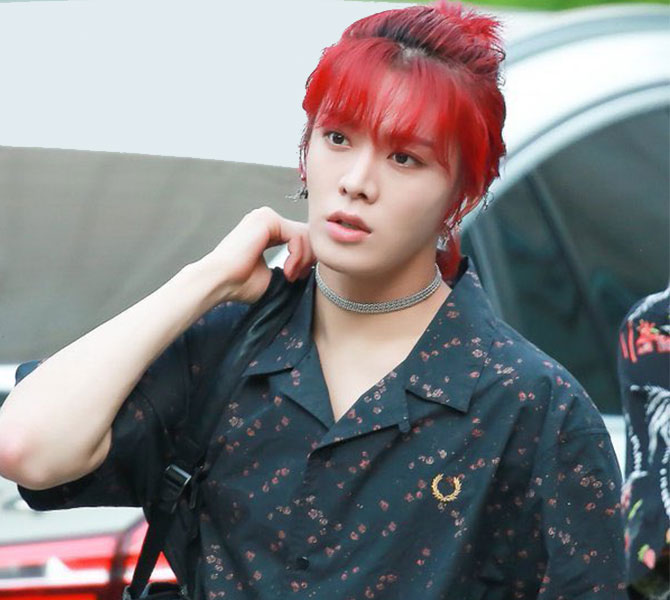 Forget the extravagant makeup that comes with the hairdo–we just want to talk about the ponytail. The ponytail. When Japanese member Yuta came out of the van for his schedules during their Superman era, fans were wondering if they just stepped into an anime. Yuta's bold chilli red hair with mahogany undertones was quickly softened by the dainty ponytail and wispy bangs, framing his sharp features nicely. The juxtaposition between his broad physique and delicate choice of updo had NCT fans absolutely reeling and wondering if they were having a fever dream (they weren't, he's just that pretty).
| | |
| --- | --- |
| SHARE THE STORY | |
| Explore More | |