From 10-step skincare routines to beauty hacks that help you achieve a youthful glow from within, K-beauty is the gift that keeps on giving.
When it comes to major makeup inspiration, look no further than the world of K-pop where beauty is just as important as the music in conveying a group's comeback concept or album theme. Velvet lips, glass skin and hair in almost every colour imaginable—the beauty looks that adorn the faces of Hallyu's biggest stars may range from bold and experimental to soft, dewy and demure but one thing's for sure: they never fail to steal the show.
The year so far has been nothing short of album releases and debut singles, which means plenty of new K-beauty concepts to try out and emulate. Scroll on for the stand-out makeup styles of the moment, as seen in the world of K-pop.
HANGOVER BLUSH
Forget what you previously knew about applying blush on the apple of your cheeks, this beauty trend puts blush under our eyes and all over the centre of our faces, as seen above on (G)I-DLE's Minnie, who wears it with a sprinkle of faux freckles in coral hues during the group's Luv U comeback performance. The undereye blush gives off a natural drunk and dazed flush to liven up our faces, while adding a slightly demure and youthful glow.
For something more subtle, take a cue from the members of GFRIEND, whose matching warm-toned lip, blush and shadow for their Labyrinth comeback poster boasts a 'no makeup, makeup' look to add a touch of colour and depth to the face in a way that's casual and sophisticated at the same time.
BROWN BEAUTY
Universally flattering and effortlessly versatile, the colour of brown seems poised for a makeup takeover this year. From peanut butter to umber, the different shades of brown add natural definition and warmth, while giving off easy elegance and radiance. Chocolate and tan tones were weaved throughout Monsta X's Fantasia X looks, from the soft, smoky shadows to define their eyes to the slight contour and shaped brows to highlight their features, accompanied by popsicle-stained lips and subtle nude gloss to round off the golden, prince-like comeback visuals.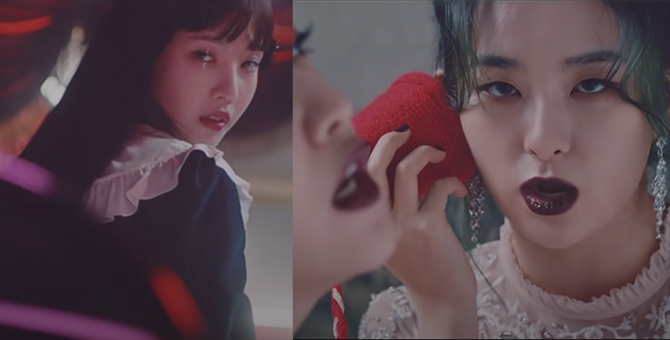 Similarly, mauve brown and taupe hues dominate Red Velvet's sultry Psycho music video, which sees the group take on a maturer beauty style in the form of gothic glam, underscored by dark brown shades that are highlighted by glitter accents like the metallic lines painted over Joy's smokey eye, and complemented with warmer tones in muted rose and dark maroon to achieve a chic burnt lip effect.
DEWY EYES
Bringing a whole new definition to the dewy-eyed, this Glossier-Esque trend brings a wet and glossy shimmer to the lids to elevate your eyeshadow game with a hint of instant glamour that doesn't look overdone. While dewy skin is nothing new in K-beauty, adding some sheer gloss to your eye makeup is ridiculously easy to emulate—all you really need is a little bit of Vaseline and you're good to go.
The look is often finished off with a simple matte lip, as seen on Yeji above, whose trademark power flick is traded in for a soft, shadowy glint to give her a high-shine statement to match the black and white glam theme of ITZY's latest single, Wannabe.
RHINESTONE READY
Call it the Euphoria-effect: glittery makeup was all the rage last year and it's still going strong by the looks of all the rhinestones, crystals and sparkly adornments that continue to decorate the faces of K-pop. Whether it's in the form of tiny glimmering pearls that dot Kim Lip's brows or silver-plated specks that highlight the cheekbones of Got7's Bam Bam for their latest Not By The Moon comeback, the glimmering makeup draws light to the face in a way that is perfectly in line with the K-beauty trend of glow and radiance for 2020.
An exceptionally fun style, glitter makeup can be experimented in various ways from full-on holographic lids or a simple accent to brighten up the corner of your eyes.
For a more playful aesthetic, look to the girls of ITZY whose makeup artists previously mixed it up with shiny, colourful hearts and star stickers instead of using standard glitter.
WHISPER LASHES
Gone are the days of flashy, full-lashed looks as a more natural, whispery style takes over to give us separated, fluttery lashes that create a widening effect on the eye. This Twiggy-inspired trend tones down the drama of the '60s by thinning and elongating the top and bottom lashes, and is finished off with a flawless curl to give less volume and more flirt. For her recent bright, flowery Happy MV, Taeyeon from Girl's Generation rocks the standard spidery lash look with a glossy lip stain and subtle blush to animate her doll-like features with a fruity, innocent glow.
Leave it to Hwasa to bring it up a notch by going for a more voluminous and uneven style, paired with a cherry-red lip and the dramatic flick of her liner to leave you with an unwaveringly fierce impression.
CLASSIC BLUE
Announced by Pantone as the official colour of the year, the striking deep cobalt shade of Classic Blue was seen taking over the freshest dye jobs in many 2020 K-pop comebacks. As boring as the name sounds, it makes for a stunning hair colour that's simultaneously chic and cool.
From the mysterious dark concept on Jimin for BTS's Map of the Soul 7 album to IU's long locks and florals in her blue-filled Blueming MV, the eye-popping shade was an instant classic in K-pop beauty trends. MAMAMOO's Wheein took it further with matching electric blue brows while more than half of Super M gave the shade a go—with Kai and Lucas going blue at the same time—during their We Are The Future promotions.
| | |
| --- | --- |
| SHARE THE STORY | |
| Explore More | |