Bella and Gigi Hadid compare bumps, Elle Fanning makes the most of her eczema and more celebrity beauty news from this week
Saddle up, cowboys—this week is a busy one. From Jo Malone losing John Boyega as a brand ambassador to Priyanka Chopra's new bangs getting roasted, this certainly has been an interesting week in beauty. Ahead, find all the biggest celebrity headlines:
This week in beauty drama
John Boyega resigns as Global Ambassador of Jo Malone London in light of cultural appropriation
The move comes after the perfume brand replaced him in a commercial for the Chinese market while continuing to use his original concept and direction. While some argue that the puzzling marketing decision was not borne of racist intention, this is not the first incident of covert racism towards Boyega. The actor has been vocal about his struggles as a black man in the industry, from being 'pushed to the side' within the Star Wars franchise to quite literally being erased from the posters in China.
Boyega has released a statement on Twitter explaining his decision:
"I have decided to step down as Jo Malone London's global ambassador. When I joined the brand as their first male global ambassador last year, I created the short film we used to launch the campaign. It won the Fragrance Foundation Virtual Awards 2020 for Best Media Campaign.
"Their decision to replace my campaign in China by using my concepts and substituting a local brand ambassador for me, without either my consent or prior notice, was wrong. The film celebrated my personal story—showcasing my hometown, including my friends and featuring my family.
"While many brands understandably use a variety of global and local ambassadors, dismissively trading out one's culture this way is not something I can condone.
"It's back to back but I assure you this will be dealt with swiftly. I don't have time for nonsense. We press on and strong. Stay blessed people."
This week in hair
Priyanka Chopra's new bangs get some heat
Picture this: You snap a fun picture of you in a bright blue dress, with a velvety pink pout, long lashes and a set of perfectly tousled French-girl bangs. What could possibly go wrong? Well, for Priyanka Chopra, apparently something had to. In all fairness, she should've seen it coming when she captioned her selfie with "New hair, don't care."
The beauty's innocent snap immediately attracted the trolls; notably, one Instagram user went in quick with the clap back "We also dont care." If it's any consolation to her, we think the new 'do looks lovely.
Lizzo's new hair is a big change from what we're used to
The rapper is known for her long, multicoloured wigs and weaves, but this week, she's gone for bantu knots—put simply, this protective style means her hair has been sectioned and twisted into many small buns around her head. We love the look on her and we hope it's here to stay for at least another few 'grams!
This week in skincare
Elle Fanning makes the most of her eczema
Elle Fanning shared a fun set of snaps to her Instagram showing off her peach-toned lids. The kicker? That's not eyeshadow! No, the pink-peach hue is thanks to none other than a mild-to-moderate case of eczema. The makeup-free selfie nearly had us fooled, if not for Fanning's cheeky caption: "Eczema but make it eye shadow". Skin condition or not, she's positively glowing.
Kesha's butt looks better than our faces
We can't say that definitively, but we wouldn't be surprised if it was. In the video above, the singer-turned-beauty mogul lists butt sheet masks (yes, you read that right) as her go-to beauty product. 
According to Kesha, she discovered the quirky trend at the beginning of quarantine and fell in love: "I wanted to give my butt love... I found these butt masks and now it's kind of my thing."
We know what you're thinking: How does she get them on? With the help of her long-time boyfriend, of course.
This week in body and wellness
Bella Hadid shows off her bump... kind of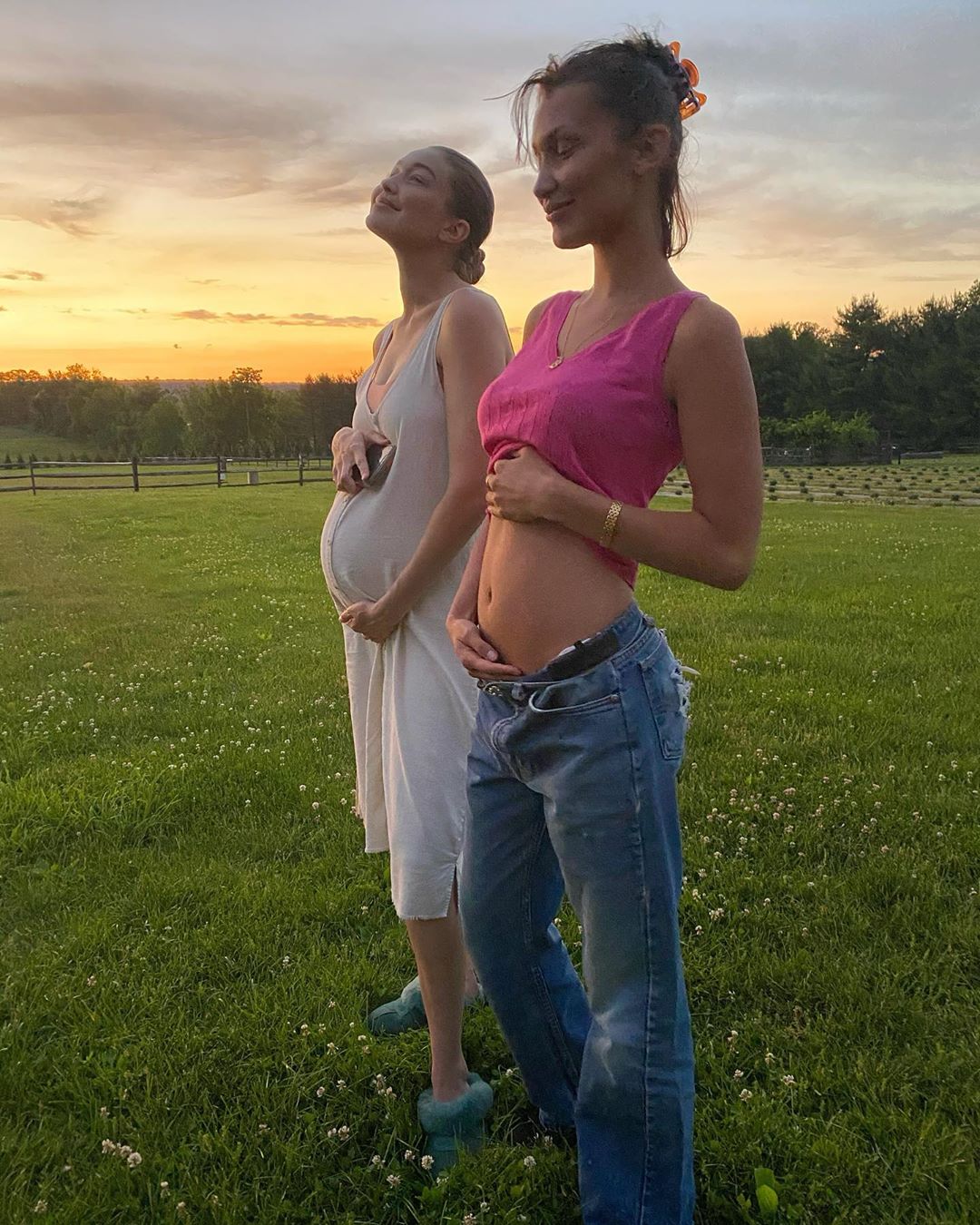 Okay, so Bella Hadid isn't pregnant with a baby, per se; in her words, there are "two buns in the oven except mine is from my burger and gigi's is from @zayn". We don't know who she thinks she's fooling with her very clearly defined abs, but we can't deny that the picture is sweet as can be.
Willow Smith's gym snap gives us strength
Speaking of abs, Willow Smith flexed her unbelievably defined core in a post-workout snap that has us reeling. Everything about this post emanates power; from the literal muscles on her body to her slightly grown-out buzz, it's all a power move from where we're standing. Now, for some reason we feel like it's time to hit the gym...
For more beauty news, click here.