Also, Ariana Grande sports her natural curls and Miley Cyrus takes to the clippers again
This week in DIY hair
Bruce Willis gives his daughter's head a buzz
Family bonding looks a little different at the Willis household, with their latest endeavour just about summing up life in quarantine. In the video on her Instagram, Bruce Willis is seen shearing off Tallulah's locks while her sister compliments her, saying that she looks "like Joan of Arc, dude". All in all—it's a look.
Jennifer Love Hewitt embraces pink locks
The actress posted a snap of her hot pink DIY dye job, and her caption just about sums it all up—she first explains the motivation behind her dyeing her hair with a simple "what else can I do right now", followed by a prompt apology to her stylist Nikki Lee. Either way, it's a fun switch up from her regular brown locks!
Sarah Hyland gives fiancé Wells Adams a home trim...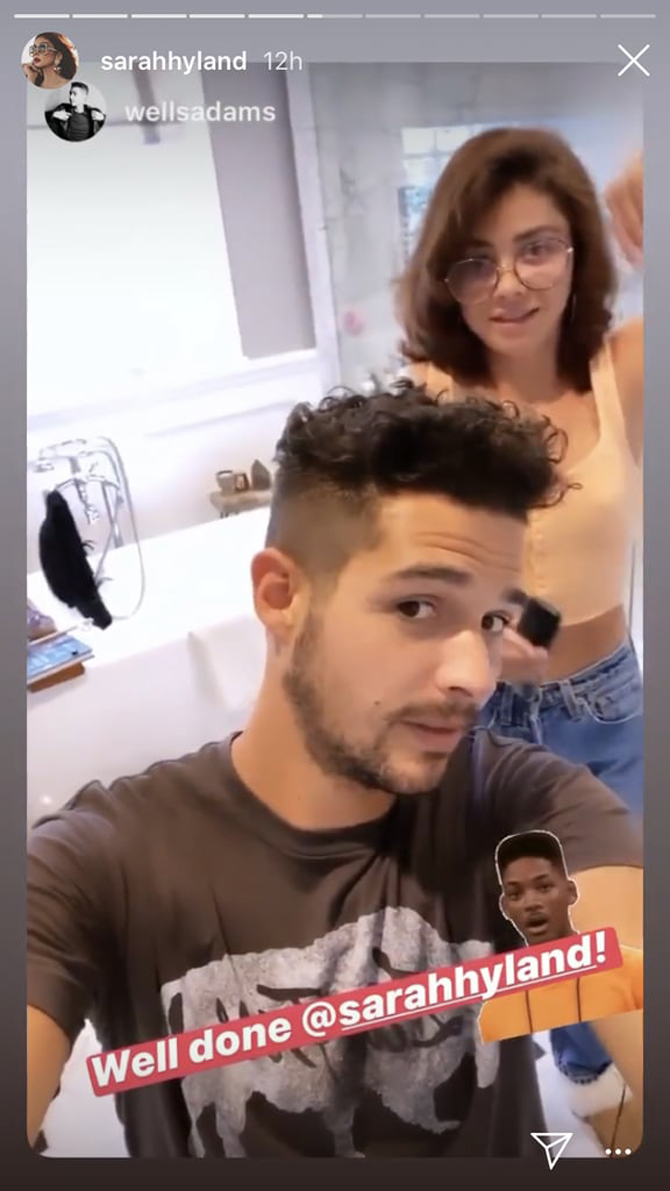 ...and it's not half bad! Hyland is (believe it or not) a novice men's stylist, having never even touched a set of clippers before. It was clear that neither of them knew how it was going to pan out, but fortunately the stars were in their favour and Adams now has a fresh cut.
Miley Cyrus is back with another DIY cut... but this time it's for Cody Simpson
It seems the starlet simply can't keep her paws off the shears as the claims her latest victim: Cody Simpson. In this video on his Instagram, the clipper-happy singer is seen giving her beau a buzzcut—and it's for a good cause! Simpson was buzzing for a clean cut in advocacy for clean oceans.
This week in natural lewks
Ariana Grande sports a naturally curly mop 
The singer took to Instagram to share a short video of her showing off her naturally curly locks—it's a far cry from the sleek straight ponytail we're used to but it looks great on her nonetheless! Plus, it turns out that we're not the only ones who think so; Katy Perry and Dove Cameron showed their support for the look, saying "Keep this look after quarantimes pls" and "hair !! thriving !" respectively.
This week in makeup
Selena Gomez gives us a sneak peek of her upcoming cosmetics brand 
Selena Gomez dropped her new music video 'Boyfriend', sporting a bold red lip featuring some products from Rare Beauty—a cosmetics company she announced the launch of back in February. It's not clear from the photo (or the caption) whether it's a full face of Rare Beauty or just a few select products, but it looks like we're in for a treat come summertime!
This week in Martha Stewart
Queen Martha finally dropped her quarantine beauty routine and it's exactly what we need
The legend looks radiant in her post, asking "Where is my hairdresser Megan? Where is my makeup artist @daisybeautytoye ? Where is my colorist Parvin Klein @bergdorfs ? Where is my manicurist Luda @johnbarrettnyc ?" All of these questions are answered by one phrase: self-isolating. So, what has Martha been doing to cope without her glam squad?
In summary:
Washing and conditioning her hair and keeping it off the heat by airdrying it rather than blow drying
Removing her chipped nail polish and lightly filing her nails
Keeping her hands moisturised post vigorous hand washing with rich hand lotions and reparative ointments
Keeping her skin cleaned and moisturised, day and night
Tinted sunscreen and sunscreen for an easy, low maintenance everyday look
Face masks two times a week—CBD masks and serums preferred
We stan.