Makeup
Scariest horror looks to hit the silver screen (and how to recreate them for Halloween)
Nightmare fuel
Image credits: @itmovieofficial/ Instagram, @chuckyplace/ Instagram, @officialhomeofhorror/ Instagram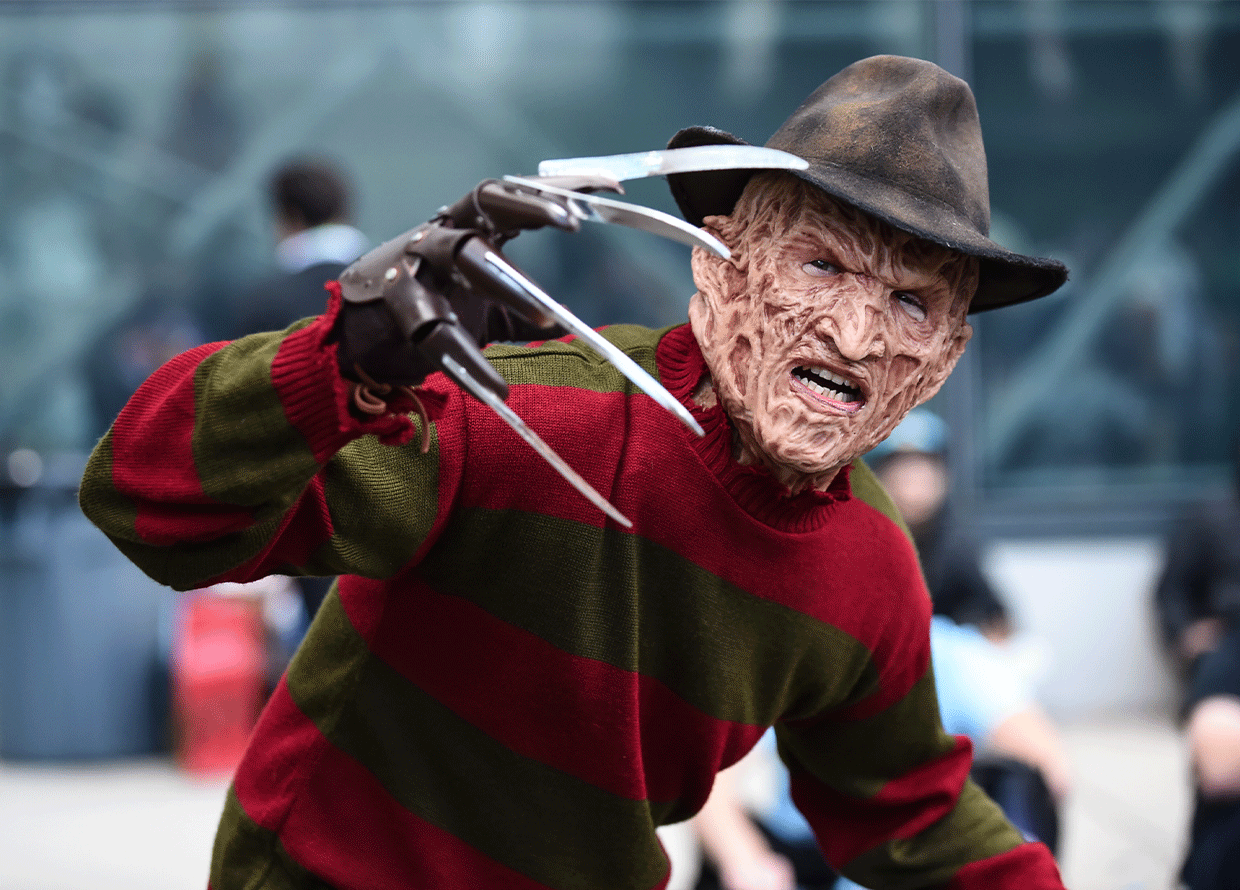 It's spooky season! Halloween is less than two weeks away, so if you're looking for some real eerie looks to recreate for the day, look no further.
Warning: If you are extremely afraid of ghosts, scroll with caution. Halloween is the perfect time for you to channel your inner demons in public without getting side-eyed. While most people tend to dress up with bunny ears, superhero suits and pumpkin heads, horror fanatics might be looking for more grotesque inspo—a look that would actually be scary enough to make people scream. 
Besides, even if you are not planning to dress up for Halloween, the occasion is still a good excuse to binge watch all your favourite horror classics. No matter how you are (or aren't) celebrating, we are here to provide you with some inspiration. Below are some of the scariest horror looks to hit the silver screen—whether you're playing dress-up and recreating them or just looking for a good thrill, these are looks that will linger in your mind whenever you close your eyes.
READ: What it takes to create the goriest (and grossest) scenes in horror movies
Valak from The Conjuring
View this post on Instagram
Valak, also known as The Nun, is a supernatural character from The Conjuring 2. In the Conjuring universe's lore, Valak isn't actually the ghost of a nun—it is a demon. Supposedly, after being rejected by God, the angel Valak fell from the heavens into hell, where it remained before it was summoned by a duke at the Carta Monastery and then subsequently trapped by members of the Vatican. Unfortunately, the demon was unleashed when the monastery was destroyed during World War II. Valak then took the form of a nun as a way to mock God and its religion. 
The key makeup features of this demon include a thick white base and thick, ashy black contour surrounding its eyes and lips. Overall, as long as you've got a white base and black contour, this look is really easy to recreate. If you're feeling extra, you can also recreate Valak's piercing, green-eyed stare with special effects lenses.
Watch the tutorial:
Penny-wise from It
View this post on Instagram
While most adults might not be afraid of him, the kids in It certainly are. This character is truly a nightmare—an evil, shapeshifting entity that goes around terrorising the children of Derry. While he takes many forms in the franchise, his favourite shape is that of Pennywise the clown.  
This look takes a little more skill to achieve, but as long as you know how to sketch out basic shapes and draw clean lines, you'll be able to recreate it. Start with a base of white face paint, then etch out the clowny details before topping the look off with a curly, ginger wig. 
Watch the tutorial: 
Chucky from Child's Play
View this post on Instagram
Chucky is an OG horror icon, but the recent reboots have given the character a new lease of life. According to the lore, this talking killer doll houses the spirit of a serial killer, Charles Lee Ray, who performed a voodoo ritual to trap himself in the doll to escape conviction and death. 
If you want to recreate this look, you'll need a basic SFX kit (don't worry, we've got you covered there), an orange wig, and some blue contacts. 
Watch the tutorial:
Red-faced demon from Insidious: The Red Door
View this post on Instagram
This is the fifth movie from the Insidious franchise, known to contain extremely anxiety-inducing scenes that makes it a must-watch for horror fanatics. The Red-Faced Demon (also known as the Lipstick-Face Demon), is a being that tries to bring pain and chaos to the living realm by possessing a human body. 
Just like his name suggests, the demon has a red face with burnt black patches. Start by overlining the patches on your face and fill it all out alternately with black and red paint. Don't forget to top it off with some yellowish-green glow-in-the-dark lenses.
Watch the tutorial:
Freddy Krueger from Nightmare On Elm Street
View this post on Instagram
If you've got a stripey shirt, a fedora and Wolverine claws lying around, you're already halfway there to recreating this character. Freddy Krueger is probably the most recognisable horror icon, thanks to his grotesque appearance. He is the spirit of a child killer who was burned by the victims' parents after evading prison, and as such, his most recognisable feature is his melted skin. 
This look requires more effort, skills and equipment than the others on this list, but if you're up for the challenge, we're here to help. The key element to recreating Freddy's face is the bumpy, textured skin. The goal is to make it look like your skin looks like its outer layer has been burnt off, leaving grotesque holes that reveal the raw flesh underneath. You need to get liquid latex to recreate the textured skin, with blood-toned, flesh-coloured face paint to achieve the illusion of a severely burned face.
Watch the tutorial:
For more Halloween reads, click here.
| | |
| --- | --- |
| SHARE THE STORY | |
| Explore More | |