In the first instalment of 'The Business of Beauty', the founder of Glow Gen divulges the inner workings of the budding Australian-Malaysian brand—from product development to branding
In case you missed it: There's a new skincare brand on the local beauty scene, and it's a breath of fresh air in the Malaysian beauty landscape. Best described as the antithesis of our trend-driven industry, Glow Gen offers minimalist, gentle and efficacious skin solutions without misleading marketing claims and unrealistic promises.
READ: 13 Malaysian skincare brands every beauty lover should know
The brand launched earlier this month with just two products in its first collection. The first is the Balancing + Perfecting Serum—a lightweight and easily absorbed formulation that harnesses the hydrating, pore-refining and blemish-fighting powers of niacinamide, salicylic acid, Kakadu plum, and hyaluronic acid. The second is the Pink Clay Purifying Facial Mask—a hydrating hyaluronic-acid-infused pink clay mask that has been enriched with soothing mangosteen and hibiscus flower extract.
READ: 11 Made-in-Malaysia scented candle brands to shop for a major mood lift
Rather than replace your tried-and-true skincare staples, Glow Gen's pared-back lineup has been designed for easy incorporation into any routine. To learn more about the brand's philosophy and a little more about its inner workings, we spoke to Ruth Lim, one half of the dynamic duo behind Glow Gen. Find our full exclusive below:
Glow Gen was founded by you and your Malaysian husband, Kevin Lim. Could you walk us through your brand story?
"Kevin and I moved to Malaysia during the pandemic. As long as we've known each other, I've visited regularly and always enjoyed my time here so it felt like an easy decision to join him in Malaysia and start the next chapter of our lives!
"I have always had sensitive and reactive skin—when we arrived in Malaysia, the stress, change in climate and mask mandate triggered stubborn breakouts that I couldn't budge. I tried many things including seeing skin specialists, medication and, of course, constant trial and error with topical products, but found that most of the options on the market were too strong for my skin and led to further breakouts.
"I couldn't find a brand that spoke to my skin's needs that was available locally, so I set out to create a solution myself! We've lived in Malaysia for a year and a half now working on this passion project and I've incorporated Glow Gen into my routine, and I have to say—my skin has never felt better!"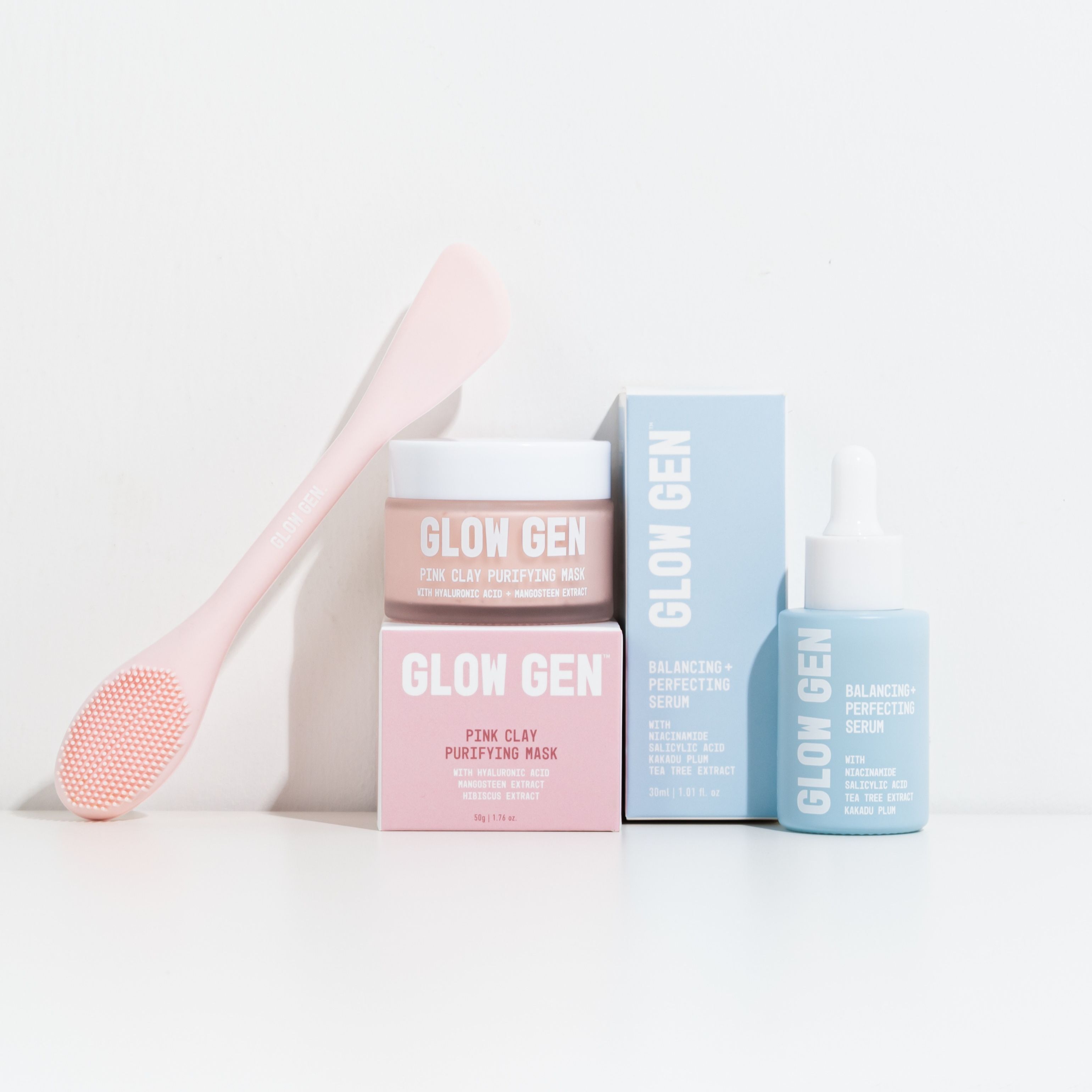 What is the significance behind the name Glow Gen?
"Glowing skin is the current trend but it can be a very exclusive one, calling for complex routines and strong ingredients that more 'fussy' skin types like myself often can't use. We wanted to introduce the word generation to make it more inclusive—to us this name is an invitation for everyone to participate and enjoy trend-informed skincare without the fear of triggering reactions."
You've got a background in branding and e-commerce for beauty startups in Australia—how has your experience informed Glow Gen's own business model?
"I think the biggest influence it has had is providing me with the confidence to get started. Startups are all about solving problems, so when I couldn't find the types of products I needed for my sensitive skin (and spoke to family and friends who had a similar need), I already felt empowered with the knowledge and skills to create the solution myself.
"Every aspect of the brand will continue to evolve based on the needs of the local market, so I try not to make assumptions based on my Australian experience and instead let the important decisions be led by customer feedback."
What exactly is your husband's role within the brand?
"My husband and I have always loved working together—even during our first year of dating in Australia we designed a salon together and took on a number of design projects! He is the more practical, admin-focused one while I enjoy being creative! From the get-go, I've led the product development process—thanks to my e-commerce background—and I oversee the branding and marketing too. We are lucky to be able to support each other with these complementary skills."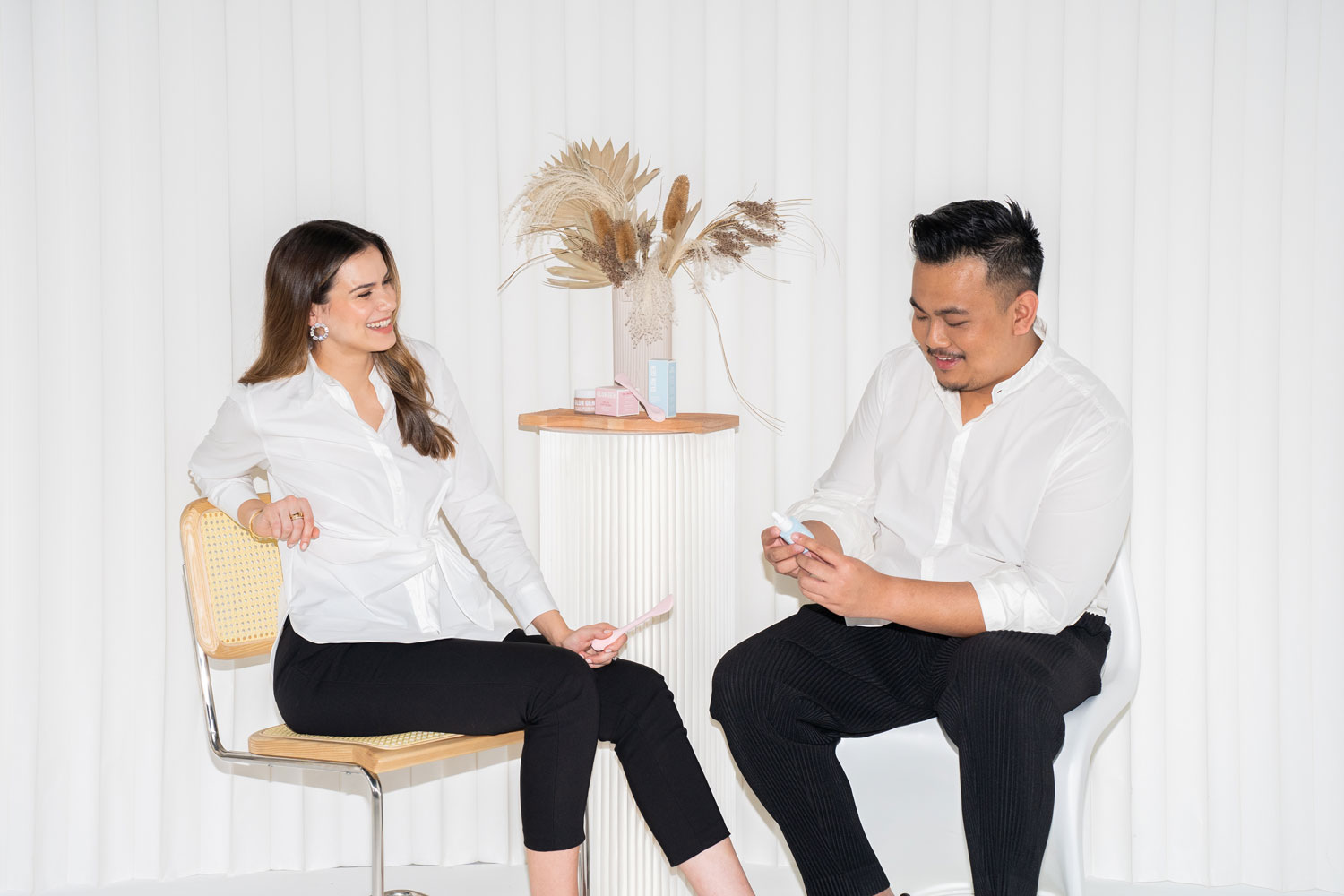 What sets Glow Gen apart from Malaysia's current beauty market?
"Many of the brands I am familiar with here are either all-natural or are in competition for the most potent ingredients or highest percentages of actives in their products. While these approaches are fine for lots of people, both can be problematic if you have reactive skin, whereas a gentle, balanced approach works best and synthetic ingredients can be incredibly beneficial."
What are the logistics involved with launching a brand? How did you source everything you needed to get the brand going, from suppliers to ingredients to packaging and beyond?
"We try to do as much as we can locally, as I think it's important to support local industries! We always approach local suppliers first and only look overseas if there is something we can't feasibly get done here. For our glass packaging, all of the local suppliers we approached were outsourcing to China so, for this, we decided to work with overseas manufacturers directly. However, at this stage, all of the rest of our packaging and products are manufactured locally.
"Finding good suppliers is a trial-and-error process. We always reach out to multiple manufacturers for samples and cut them down until we decide on our favourite to work with. Our main criteria are quality and, of course, being great to deal with-—most of our supplier contacts feel like an extension of our team."
How did you choose the ingredients for your first two products?
"Our goal was to combine clinically proven clarifying ingredients with the best Malaysian and Australian botanical extracts in a way that would be received well by sensitive skin. We worked with a cosmetic chemist to bring this concept to life and went through many rounds of development as we had big ambitions for the texture and efficacy of the products. In particular, our mask took well over a year to develop and complete lab testing. We've gotten great feedback on our unique formulas, so this process was well worth it!"
The packaging is so cute! What went into designing the packaging for Glow Gen?
"My priority was to bring some joy into skincare for fussy skin—our guiding principle behind everything we create is that it should be 'gentle, not boring!' Generally, brands for sensitive skin take a very clinical approach to the look and feel of their products and as a result, my shelfies have always looked like they belonged in a pharmacy! Our next few products really take this fun approach to the next level and we are really excited to share them with our community."
What was the advantage of producing your skincare line in Malaysia instead of Australia?
"For us, it's not about securing an advantage as it's often easier to market an internationally-made product (and many brands choose to do this). Working with local manufacturers is us placing our vote of confidence in the trajectory of the Malaysian beauty industry and choosing to support local businesses as this has a positive cumulative impact.
"From a sustainability perspective, it also makes sense to do as much locally as possible. We have also been blown away by the exceptional creatives and talent we have collaborated with to bring our imagery to life—it has been one of the highlights of the entire process."
There are currently just two skincare products (not including the accessories) in Glow Gen's collection—what was your reasoning behind this minimalist lineup?
"In general, keeping your routine simple is one the best things you can do for sensitive skin, so it made sense to stick to the necessities when planning our first capsule collection. These days, with so many ultra-specific products on the market, it can be hard to figure out what goes where in your routine and what may be incompatible with your skin. Our approach was to create two versatile products that work with any routine—just use your own trusty cleanser and moisturiser and you're good to go!"
Glow Gen claims to be a "clean skincare brand". Clean beauty isn't standardised across the industry, so what exactly does clean beauty mean to you and why was it important for you to have established that in Glow Gen's marketing?
"For us, clean beauty means we make a conscious effort to stick to ingredients that are the best in class in terms of safety, as demonstrated by the latest available research. Many brands who identify as 'clean' spend a lot of time focusing on what they leave out and can demonise ingredients that are generally safe to use, but we prefer not to do this and instead like to focus on the good stuff we do include in the products!"
What went into the decision to make Glow Gen vegan and cruelty-free as well as irritant- and allergen-free?
"Generally, I don't think animals should ever have to suffer for the sake of beauty, so [going vegan and cruelty-free] was an easy choice! We also want our products to be as inclusive as possible, so minimising irritants and allergens is a key way we can support people with sensitive and reactive skin. I've enjoyed great results from taking this gentle approach and think it's an option that can benefit many people.
Glow Gen is available to shop online here or through their website. For updates on the brand, follow them on Instagram!
Find more beauty insiders here.