From the importance of technical precision to what makes a worthy hairdresser, Schwarzkopf Pro's team of hair connoisseurs weigh in on current affairs and trends of the hairstyling industry
Over a month ago, we had the opportunity to grace Schwarzkopf Pro's hair congress in Beijing, where hairdressing heavyweights across Asia convened to showcase the most-talked-about hair trends this season alongside battling it out to take home a few awards of the evening. To our pleasant surprise, it was a night to pull out all the #MalaysiaBoleh chants and Malaysian-flag-bearing wefies—Johor Bahru-based hairstylist Euniece Yee snagged not one, but two major awards at the competition.
After bagging the SKP Color Technician Group Winner – Asia-Pacific, Yee (incidentally, the only female hairstylist among the four finalists) snagged the Grand Champion award, effectively making us proud (and very loud, what with our almost-raucous cheers). "I was very surprised to hear my name being announced. It really was a proud moment for me as it showcased that Malaysians do have talent," said Yee. "Winning didn't come across my mind as there were so many amazingly talented and formidable contestants in this competition, all of whom showed creativity and effort in their looks."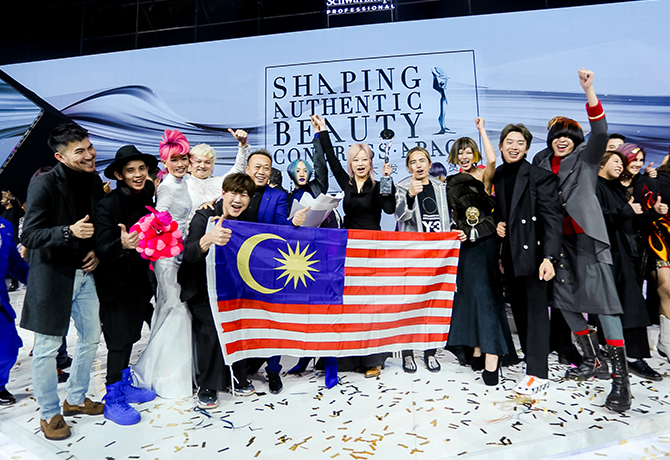 But before the excitement began, we had a #realtalk with three brand maestros behind the scenes who are absolute pros in their craft on all things hair, including the criteria used to judge the competition and the impact of social media on the hairdressing industry. Below, we chatted with Schwarzkopf Pro's International Creative Director Simon Ellis, Global Styling Ambassador Richard Ashforth and Colour Ambassador Lesley Jennison.
On criteria for the judging process in this competition:
Richard Ashforth: "Technical precision. The execution and how well it's done is fundamental to a successful end product. It could be a creative concept that's well-thought out. It doesn't even have to be crazy, but if the execution isn't perfect then that wouldn't stand out."
Lesley Jennison: "The correct placement of colour and suitability is important. We learn about how they brain recognises the colour from the eye and how lightness and darkness is perceived. Yellow is the first colour your eyes subconsciously always see—and that's why we use it for blonde. If somebody puts a lighter colour up on top of the head, it changes the balance of the hair colour."
Simon Ellis: "It's very important that hairdressers have a sense of what the real world is all about. It's the hardest thing to understand the client, and make clients trust you. Competitions are healthy, but they need to be grounded in the real world. We're trying to steer and rewrite the rules here. It's harder to create a day-to-day style than avant-garde looks. The simpler it is, the harder it is to make it better. If I have a room full of bobs, why is one better than the other? At the end of the day, it's the suitability and how the haircut and colour matches the individual."
WATCH: 3 Fuss-free hairdos you can achieve if you're running late in the morning
On challenges that hairdressers are facing in hair competitions (and in the real world):
RA: "I think [hair competitions] push people out of their comfort zone as a craftsperson. It forces you to work with other people—makeup artist, stylist, and the model. It gives you a platform to build your reputation and putting yourself out there."
SE: "To me, it's the ability to try to get the message across concisely. It's challenging to say what they want to say cleanly and concisely. Sometimes it's hard to distill the idea down to its essence and present it. I can see that the creative process is explosive and they want to capture it but sometimes it gets overcomplicated as a result. So to distill it down to a more simplistic, cohesive idea is a challenge."
On the evolution of the hairdressing industry:
RA: "It has evolved from a service perspective—hairstylists are now expected to do everything. Now the client wants you to do the blow dry, haircut, colour, and everything. Service wise, the time and involvement has changed—probably for the better. Millennials have a very different perspective on the workplace. It's all about faster results and quicker demand, whereas in the past it was a slower journey to perfect your art and craft. People want acceleration."
LJ: "With social media, things have changed so rapidly. 20 years ago, there were a few global trends, not so many, everyone was more localised. People were inspired by their cinema, celebrities, TV, but now it's really not the case. There's a lot more global trends and also micro-trends, occasionally. I always tell hairdressers who've just started out in the industry that it's so important to be aware that we're all on social media."
SE: "A lot of people don't want to go into hairdressing right now because it is very tough. It's very long hours—it's a lot like being a waiter in the restaurant. You're working from 8 in the morning till 10 at night, and sometimes you have to do training. A lot of them don't want that, the idea of working their way up. Good hairdressers have to physically train—you can't learn through YouTube videos."
WATCH: Chic styling ideas for short hair—the wavy bob 
On how social media has impacted the industry:
LJ: "Our clients are as social-media savvy as we are—and for me as a colourist, that's what the most exciting thing at this time. There's never been a time since the mid-90s that colourful hair has been so popular. And that's purely through social media. Seeing celebrities give people confidence to want to pull that off."
RA: "We all see trends quickly now—it used to take trends 12 months for a trend to work its way around the globe but now it doesn't take more than 12 seconds."
SE: "What's interesting is to see how the younger generation uses it to their advantage. My daughter is 17 but she doesn't watch TV, she only watches YouTube. I find her ability to multitask incredible—she can be FaceTime-ing, on YouTube, and doing her work at the same time. They naturally know how to self-promote. As organisations, we need to learn that effectively, and it's interesting because our digital team is huge. There are 18 on the team, but the average age is 21-22—which is a whole different generation with different attitudes and aspirations. Everything moves very fast with them."
On new-season hair cut and colour trends:
RA: "The overarching trends are a more natural finish with the hair—less perfect, more authentic. Shorter ends are trending now too. A weightless look is preferred too, with more natural movement."
LJ: "Blonde will always be in fashion. The thing about blonde is that there's a brand new technology—this new bonding system forms broken bonds in the hair back again and create new ones. But what Schwarzkopf has done is to put that technology inside these products—from bleach powder to highlight tint. So hairdressers don't have to find a bonding agent to add into it—it's already done for you...it essentially means that you can take black hair to blonde with no compromise to the structure of the hair. That, for me, is changing the hairdressing industry. Clients can have blonde and they don't have to panic about breakage."
On hair philosophy and advice:
RA: "My personal philosophy when it comes to inspiration is to walk out with your head up and eyes open—be a sponge and absorb what's in your environment. Understand what it is that resonates for you personally. Have the desire to improve. I'm happy being in the industry for quite some time, yet I certainly don't think I've mastered everything. There's still so much to learn and improve on and that drives me—I still get disappointed in things and I tell myself to do it better."
LJ: "Colour is my life. It's my absolute passion. I love the whole industry but colour is what it's all about. Whatever you do in life, you have to love what you do. If you go into the hair industry and you're not enjoying it the first couple of years, I wouldn't recommend doing it. If you can find something you're utterly passionate about, it's never a day of work."
SE: "I started Vidal Sassoon Education in the company back then, and what people don't realise is that everybody in the world today owns it to Sassoon when it comes to having haircare at home. Back then, you'd have to get your hair washed, set, prepped in the salon. But what Vidal said was: 'Women are going to work, and we're going to empower them by allowing them to wash their hair themselves.' He invented the handheld hair dryer and hair brushes with the idea of creating minimal work for women to maintain their hair. My philosophy is very much inspired by him—that it should always be a celebration of natural, authentic hair."
ALSO READ: How to keep your crowning glory in check