Beauty
How does volumising shampoo actually work? Plus, expert tips for keeping your hair looking lush
Va-va-voom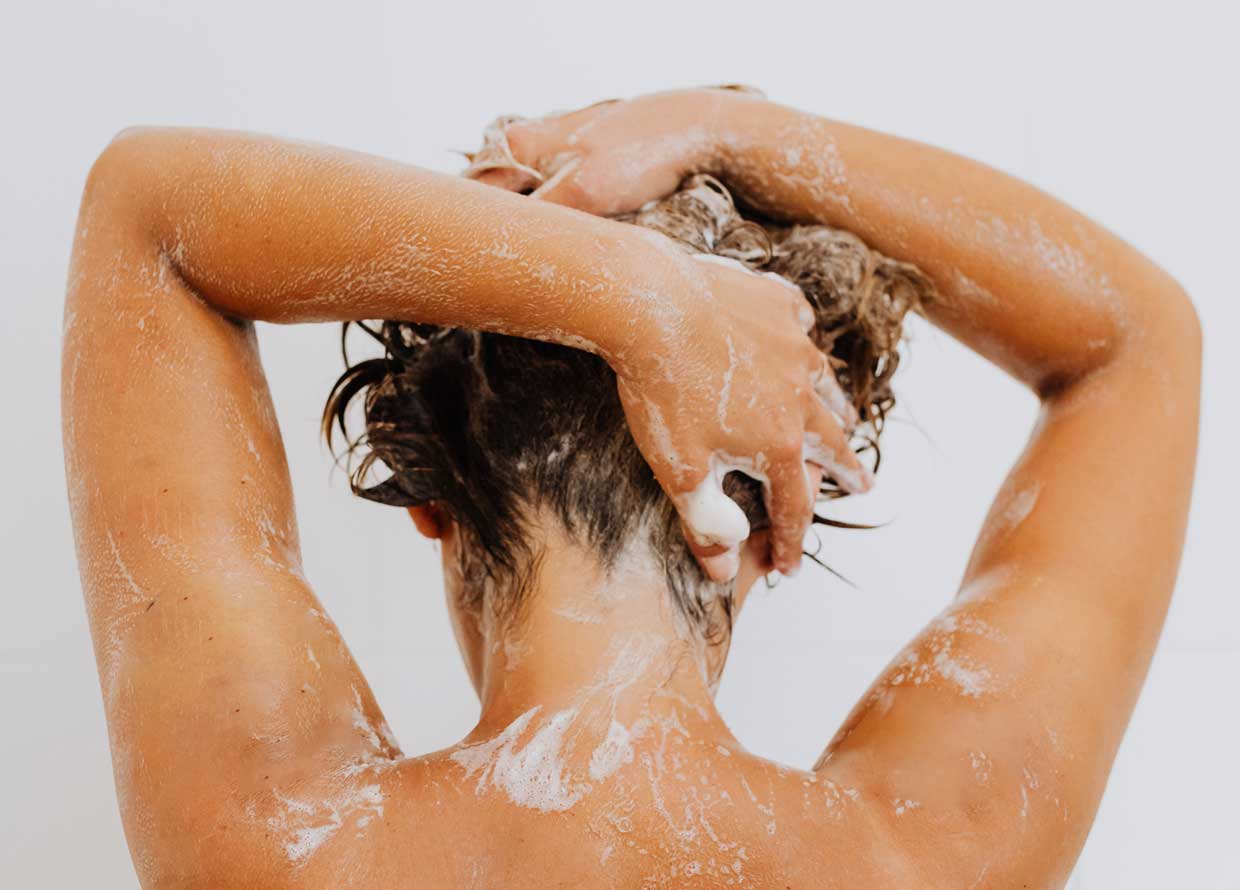 Do you actually need a volumising shampoo to get lovely, luscious locks? Ahead, we asked an expert to explain exactly how they work and how you can boost body in your hair at home.
We've all stood at our vanities, teasing comb in hand and roots knotted into a nest, yet still, our hair stays flat as a board. We've tried it all—blow-drying upside down, texturising sprays, at-home blowouts—and still the volume evades us. We can't blame it on day-old hair—these roots are freshly washed and dried! So, what's the problem?
In short, it's your hair-wash routine. While all of these things are great tips individually, if you're not addressing the problem at its root, you're not going to see the results you're after. Using a volumising shampoo can make a world of difference in the way your locks look, adding luscious volume to your hair's roots and body without any extra steps. In fact, any additional steps will only further you in your pursuit of the bouncy, flouncy tresses of your dreams. But, how does it really work?
We spoke to Virtue Labs Ambassador and Editorial Stylist, Xavier Velasquez to glean his expertise on how volumising shampoos are different from normal ones, as well as his top tips for maximising volume in your hair:
So, what makes a shampoo volumising?
According to Velasquez, volumising shampoos work in three ways: They are lighter in weight, they are formulated with fewer conditioning agents, and they strengthen the hair shaft.
Apparently, the lightweight formulation and having fewer conditioning agents means that the hair is less weighed down, giving it the volume and body that one covets in a volumising shampoo. Strengthening the hair shaft, on the other hand, can make the hair look fuller and, therefore, more voluminous.
Virtue Labs actually has two shampoos that strengthen the hair and therefore add volume in two ways: "The Flourish Shampoo is designed to nourish the hair follicle, using the brand's patented Alpha Keratin 60ku Clinical technology to strengthen new growth and keep the mid-lengths strong to prevent weak hair from breaking", says the brand ambassador. Overall, this allows thicker and fuller hair to grow. "The Full Shampoo is designed to create fullness in the cuticle layer of the hair. They are made to build volume in the hair from the inside out, plus they are super lightweight so hair gets lifted at the scalp."
How do you add volume to limp, lifeless locks?
If you'd like the secret to your favourite it-girl's bouncy locks, we've got the inside scoop from Velasquez. The magic starts in the shower—there's no use using a volumising shampoo if you're not doing it right. For starters, it's essential to massage it into your scalp to stimulate blood circulation. This not only promotes hair growth but also ensures that the product reaches every strand, cleansing thoroughly and delivering maximum volume. Make sure you're working in the shampoo for at least a minute, and not neglecting the back of your head either! Then, remember to rinse your hair thoroughly. This will remove any product buildup or residue that may weigh your hair down.
In addition to using the right shampoo for a big volume boost, it's all in the aftercare. Firstly, Velasquez suggests you "use lightweight conditioners just on the ends". Again, when it comes to introducing volume into your hair, you'll want to steer clear of anything heavy. Your best bet is to opt for products that are specifically made to volumise. Another pro tip from our expert concerns your blowdrying habits: "To add volume, blow dry your hair on low to medium heat. High heat tends to flatten the hair." It's especially important to use low to medium heat on your roots, where you want the most volume.
Finally, to keep your volume high to the heavens, the right styling products are key. Velasquez suggests using Virtue's Volumising Primer to give your hair long-lasting lift. In addition, if you're not the type to be partial to a daily hair wash, make sure you're keeping a good dry shampoo on hand to absorb any excess oils that may weigh your hair down. Our favourite hack? Apply dry shampoo to your roots before they get greasy to keep them bouncy and full for longer!
Shop BURO's picks for volumising shampoos here:
Find more expert-backed hair care reads like this here.
| | |
| --- | --- |
| SHARE THE STORY | |
| Explore More | |