The Dyson Supersonic is no ordinary hairdryer—ahead, find five reasons why you should make the upgrade ASAP.
Are your arms tired? You've been blow-drying your hair for 15 minutes and it's still damp. Worse yet, the scent of singed strands lingers in the air… and once you finally get a good look at your locks, you realise that they're dry, frizzy and completely unkempt. 
Betrayed, you look at your hairdryer in contempt. Because of the shoddy job it has done, you now have to spend an additional 20 minutes running through your lengths with a flat iron—what a pain! Not to mention the extra damage. There has to be a better way!
Good news—there is. If you haven't heard of Dyson's Supersonic hair dryer yet, allow us to introduce you: It's a viral sensation; a must-have hair tool in any vanity. Not only is the hairdryer more efficient and less damaging to your hair, but it also doubles as an all-in-one styler to boot! Ahead, find five reasons why you need to upgrade to the Dyson Supersonic now: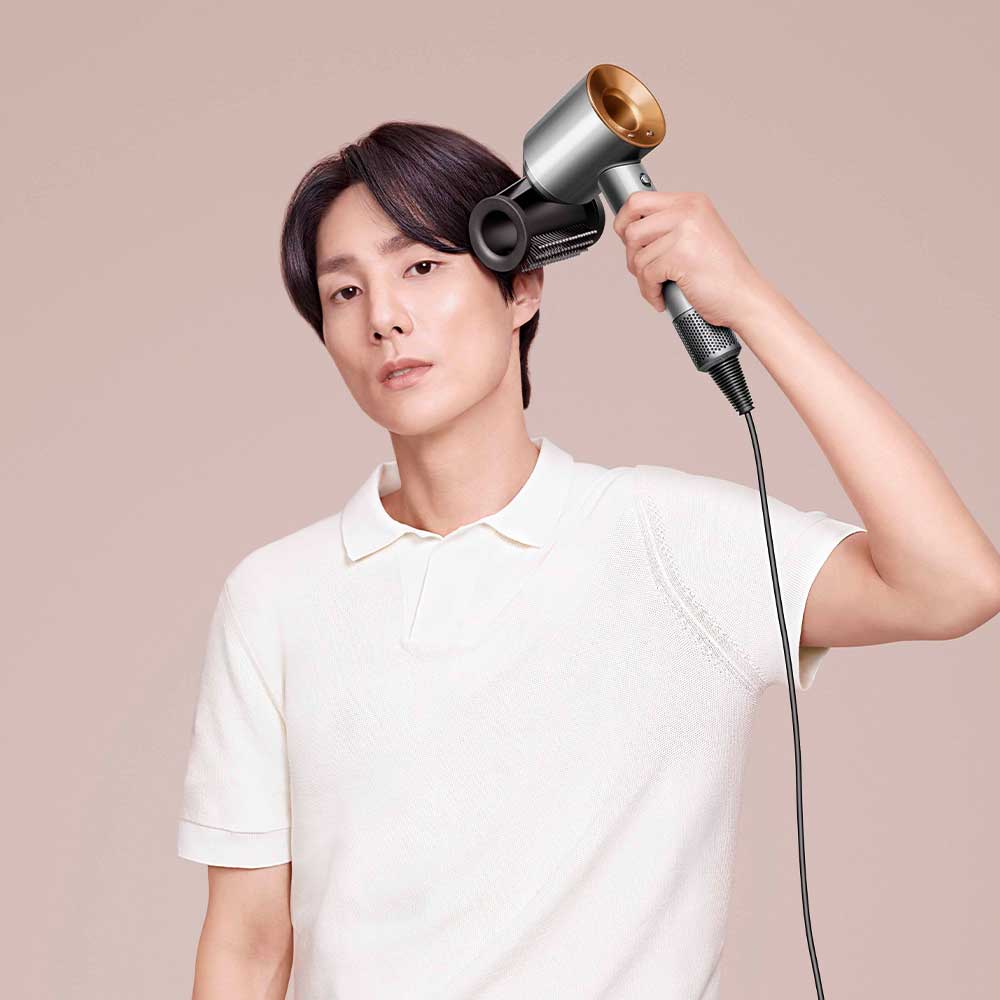 Reason #1: It's engineered for efficiency
We know what you're thinking: "It's a hairdryer. How revolutionary can it really be?" Well, for starters, the Dyson Supersonic is an engineering marvel. It features the Dyson digital motor V9, which spins at up to 110,000rpm—when combined with the brand's Air Multiplier technology, it generates a high-pressure, high-velocity jet of airflow for faster drying.
Reason #2: It has customisable and controlled settings for healthier styling
The Supersonic comes with three precise speed settings and four precise heat settings so you can customise your styling routine to your exact needs, whether it be for smoothness, blowouts or otherwise. 
Better yet, it has built-in intelligent heat control so you can cut down your drying time without frying your strands. What this means is that the dryer measures the air temperature over 40 times a second to regulate the heat it's generating, ensuring that you avoid extreme heat damage and maximise your hair's shine. Essentially, with the Supersonic, you can say hello to gorgeous hair in the now, and healthier hair in the long run!
Reason #3: It is the epitome of both style and substance
It's no secret: The Supersonic is as much an accessory as it is a practical styling necessity! The hairdryer's chic, minimalist design belongs within the halls of a modern art gallery, and it's available in a variety of stunning colours to suit any vanity.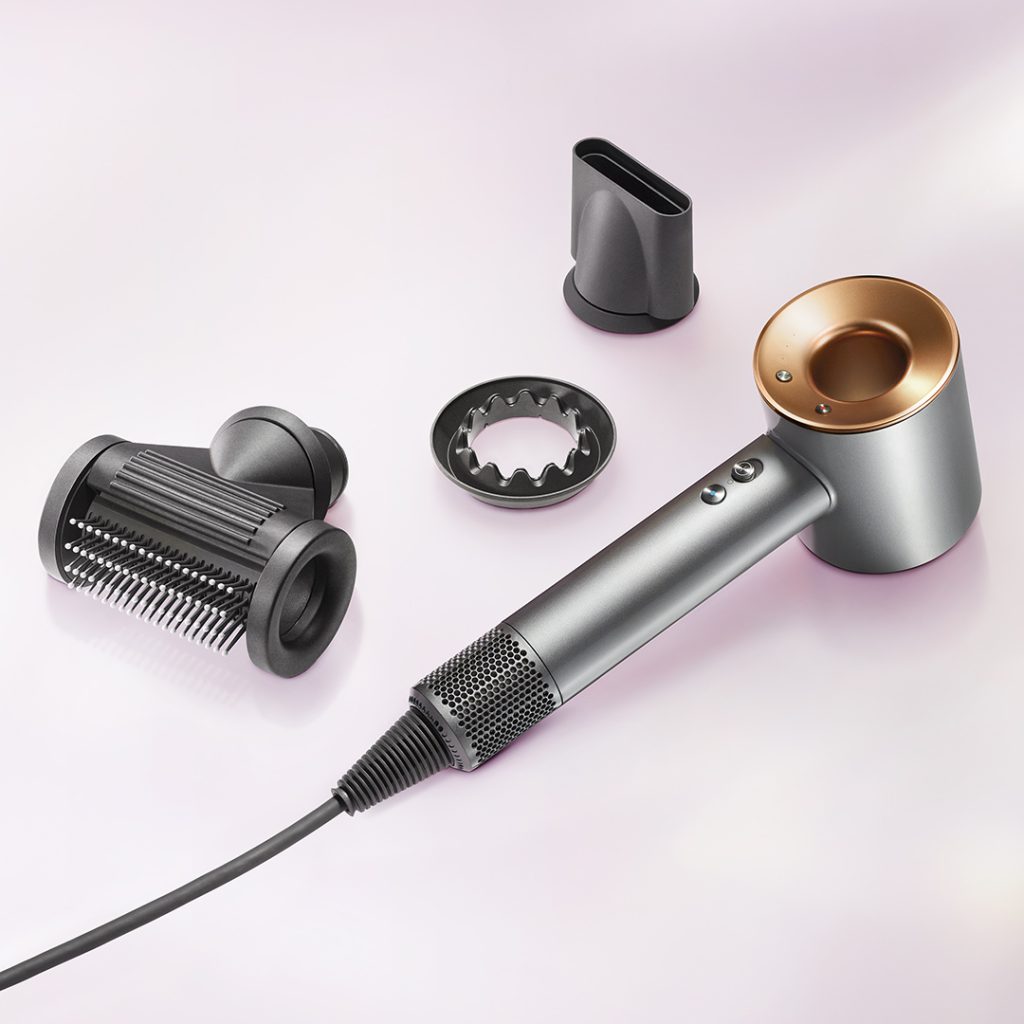 Reason #4: It comes with innovative and versatile styling attachments
The Supersonic has an array of attachments that work to elevate your styling routine: a Smoothing Nozzle for a smoother finish; a Gentle Air Attachment for fine hair and sensitive scalps; a Styling Concentrator for precision drying; and our favourite, a Flyaway Smoother for concealing unruly flyaways.
The Flyaway Smoother is the latest launch from Dyson, and it's their most innovative yet. Using the Coanda effect, it smoothes the hair as it dries. For the best results, use it on rough-dried hair (hair dried around 70 per cent of the way), and gently detangle. Then, use the Flyaway Smoother in Smoothing mode to dry, align and smoothen the hair in one easy step before switching to Flyaway mode to hide unruly flyaways behind longer hairs. Your slick ponytails and buns will never be the same!
Reason #5: It's quiet!
PSST: Did we mention the noise reduction technology yet? That's one of the best parts of this dryer—no ear sores here! While it isn't quite a whisper, the Supersonic generates significantly less noise than its counterparts so you can dry your hair in (relative) peace.
And there you have it! Five reasons we love Dyson's Supersonic—it combines efficiency, comfort, versatility, and style in one sleek package, and it's here to make your bad hair days a thing of the past. Will you be making the switch?
The Dyson Supersonic Hairdryer won the "Best Hair Tool" award in our 2023 BURO Beauty Empties. Shop the Dyson Supersonic Hairdryer here and find the full list of BURO Beauty Empties winners here.
Find more hair care reads like this here.
| | |
| --- | --- |
| SHARE THE STORY | |
| Explore More | |