If you don't already own a heat protectant that you use religiously, we highly recommend you get your hands on one ASAP. Though it is an oft-forgotten step, it is one of the most crucial parts of your hair-styling routine. Think of it this way: Taking a hot tool to your mop without adequate protection is like getting a tray of brownies out of the oven without using an oven glove—ouch!
If you're one to skip the spritz before a blow dry or a straightening session and you're wondering why your hair is frazzled and doesn't seem to grow, a heat protectant is the easiest place to start.
Below, our picks for the best heat protectants on the market:
Virtue Labs One For All 6-In-1 Styler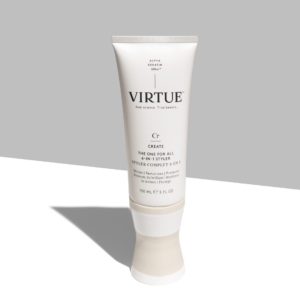 Virtue Labs prides themselves on their novel, scientifically-backed ingredient—Alpha Keratin 60ku. This human keratin—found in every one of Virtue Labs' ingredient lists—is the product of regenerative medicine, and is identical to the protein found in your hair.
READ: Virtue Labs' Melisse Shaban on beauty science, the spark of the industry and inclusivity in hair care
This allows it to perfectly bind to areas of damage and restore hair from the inside out, while the infusion of vitamin B5 and antioxidant-rich essential oils conditions and shines stressed tresses. Your hair will want for nothing after just a couple spritzes of the good stuff. Dreamy!
Find it for RM92 (60ml) or RM163 (120ml), available here.
Sachajuan Thermal Protection Spray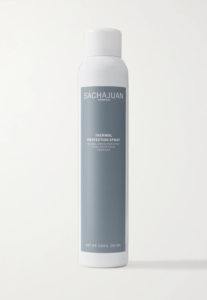 The Stockholm-born hair care brand is famed for its salon-standard results, which has earned them a loyal following and an impressive reputation. They've got you covered from crown to chin with their extensive range of products, and a heat protectant is just one of them.
The spray is your new best friend for any hot styling you're looking to do. Thanks to the brand's 'Ocean Silk' technology (a secret cocktail of marine algae extracts), the formula tames frizz and protects your strands while boosting shine as it goes. Get ready for the best hair day of your life!
Find it for RM120, available here
Kevin.Murphy Heated.Defence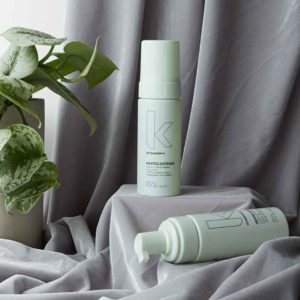 If you've not yet heard of Kevin Murphy, here's a great product to get you acquainted. The namesake personality was inspired by his experiences backstage as an editorial stylist, where he found that his models' hair would fall flat by the end of the day. Clocking a gap in the market, he devised his own line of hair products. From backstage secret to hair care phenomenon, this heat-protective foam is lightweight, invisible, and protective against heat up to 232ºC.
Ingredients like jojoba and castor oil condition, smooth, and strengthen hair against heat damage. Your modelling career starts now (ish).
Find it for RM137, available here
Ouai Heat Protection Spray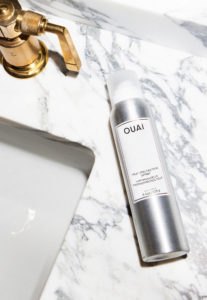 Thermal polymers are put to good use in this cruelty-free formulation, coating the hair to protect against damage. Further, it is the ideal for colour-treated and keratin-treated hair—the way the polymers work actually ensures they do not penetrate the hair shaft, hence protecting hair pigment and keratin content .
Finally, the spray is scented with Rue St Honoré; a beautiful fragrance infused with violet, gardenia, ylang ylang, and white musk.
READ: Ouai's Jen Atkin talks hair health, ONE hair trend she'll wear forever and how to get beachy waves with a straightener
Find it for RM120, available here
Drunk Elephant Wild Marula Tangle Spray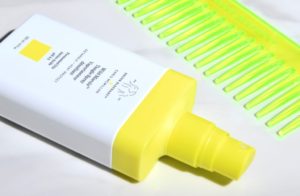 In case you missed it, Drunk Elephant released a hair care line in collaboration with Chris McMillan (creator of Jennifer Aniston's trademark hairdo—the Rachel) earlier this year. The line stays true to the brand philosophy of biocompatible hair care, focusing on the needs of the scalp to get your locks in order.
READ: The best shampoos and conditioners to solve all your hair problems
This spray detangles stubborn knots while conditioning and smoothing—and on top of all of that, it's also infused with anti-static heat protection agents. Multi-purpose never felt so good!
Find it for RM110, available here
Oribe Royal Blowout Heat Styling Spray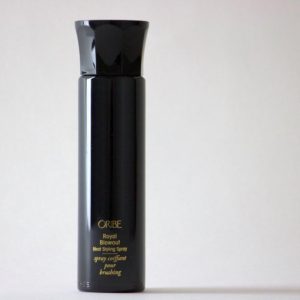 If you're a curly girl (or a girl with particularly thick tresses), we have the perfect solution for you. The brand's heat protection spray is infused with goodies like argan oil and protective ceramides which fortify the hair against heat and—most importantly—help to speed up drying time.
That's right: No more sore arms. Get your perfect blow dry in less time with just a few spritzes of this magic.
Find it for RM306, available here
Davines Your Hair Assistant Blowdry Primer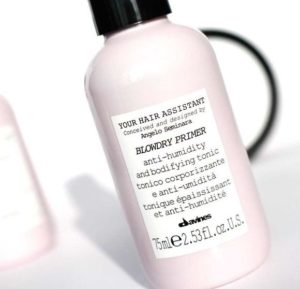 Three words: Protective, volumising, and detangling. Mist this hair primer through your still-damp lengths and reap the benefits of beautiful hair. Beach waves have never come so easy—the Davines spray does it all. Not to mention, it also helps to cut down your drying time so you can get on-the-go ASAP.
Find it for RM150, available here
Briogeo Farewell Frizz Blow Dry Perfection Heat Protectant Cream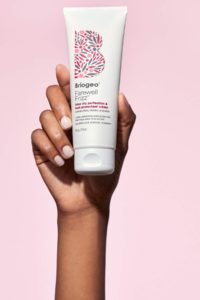 READ: Briogeo's founder Nancy Twine prides herself on inclusivity both in and out of her products
If you're not a fan of sprays, we have a suggestion that may peak your interest—hair protectant cream. Briogeo is back at it again with their blow dry and heat protectant cream; a godsend for any fans of the brand's Farewell Frizz line.
The product protects the hair up to 232ºC, and contains the signature Farewell Frizz trio of oils: Rosehip, argan and coconut.
Find it for RM108, available here
Bumble and Bumble Hairdresser's Invisible Oil Heat/UV Protective Primer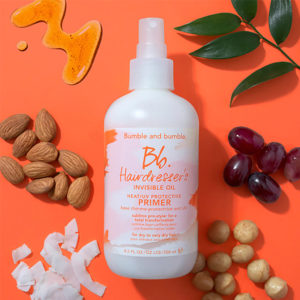 A hair oil, a heat protectant and an SPF all-in-one, this brand harnesses the powers of botanicals to soothe and protect dry, coarse, or brittle hair. Infused with a blend of six oils, the formula smoothes and conditions, while protecting against heat styling and UV damage. Better yet—the formula is completely weightless, so you don't have to worry about your hair falling flat come noon time.
Plus, it will leave you smelling like a delectable fruit cocktail—yay!
Find it for RM103, available here
Grow Gorgeous New Repair Heat Protection Leave-in Oil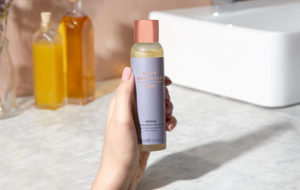 Bleached girls, here's your time to shine! Over-processed and damaged hair is tricky to tackle—heat tools can drastically reduce frizz and keep hair looking healthy, but will also contribute to damage over time. Here's where Grow Gorgeous steps in: Their heat-protecting leave-in oil is your new holy grail.
Powered by the logic of science, this heat protectant keeps your hair safe and sound by reinforcing its lipid barrier. The Oat Lipids Complex works to trap moisture in the hair, while conditioners like coconut, grapeseed, marula, and moringa oils deliver on shine.
Find it for RM137, available here
Aveda Heat Relief Thermal Protector & Conditioning Mist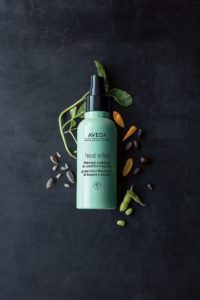 Aveda is famed for its effective, naturally-derived formulations and its commitment to great hair. So, it comes as no surprise that their leave-in treatment is one of our must-haves. Detangling and defrizzing are a breeze with every use; plus, it's infused with over 25 flower and plant essences, so you can bet that the super-fine mist smells as delightful as you'd expect.
Find it for RM142 RM110, available here
Olaplex No.7 Bonding Oil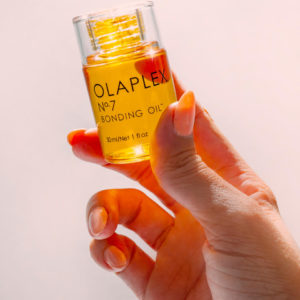 Olaplex has completely reset the hair game—after their post-bleach treatments achieved cult status, the brand has only continued on the trajectory of success. One of our favourites from their lineup is this heat protectant oil, which was created to help reduce frizz, improve manageability, and nourish the tresses while preventing damage.
The oil protects the hair up to 232ºC, and has the added benefit of enhancing hair colour. Damp or dry, the versatile oil is your answer to damaged locks.
Find it for RM111, available here
GHD Heat Protect Spray
GHD never lets you down—the cult-favourite hair brand has been at the forefront of the hair game for a long while now, with a wide variety of hair tools and treatments designed to get your tresses as luscious as can be.
READ: Wei Yeen Weighs In: GHD's lightest and fastest hair dryer (yet)
The tech behind this humble spray is as revolutionary as the rest of the brand's product lineup; infused with their 'Heat Protection System' technology, the non-sticky formula contains protection polymers that fortify the strands on your head against heat-related damage.
Find it for RM80, available here
Find more hair stories and inspo here.
| | |
| --- | --- |
| SHARE THE STORY | |
| Explore More | |