Late last month, I was required to undergo a 14-day quarantine notice at a hotel in Singapore—long story short, I needed to quarantine myself before registering for my marriage (my fiancé is based in Singapore). While it wasn't the most ideal situation I had imagined (who wants to get cooped up in a room for 14 days right before getting hitched, right?), it was the only viable option we had if we wanted to 1) meet each other after a long nine months, and 2) get married, obviously.
Now that 14 days is over—and I am no longer a single woman—I realised that being isolated in a hotel room in a foreign country is honestly quite doable if you've got all the right things in your luggage bag. Ahead, a nifty list of what to pack with you if you need to undergo a 14-day quarantine yourself (without losing your wits at the end of two weeks):
The usual cleaning agents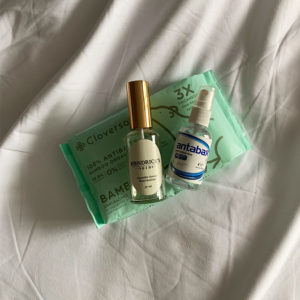 We all know how clean hotels really are—it's no secret that hotel bathrooms are often the grimiest, and what you see isn't really what you get. That seemingly sparkling clean toilet seat may indicate a stellar sanitising job, but try lifting up the toilet seat (or even the back of the toilet seat cover) and you'd be grossed out with what you discover.
Call me weird, paranoid, or obsessive, but I'm that person who'd rather clean 'em down my way instead of calling housekeeping—that way I know it's been thoroughly cleaned and not have to worry if I'm going to pick up something unsavoury after using the loo.
My trick: Bring a kettle of water to a boil, and then douse the boiling water over the toilet seat/bowl before wiping it down with wet wipes and/or sanitiser spray.
The latter two were perhaps my two most-used items during my stay as the hotel room I was allocated wasn't exactly dust-free. By day two, my eyes, nose and throat were feeling the dreaded itch (not from corona, don't worry—I Googled) and I had a feeling that the room's dust situation could be a major factor.
So I decided to page for a vacuum cleaner and a new set of sheets (if you were wondering, housekeeping isn't going to waltz in to clean the room for you, unfortunately), and after changing my linens and regular vacuuming on the daily, my allergies subsided.
Tip: Pack on a travel-sized bottle of laundry detergent too, if you're iffy with dirty laundry piling up for 14 days. While my hotel did offer laundry services, I didn't want a couple of my items to be tossed in the dryer—especially my workout gear.
Medication (in case of allergies and food poisoning)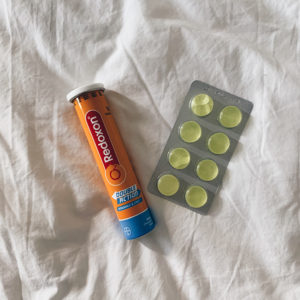 The last thing you'll want to contract during your 14-day stay is a cold, tummy upset, or any kind of ailment for the matter. Easily susceptible to colds especially when the AC is constantly running? Pack your soluble vitamin Cs and a couple of flu meds, just in case!
Thanks to anti-histamines, my above-mentioned dust allergies didn't plague me for too long throughout my stay.
Skincare—your existing routine, but better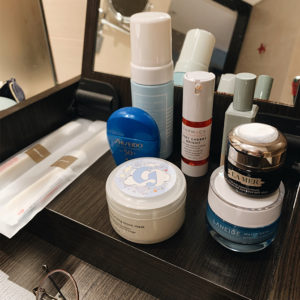 Staying in 24/7 for two weeks doesn't mean you're allowed to slack on your skincare routine. I was tempted to skip on SPF, but my circumstances didn't allow for it—my hotel room's desk faced the balcony door, so my face will likely be exposed to UV rays while I'm working on my laptop (and I most definitely did not want to end my quarantine with a face full of pigmentation.)
READ: You could be layering your skincare wrong—here's what you should be doing instead
I'd made sure to include richer face and eye creams as well, as my skin tends to get dryer in less humid conditions—what more being confined to an air-conditioned room for two weeks. Masking every three days helped gave me a semblance of my former self-care routine, and to keep occasional breakouts at bay.
New faves: Farmacy Very Cherry Bright 15% Clean Vitamin C Serum for a shot of skin-brightening (without irritating the skin), and comfy sheet masks from K-beauty brand Abib for extra hydration.
A little something to uplift your senses…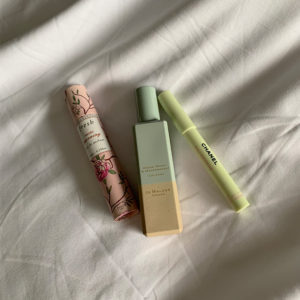 I'm a sucker for scents, and while I was most tempted to bring my entire fragrance stash along with me, my 40kg baggage allowance didn't grant me that luxury. And I know what you're thinking: "Why wear perfume if no one else can get a whiff of it, and if you aren't wearing it out?"
But fragrance is more than just that! Our sense of smell is linked to the deepest parts of our brain, which triggers emotional and even physical responses when we experience aromatherapy. Need a mood-booster when you're feeling down in the dumps? Spritz your favourite perfume. Can't seem to relax/fall asleep at night? Light a candle or turn a diffuser on to engulf your home with your favourite scent and to improve your overall wellbeing.
SHOP: 12 Gifts for every fragrance lover on your list
As you can tell from the picture, my go-to scents are floral, citrusy, and green. From rollerballs to fragrance crayons, these are the perfect sizes to add to my luggage without taking up too much weight or space. On days when I felt more sluggish than usual, a quick dab behind the ears or in the inside of my elbows worked wonders in turning around my mid-day brain fogginess.
Hairdryer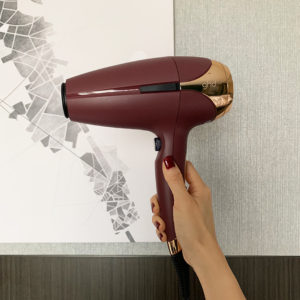 My hair's history with hotel hairdryers is a pretty eventful one—let's just say that it's a tie between frizzy AF tresses and half-dried roots (a high-powered motor in a hairdryer is hard to come by these days).
READ: The ultimate guide to maintaining your crowning glory
You will want to arm yourself with a hairdryer that can actually do its job efficiently, and to prevent 1) tired arms, 2) questionable hair that may not even be 100 per cent dry after what feels like hours, and 3) that dreaded 'burnt' smell in the air right after you're done with a blowdrying session. I've been using GHD Helios since my review earlier this year and my locks absolutely approve.
Yoga mat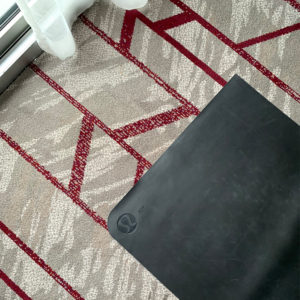 Fourteen days of bumming and non-activity in one space? There's only so much idling I can do before the inevitable sense of restlessness hits. Lucky for my couch potato behind, I managed to squeeze my Lululemon mat into my luggage bag—and it was one of the most utilised things I'd packed, after wet wipes and sanitiser that is.
READ: Keep fit in isolation with this home-based workout guide
While it's only a lightweight topper (the 5mm mat would've been too bulky and heavy to be crammed in my luggage), the carpeted flooring of the hotel room was plush enough to cushion the balls of my wrist and knees during my workouts. I made it a point to clock in daily HIIT and stretching exercises, just to get my heart rate up. At one point, I barely walked 100 steps a day—a worrying notion, seeing how the healthy baseline is 7,500 steps a day(!).
TIP: If you're not sure where or how to begin, try easy cardio exercises that require only 10 minutes a day i.e. jumping jacks, jogging in place, and squat jumps.
Extra: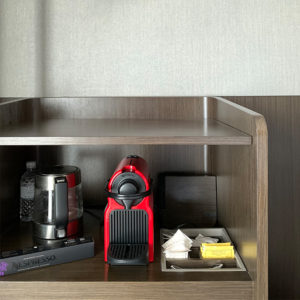 Tea and coffee lovers, pack on your necessities before your 14-day stay—whatever it is you need to make a good cuppa tea/coffee. I was fortunate enough to have a Nespresso machine in my hotel room, so all I did was buzzed family members for two sleeves of Nespresso capsules—just enough coffee to tide me through quarantine. That, and a couple of cup noodles and bags of fruit for good measure.
READ: Casa Nespresso has opened its doors to surprise and inspire your gifting this holiday season
Surprisingly, two weeks went by in a flash. A 14-day solo quarantine in a hotel in a foreign country may sound trying, but if you're stocked with the right essentials, food (and alcohol for some of you), and adequate entertainment, you may just pull through breezily. That said, establishing (and sticking to) a daily routine truly helped my wellbeing—even my sleeping hours were regulated to ensure I don't get lethargic by mid-day.
P/S: When I mean food, I mean ordering meals of your choice via food delivery services, or any food-based care packages your friends and family members can send your way. The daily meals provided by the hotel I bunked at were a dismal lot, so you might want to keep your expectations real low.
| | |
| --- | --- |
| SHARE THE STORY | |
| Explore More | |