Uh oh. You've overpacked. Your suitcases are packed to the brim, your arms are aching from dragging them around, and the bellboy at your hotel looks defeated as he lugs 16 eyeshadow palettes and four jars of moisturiser up to your room.
"I don't know how this happened," you think to yourself. "I swear I just packed the essentials."
Suddenly, you recall what happened earlier that day—you remember blindly grabbing any bottles and jars within your reach and chucking them in your bag. By the time you're done, you're way over the weight limit and the zip on your beauty bag looks like it's about to burst.
"Oh right," you remember. "I did this." Worse yet, by the time you settle in, you find that all of the bristles on your brushes are ruined, your eyeshadows are smashed up, and something sticky is coating every part of your bag. Even worse? You don't even use half of the bulk you've brought.
You have a problem, and we're here to help you solve it. Ahead, find our foolproof tips to packing your beauty bag efficiently and effectively.
What do I bring on my trip?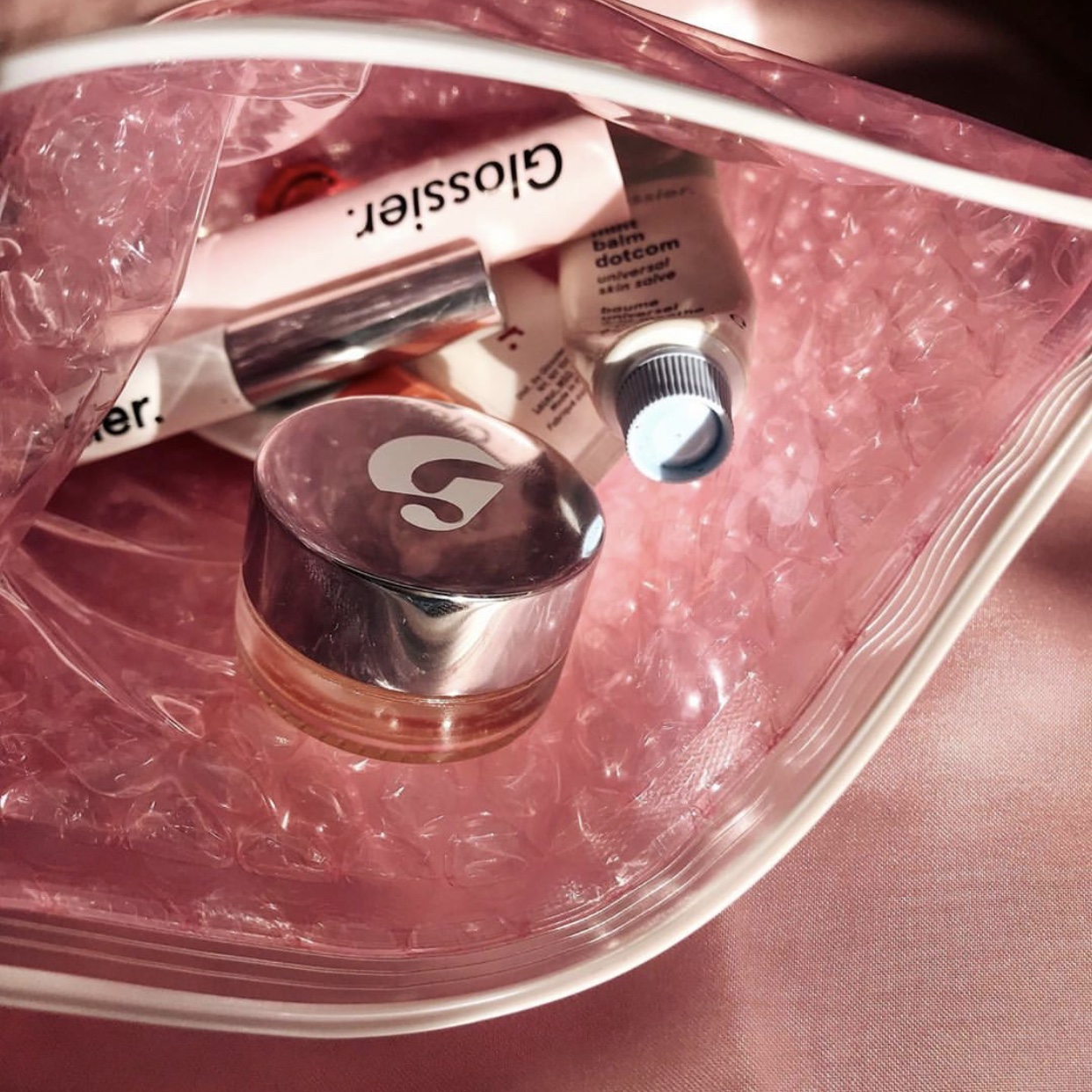 At this point, all you have to do is ask yourself one question: What do you actually need in a day? Make a list of all the products you think you'll need, then cut out anything that seems unnecessary.
We know what you're thinking. You cry out: "It's all necessary!" We know. Except, it's really not—give these tips a try and we're sure you'll end up with a much more reasonable packing list.
TIP #1: Leave redundant products behind
READ: Do you really need a separate day and night cream?
This can be really difficult to gauge, especially when the 'what if' panic sets in. Just think logically: Do you need two different moisturisers for an overnight trip? No. And before you chime in—while it's true your skin has different needs depending on the time of day, your skin will survive a day with one less product.
You also don't need three (only slightly) different shades of pink lipstick for a weekend away, unless, somehow, you're going to three different events with very specific lippy-related dress codes. However, though that sounds like fun (can we come?), we're doubtful that's the case.
You have to be cutthroat: If it isn't essential, get rid of it.
TIP #2: Look for multipurpose items
When cutting down weight (RE: point above), multipurpose products are your best friend. Get creative with this one: A single lipstick can work as your lip tint, blush and eyeshadow all-in-one. You could also look for moisturisers that have been formulated with SPF, and toners made with exfoliating ingredients. The possibilities are endless (and super space-efficient).
READ: 1 Product, 2 ways: How to get your money's worth from your beauty bag
TIP #3: Plan around your outfits
Do you know what you're going to be wearing while you're gone? You better figure it out—packing your makeup bag is so much easier when you know what colour scheme or vibe you're trying to match. Plus, planning outfits is half the fun of packing a suitcase!
TIP #4: Plan around the destination
Are you going on a city trip? A beach getaway? A country escapade? These are super important factors to consider when packing your makeup bag. On top of that, you're going to want to stay on top of weather forecasts as they'll help you gauge what your skin will need while you're away. For example, sunny days call for plenty of SPF and light product formulations while wintry weather will warrant richer moisturisers and hydrating lipsticks.
TIP #5: Bring products you can apply with your fingers
This is the easiest way to cut down on bulk—by omitting spatulas, brushes, and makeup sponges, you're saving space and the hassle of cleaning. Besides, who needs a full face of makeup for a day of lounging on the beach?
TIP #6: Get travel-sized bottles to transport your products
Why bring the whole 300ml bottle of toner just to use a single cotton round's worth? Instead, you should invest in some good travel bottles (they are both inexpensive and ubiquitous) and pour in what you need for your trip.
SHOP: Sephora Collection Weekend Kit
SUB-TIP #1: If your trip is relatively short, we recommend using contact lens cases to transport liquid products like foundation and moisturisers—liquid products tend to go a long way so one contact case-full of product will likely be more than enough to see you through.
SHOP: Dear Dahlia 5 Layer Soft Cotton Pad
SUB-TIP #2: Instead of bringing a bottle of makeup remover, opt for cleansing wipes instead. While less environmentally-friendly (try to find biodegradable ones, at least), it is much more portable than a bulky bottle and a pack of cotton rounds.
SHOP: Skyn Iceland Glacial Cleansing Cloths With White Willow Bark
So, what would we say is the bare minimum for any trip? Let's break it down:
Skincare
• Facial wash• Cleanser• Toner (optional)• Moisturiser• Sunscreen• Spot cream
Makeup (if wanted)
• Makeup remover• Foundation, tinted moisturiser, or BB cream (pick one, not all)• Concealer (typically fairly compact and portable)• Lipstick (for multi-purpose use)• Eyeliner and/or mascara• Setting powder or spray (optional)
Of course, depending on the length of your trip and your own personal needs, you may choose to carry more or less products—ultimately it's up to you.
How do I pack my beauty bag?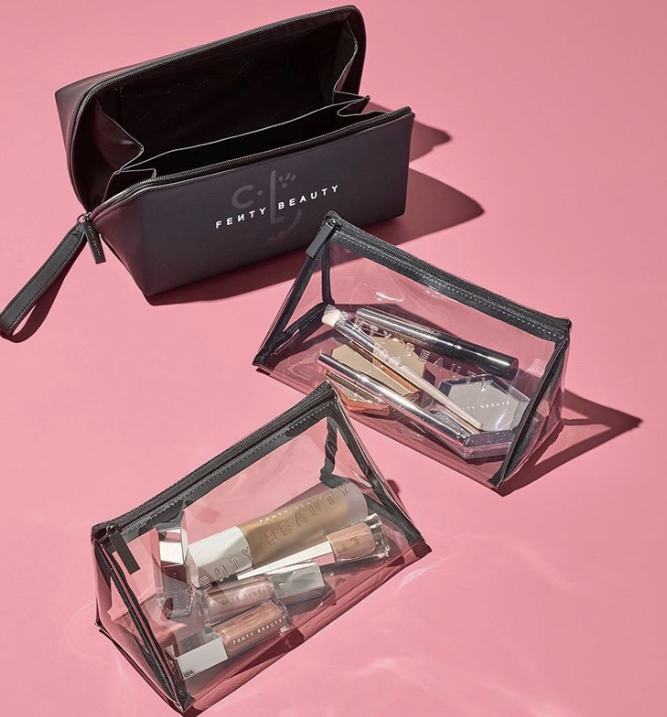 If you're chucking everything in the nearest bag you can get your hands on, you're just setting yourself up for failure. You need some kind of an organisational system, lest you end up with a jumbled, sticky mess of products. Follow these tips to avoid that unfortunate fate:
TIP #1: Group your beauty goodies according to type
When it comes to efficient packing, the bare minimum would be to keep your skincare, hair care, makeup and body care separately. If you're really keen, you can even separate makeup by lips, cheeks, eyes, and face.
It'll make everything easier to find, and multiple small pouches are easier to fit around other items in a suitcase than one large, unforgiving sack. Individual makeup pouches or even ziplock bags work in a pinch. However, ideally, you'll want to invest in the right makeup bag.
TIP #2: Choose the right makeup bag
We're not saying you need anything particularly fancy—we'd just recommend something sensible. First, think about what you're packing for. Is it a weekend excursion? A long getaway? A potential touch-up at the office? Pick a bag that suits your exact needs.
You'll want something that fits everything you need to bring while you're away, without taking up any more space than it needs to. Think of it this way: You don't want a three-drawer beauty organiser for a little day trip, nor do you want to be stuck with a small, understocked pouch on a month-long road trip.
Further, while travel beauty bags come in all kinds of materials, your best bet is to look for something that ensures easy cleanup in case of spills. Plastic is ideal, but anything washable will work too.
SHOP: Cult Beauty Large Travel Make Up Bag
TIP #3: Pack your palettes perfectly
If you are bringing a compact or an eyeshadow palette, make sure to pop a cotton pad or some kind of padding inside the case to prevent the pigment from cracking. The padding acts as a shock absorber.
TIP #4: Keep your brushes in a hard case
If you must bring makeup brushes with you, keep them in a case—a pencil case or a glasses case will work well! This will keep the bristles from bending out of shape, and keep your brushes clean in case of any rogue spills.
SHOP: Natasha Denona Brushes Basic Set
TIP #5: Use a pill organiser for your jewellery
Anything small and fiddly (i.e. earrings and rings) is at risk of going missing—by far, we've found this is the best way to organise your jewellery when you're on-the-go.
Find more beauty insiders here.
| | |
| --- | --- |
| SHARE THE STORY | |
| Explore More | |