Beauty
Kylie Jenner collaborates with Balmain, Urban Decay Naked Honey palette is now available and more beauty news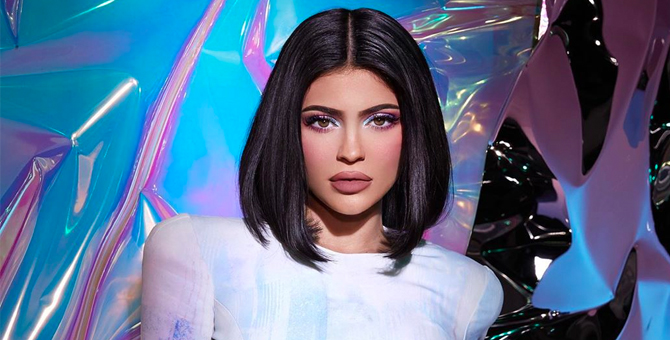 This week's beauty news run the gamut from fresh launches—mask variations by local influencer Jane Chuck's beauty label, a new treatment for your lady parts (yes, it's called a vajacial), Urban Decay's latest addition to the Naked family, and more.
Elsewhere, celebrity updates include Kylie Jenner's beauty collaboration with luxury fashion house Balmain, her sister Kim Kardashian West's honest take on living with an autoimmune condition, and Ezra Miller's traffic-stopping look you can't miss.
Kylie Jenner is the artistic director for Balmain SS20
Kylie Jenner has teamed up with favourite fashion designer Olivier Rousteing (creative director of Balmain) on a capsule collection that's about to drop later today (to coincide with the runway show). The beauty magnate was also appointed "artistic director" for Balmain's SS20 runway makeup looks, but a recent bout of illness has cancelled Jenner's plans to fly to Paris in time for the show.
The one-off makeup collection boasts an eyeshadow palette, a shimmery lip gloss and a matte lip kit comprising a lip liner and liquid lipstick.
Kim Kardashian West gets real about psoriasis
Kim Kardashian West unveils never-seen-before images of her autoimmune conditions psoriasis and psoriatic arthritis in an article on her sister Kourtney Kardashian's lifestyle platform, Poosh. The reality TV star has been open with her struggles with coping with this skin condition, and mentions that she experienced her psoriasis flare-up when she was 25 after getting a common cold.
"I've become extremely comfortable with my psoriasis. No matter where it is on my body, sometimes I am fine with showing it off and other times I don't want it to be a distraction, so I cover it up with body makeup," she pens. "If you have psoriasis, you can't let it ruin your life or get the best of you. You have to do what you can to make sure you are comfortable but not let it take over."
Ezra Miller debuts a statement-making look (literally) at Paris Fashion Week
If Ezra Miller's boudoir-inspired animal print getup doesn't make your jaw drop, take a close look at his makeup look at the Saint Laurent show in Paris Fashion Week earlier this week. The Fantastic Beasts actor is a fan of makeup and isn't afraid to flaunt it—this time in bold pink eyeshadow, grunge liner, red lipstick and a literal statement on his cheek.
Chuck's reveals two new mask variants
Motherchuckers, we bet you've been waiting (and waiting) for the arrival of these new mask variants and now they're finally here! If you loved the brand's Self Love moisturing honey mask with royal jelly debut, it's time to make space for the two new additions in your skincare arsenal.
If you need to even out your complexion while combatting dryness, opt for the Glow On brightening peony mask, which contains 78% of peony water and works to brighten, soothe and hydrate the skin while delivering anti-bacterial and anti-inflammatory benefits. This one's great for all skin types, including sensitive skin.
As for the highly-anticipated Chuck It purifying kale mask, the charcoal mask sheet contains 79% of kale extract to detoxify the skin, tighten large pores, control excess sebum, as well as reduce the appearance of dark circles and dark spots. Suitable for normal, oily and combination skin, it's designed for men too! Both masks are fragrance-free and do not contain alcohol.
Strip introduces a facelift for your Brazilian: Rosebud Vajuvenation
That's right, ladies. The treatment is called Rosebud Vajuvenation and it works to rejuvenate your intimate bikini area (fun fact: it's also called a vajacial). Unfortunately, the signs of time eventually take a toll on our skin and it's no different for the skin down south.
With Strip's innovative Rosebud Vajuvenation, this treatment boosts collagen and elastin fibre production with its cutting-edge Thermal O2 Technology, which combines radio frequency, vacuum suction and heat to lift and firm the vulva. The result? Supple skin, reduced fine lines and wrinkles, plus a naturally rosy glow. PS: you can get this as a post-wax or post-AFT treatment.
Looking for ways to reduce the appearance of cellulite instead? Strip has another treatment in store for that: Thermal Shape. This non-invasive body contouring treatment also uses the same high-performance Thermal O2 Technology to reshape and tone the body, improve skin laxity and smoothen out wrinkles. Combine that with its ultrasound cavitation, it emulsifies and shrinks fat cells to give you an overall smoother silhouette.
Sweet dreams are made of these: Urban Decay Naked Honey
Looking for a golden glow that can get you covered from dusk to dawn? The new addition to Urban Decay's Naked family will do just that. The Naked Honey Eyeshadow Palette has 12 exclusive shades of bronze and gold that you can experiment on, whether it's daytime mattes or evening metallics. Some of the standout colours include Honey, an intense gold metallic, Amber, a metallic copper shimmer, and Drip, a reddish-brown matte.
The best part? Those with yellow-toned skin don't have to shy away with golds with this palette. Shop it now from Sephora Malaysia.
Sisley adds pre-shampoo mask for scalp to its Hair Rituel range
We exfoliate our face to get rid of impurities and reveal new skin, but why don't we do the same for our scalp? With this mind, French skincare (and now scalp care) expert Sisley introduces a new haircare step to its Hair Rituel range: the Pre-Shampoo Purifying Mask that's designed to refresh your scalp, protect it from pollution and keep your hair cleaner for longer. TBH, with our first world hair problems these days (hello haze, dust and ciggie smoke), it's exactly what our stressed crowning glory needs: a hair detox. The formula contains white clay, java tea and celery seed extract, which helps absorb excess sebum and prolongs the time between washes.
This year, Sisley also launched the Hair Rituel Analyzer—a digital tool to assess the state of our scalp and hair fibres. With this diagnosis, you'll also get a personalised haircare recommendation that suits your hair needs, concerns and goals. In Malaysia, you can enjoy this service at any A Cut Above outlets starting this month.
| | |
| --- | --- |
| SHARE THE STORY | |
| Explore More | |