Beauty
Fresh's Lev Glazman on the brand's first ever Beauty Kitchen in KL and what he can't travel without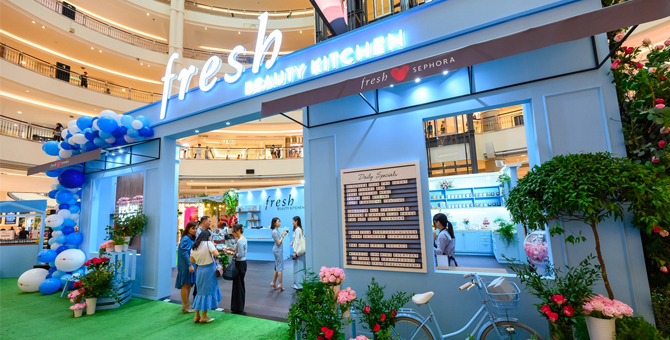 You can't talk about sensorial beauty products without mentioning Fresh. The 28-year old beauty brand is most recognised for incorporating natural ingredients (that you can find in your kitchen) in its products, from soy and sugar to vitamin C and kombucha. Combining age-old rituals with modern science, all its offerings are tailored for a one-of-a-kind, invigorating experience.
This week, Fresh collaborates with Sephora Malaysia to bring its Insta-worthy Beauty Kitchen to our shores. Expect an interactive, bistro-like setting to take you on a journey to explore the best of its skincare products, from the ingredients that formulate each bestseller to workshops for you to discover the secrets behind healthy—and happy—skin.
In conjunction with Fresh Beauty Kitchen's official launch in Suria KLCC yesterday, co-founder Lev Glazman shared his two cents on what we can expect from this pop-up along with his beauty philosophy, current skincare staples and more:
What are you most excited for when it comes to Fresh's Beauty Kitchen in Malaysia?
"I'm excited for the fact that there are so many more people embracing the brand now. To us, customers always come first. There's a lot of excitement about the brand, and I can't wait to share what the brand is all about."
"It's not about talking about one product and having this long speech about the technology of the ingredients (because we have so many different products). It's really what we're about and why we started doing what we're doing. It gives me a better opportunity to share this with a bigger audience. People are curious about who we are so I'm excited about that."
Fresh is opening its first ever flagship store in Malaysia—congratulations! What can locals expect from this space?
"When we opened Fresh back in 1991, Alina [co-founder of Fresh] and I were both retailers—we started with a store. We love the store concept because you have the opportunity to express the spirit of the brand. You're not limited by being in another store and only having a couple of shelves. You can truly tell the story in a better way and to create a theatre to bring your products to life."
"I'm excited to have the opportunity to bring every product we've made to Malaysia. We have a lot of customers here who travel around the world and when they see our stores in New York City and Los Angeles, they want the products that are not necessarily available in Sephora Malaysia."
"Fresh is a lifestyle brand so it enhances the story further. [With the store] we can talk about all of it, from Crème Ancienne to Black Tea Serum, which we don't have available in Sephora here because there's no room."
What are some of the top Fresh products you'd recommend to a new beauty user?
"My greatest belief is that great skin starts with clean skin. The mantra is that you cleanse, mask, moisturise. Masking is a huge part of my beauty ritual. Great skin starts with clean skin so when I formulated the Soy Face Cleanser back in 1998, I wanted to launch a cleanser that's universal and multifunctional to remove makeup effectively. The formula does not have soap, as that strips the skin's natural nutrients. Hence, it's our number one product right now."
"Masking is very important because it infuses the skin with different ingredients. It doesn't have to absorb in the same way as a cream does, but masking helps cocoon your skin with the most incredible ingredients. Our Rose Face Mask is a big deal and our Kombucha Black Tea Facial Treatment Essence is very popular as well—it gives you a dual-defence approach from pollution. It's my favourite."
READ: 5 Skincare goodies for that 'new year, new me' look
What is your favourite mask now from Fresh?
"I'm a maskaholic. I multimask all the time. Whenever I come home, I'd mix the Rose Face Mask with the Umbrian Clay Pore Purifying Face Mask to detoxify the skin while hydrating it. After cleansing, I use the Rose Toner and then apply the Overnight Mask (either the Rose Sleeping Mask or the Overnight Black Tea Mask)."
"I approach masks in a very democratic way. I love them all for many different reasons because they all do different things. For me, it's hard to find a favourite. I use literally them all the time. How you mask and treat your skin in different climates also helps—you got to diversify your beauty ritual."
What's in your travel bag right now?
"I would never leave home without the Soy Face Cleanser. It's always in my beauty bag. Right now, I have my Black Tea Firming Eye Serum—I always travel with that as well. When travelling, our eyes tend to get puffy and tired so I can't not travel without it."
What is your beauty philosophy?
"Great skin starts with clean skin. If you use a cleanser that has soap and harsh ingredients that strip your skin from essential nutrients, you might really irritate your skin. Cleanse the skin twice a day at least—in the morning and at night."
"Masking on the daily helps, and obviously moisturising and following the steps after that—serums and essences—are extremely important. I do like layering it to a certain degree because every product absorbs differently. You start with things that have absorb rapidly, then finish with something richer to let it seep into the skin."
"If I don't have creams in my possession, I'd definitely will need to have a cleanser and an essence."
What's the best beauty advice you've received that's never really gone away?
"You have to better understand your own skin and body. Skin is the biggest organ on your body, and we sometimes only protect a small part of it. You need to look at the skin as an organ, not just a cloth that covers your body."
"The biggest advice I got was to "listen to your own body". You have to have the right nutrition as beauty starts from the inside. That's a very important part that I don't think creams alone will do the job. Eating appropriately is where it starts—my mum always used to say to me: "Your stomach is not a trash can!" and that has always resonated with me."
READ: Fresh introduces its new Peony Brightening power players
What still keeps you excited about beauty every day?
"New discoveries. I'm very curious in nature and I always like to discover new ingredients and concepts. I always think about how can I make and bring ingredients to life and how to create an effective product. In my head I always go through a combination of ingredients and pair them together to find out what the effect is going to be. I make fragrances so I think a lot about fragrance notes and experiment with those too."
"What gets me going is constantly dreaming. We always go with this philosophy in our company: dream, believe, achieve. That's what keeps me going all the time. It starts with a dream and sometimes it doesn't necessarily come to life because the reality of things can be different, but we always find a way to make dreams a reality."
What can we look forward to next from Fresh?
"Right now I am very much infatuated with fermented ingredients. They are extremely effective and I want to incorporate more of that into some of our beauty rituals. So we'll see more of that—more exploration of kombucha. The Kombucha Black Tea range was the biggest launch we've had in the history of our company."
"I'm also dreaming about Fresh face products that will offer additional coverage—almost like a no-makeup makeup kind of look. It will be very democratic, made for every skin type. That's long-term but I'd love to explore it for sure. It's going to be products that come in specific textures with major benefits."
Check out Fresh Beauty Kitchen at Centre Court, Suria KLCC from 10am – 10pm daily, from now till 30 June 2019.
| | |
| --- | --- |
| SHARE THE STORY | |
| Explore More | |