If there is one ingredient that has been immortalised as a skincare staple, it would have to be Vitamin C. Since time immemorial, the multi-functional ingredient has been revered for its many benefits on our health as well as our skin. Personally, Vitamin C is usually my go-to when I'm feeling a little under the weather and need a quick booster.
In the beauty world, Vitamin C is known for its anti-ageing benefits. In fact, it is one of the most powerful antioxidants around in your fight against free radicals, which are known to negatively impact DNA, lipids and proteins. Vitamin C can protect skin against the visible impacts caused by pollution and UV exposure, as well as to help boost collagen and keep skin's hydration. It also gently brightens your complexion and even our your skin tone.
What to know?
You can find several types of Vitamin C in skincare products. The most common being L-ascorbic acid, which works to encourage collagen production and helps skin's surface fend off photo-ageing so you get smoother and firmer skin with less spots or pigmentations.
Although L-ascorbic acid is one of the more unstable forms of Vitamin C, it is also less irritating. But having said that, you can try other derivatives if this doesn't suit you. Other types include sodium ascorbyl phosphate, magnesium ascorbyl phosphate and retinyl ascorbate.
Research found that your skin can get protected from free radicals and ageing with as little as 0.6 percent of Vitamin C. But it is important to note that Vitamin C is usually unstable and will degrade over time. Thus, products with this super ingredient will lose its efficacy especially when exposed to heat, light and air, the antioxidant properties tend to break down faster. Hence, you should look for skincare products that are encapsulated in air-tight bottles, pumps or single-use packaging.
Hit Fresh for some Vitamin C loving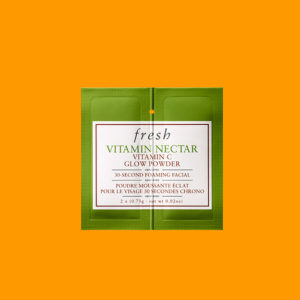 If you want to a quick pick-me-up in the morning, try Fresh Vitamin Nectar Vitamin C Glow Powder. It contains a proprietary vitamin fruit complex that includes 20 percent Vitamin C as well as other vitamins, fruit extracts and minerals. Just empty the two sachets on your palm and mix with a bit of water to create a powder-to-foam facial. The 30-second treatment will help supercharge your skin with a healthy glow.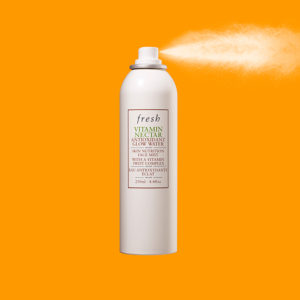 To refresh skin throughout the day, the Fresh Vitamin Nectar Antioxidant Glow Water will be the perfect companion. This facial mist also contains a selection of vitamin fruit complex, citrus fruit extracts and minerals to help you get your glow on anytime you need it while delivering antioxidant properties. The fast-drying, ultra-fine formula is great as a cooling primer, a makeup-setting spray or an instant refresher.
Fresh is available via Sephora.
| | |
| --- | --- |
| SHARE THE STORY | |
| Explore More | |