Happy Birthday Twigs! In honour of the star's 34th birthday, we're rounding up our favourite moments of her beauty journey so far
Whether she is dressed to the nines or keeping it low-key, there's one thing FKA Twigs certainly isn't, and that's boring. Though the London-based musician is best known for her ethereal signature style and her critically-acclaimed music career, we firmly believe that one of the criminally-overlooked facets of her artistry is, in fact, her eye for beauty.
The star is no stranger to the avant-garde or the unusual; in fact, she embraces the experimental. While it's evident in her music, her performances, and her fashion, today we're shining the limelight on some of the best beauty looks we've seen from her… ever.
Ahead, find a timeline summing up the highlights of Twigs' beauty evolution:
FKA Twig-let: The prequel
Stars—they're just like you! Yes, contrary to popular belief, Twigs didn't just warp to Earth on one fine day. The seasoned performer, whose birth name is Tahliah Debrett Barnett, was born in Cheltenham, England on the 16th of January 1988.
Twigs: The sequel
A brief (but comprehensive) look at how the trendsetter's style has shifted with her rising star:
2012

Fringe fiasco
Remember when side-bangs were in? Twigs definitely does—the singer shared this throwback to her Instagram feed in 2012. In the photo, she sports a pouty gaze complete with pseudo-scene-queen side bangs. It is the pinnacle of relatable beauty blunders. 10/10.
She's a gem
This look marks the beginnings of Twigs' near-decade-long (and ongoing) obsession with gem-embellishments.
2013

Doe-eyed dear
READ: The future of the post-pandemic beauty industry is digital
This AR-heavy look from the 'Water Me' music video was ahead of its time, marrying the increasingly intertwining worlds of beauty and tech before Instagram filters had caught on.
Braided space buns
View this post on Instagram
Sleek, stylish, and practical, this 'do is a winner in our eyes.
2014

Anime Dream Girl: Part 1
View this post on Instagram
Three words: Braids, brows, buns. Hands down, anime eyes and all, this look from the self-directed Google Glass concept film Through Glass is among our top ten favourites from the singer to date.
Watch the film here:
Sombre headshot
View this post on Instagram
Though we're missing the trademark, avant-garde beauty we've come to associate with Twigs, we appreciate her stripped-back passport photo beat.
2015

Hair-raising bondage
The hair-centric music video for 'Pendulum' is yet another solid top ten contender—the bondage technique shown in the video is known as shibari, a form of Japanese rope bondage. However, the video explores a different facet of the fetish practice; instead of rope, Twigs is bound by her own hair, conveying the feeling of being trapped within her own mind.
This is just one of the ways Twigs integrates beauty into her creative concepts—it all goes hand-in-hand.
Savage Beauty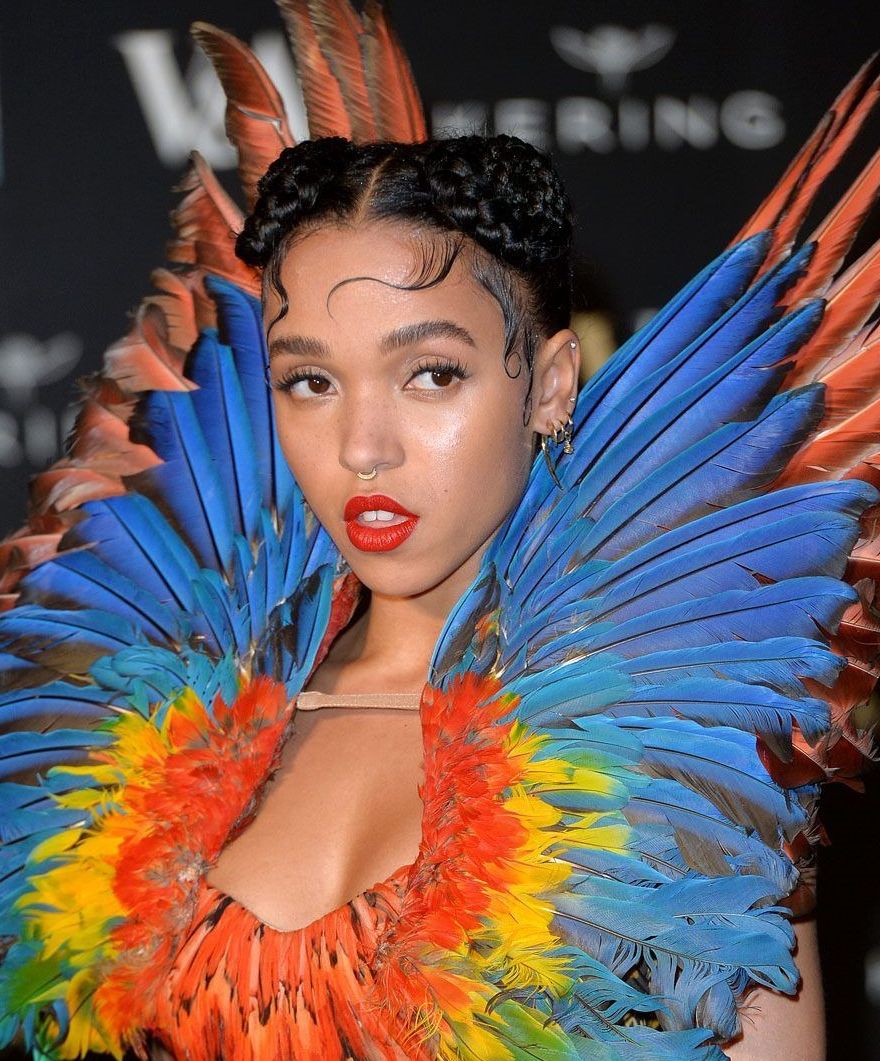 The braided space buns make a comeback at the Alexander McQueen: Savage Beauty Exhibition in 2015. This time, however, they are accompanied by a more pared-back beauty look—Twigs keeps it simple with a smoked out wing and a vibrant, warm red lip.
Brit Award beat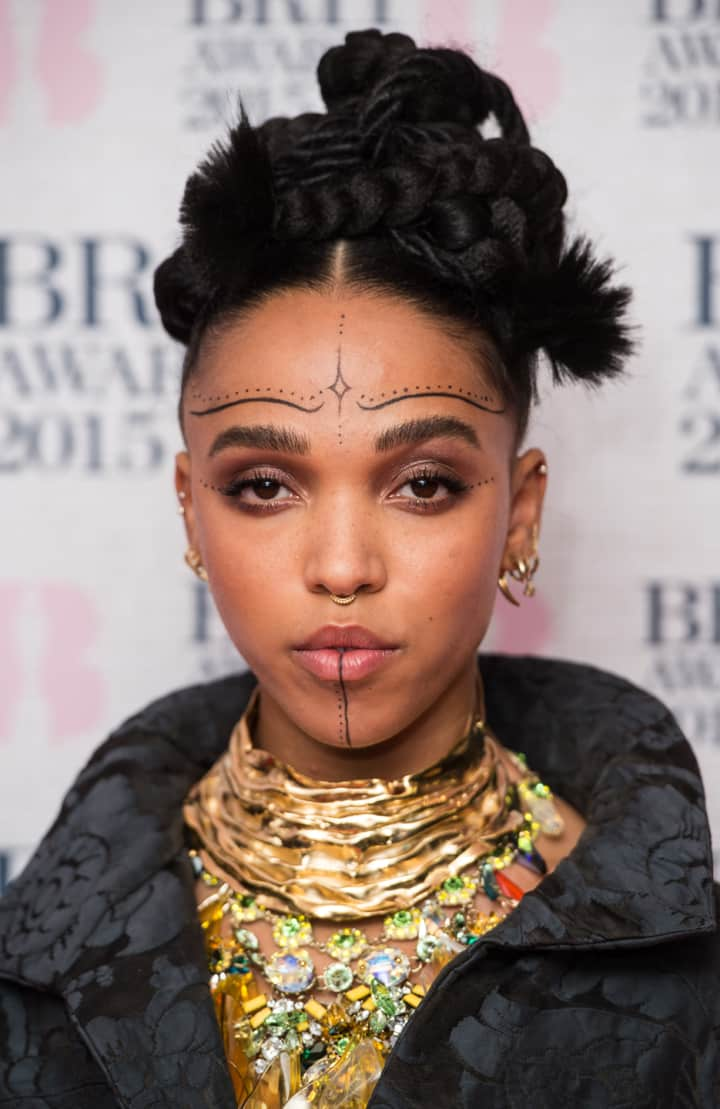 While the temporary tattoos that adorn the singer's face are what the eye is initially drawn to, our favourite part of this look is the hair. The twisted updo of mismatched braids adds a very visually-striking texture to her overall look without overwhelming the rest of the ensemble.
Brow believer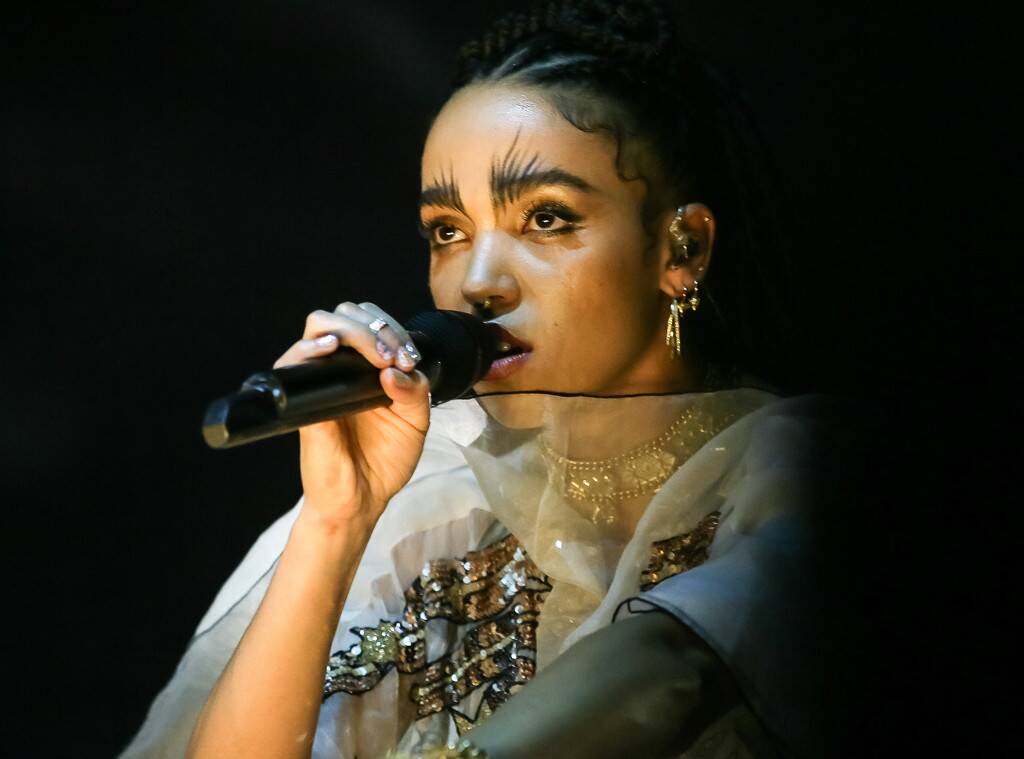 In case you didn't know, Twigs is actually the hand behind most of her stage looks. Taking the 'soap brow' trend to new lengths, Twigs exaggerates her natural shape with the imperfect strokes of a brow pencil.
'The Skrillex' feat. baby bangs
We admit: This look is definitely more refined than the then-popular sidecut of the time. No shade—we love the way the defined curls of her microbangs frame her face, especially when paired with her classic, 50's-esque makeup.
2016
Met Gala Magic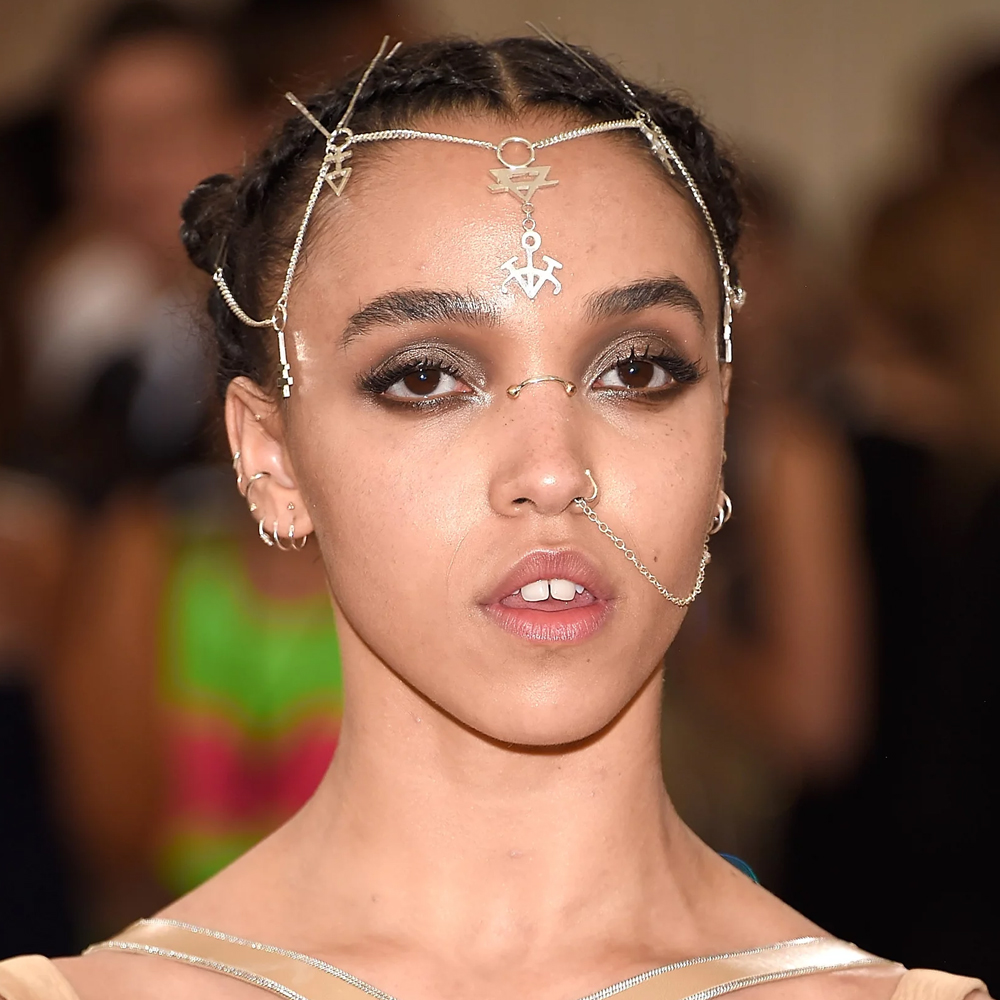 Dewy, vibrant skin got a metallic makeover at the 2016 Met Gala—here, Twigs adorns her face with a faux bridge piercing and decorative chains.
2017
The prodigal microbangs return
Though the grown-out blonde isn't our favourite look, the (now-retired) philtrum piercing will always have a special place in our hearts.
Beauty in 3-D
Twigs takes winged eyeliner to the next dimension. Need we elaborate? 10/10.
2018

Pre-mullet 
We love the way Twigs' curls completely transform her layered shag. Throw in a pair of enviable brows and this pinky-perfect lip and you've struck gold.
Short, short, and shorter
Ever the hair chameleon, we love the short, middle-parted crop she sports in her Apple Home Pod campaign from 2018.
Piracy, but make it fashion
View this post on Instagram
llscreen" data-instgrm-payload-id="instagram-media-payload-12″ data-mce-fragment="1″>
Who knew eye patches could be so celestial? Between the chainmail headpiece over the microlocs, the bedazzled eye, and the high-gloss makeup, this look from the A$AP Rocky 'Fukk Sleep' video is yet another contender for the top ten.
2019

Regency-era euphoria
View this post on Instagram
READ: I recreated 6 looks from HBO's 'Euphoria' and this is how it went
Euphoria who? This pearl-encrusted look is, by far, our favourite to date. Why? Well, pearl-encrusted embellishments aside, the Regency-inspired hair toes the line between historically-accurate and delightfully modern. Just look at those tight, face-framing curls!
Mary Magdalene incarnate
View this post on Instagram
READ: FKA Twigs walks us through her Magdalene Tour Makeup routine
Conceptualised by Twigs' trusted make up artist, Daniel Sallstrom, the singer sported this theatrical look inspired by The Red Shoes (1948) on her Magdalene tour in 2019.
The eyepatch gets a makeover
This pirate-chic look from the 'home with you' music video sees the singer return to the eye patch. This time, however, it's sleeker; more futuristic. Paired with a fresh mop of curls and a striking gold-metallic lip, it's one for the books.
Watch the full music video here:
2020

Grammy goodness
View this post on Instagram
Fresh, fiery-red curls and a '60s-inspired eye to match? Colour us intrigued.
'90s glam galore
Created by trusted celebrity makeup artist Bea Sweet, there is more than meets the eye in this simply-sweet makeup beat. Firstly, the graphic lip liner paired with the tendril-tastic '90s pony (courtesy of hairstylist Rio Sreedharan) perfectly captures the essence of the beauty from the era.
More interestingly, the combination of the warm brown wash over the lids and cheeks mutes the intensity of the burgundy-blood red that lines her eyes and lips—overall, the look strikes the perfect balance between chic and unique.
RAWR, but make it 2020
View this post on Instagram
Twigs proves that dressing up isn't just for Halloween—this kitty-glam look is perfect for your regular Tuesday after-work drinks (not).
Anime dream girl: The sequel
View this post on Instagram
Twigs sported these two looks in the music video for 'Sum Bout U' by 645AR. From vibrant, orange wigs to powder-blue and pink eye looks, we're spoiled for choice on favourites.
Blonde bombshell
Of course, with the lockdown diaries of 2020, we were bound to see Twigs' vibrant orange fade out. What we didn't expect, however, was this delightfully peachy-keen blonde hue.
2021

The mullet trend train chugs on…
View this post on Instagram
READ: Shag-tastic: All the best celebrity mullets from this year
Twigs keeps the blonde but switches up the style—it's all business in the front, party in the back now.
The roaring '20s—revisited
To welcome 2022, Twigs revisits the roaring '20s with this flapper-inspired makeup look—with a modern twist.
Why would you do this… for me?
View this post on Instagram
Always looking to subvert, the singer left many speechless with this extra long metallic pedicure—all in all, it's definitely not for the faint-hearted. Or for those with a thing against feet.
Shiny graphic liner
This fresh graphic eye is a reminder that sometimes, the best looks are the simplest ones. Paired with her signature lip and a fun half-updo, it's a really gorgeous take.
Tears in the Club
View this post on Instagram
Finally, her makeup for her last single of 2021, 'Tears in the Club ft The Weeknd', epitomises sad girl chic—where streaky mascara and glittery tears are all the rage.
2022

The Caprisongs era
View this post on Instagram
2022 is off to a strong start, both with respects to Twigs' beauty evolution and her music.
What do you think of FKA Twigs' beauty evolution? Did we miss anything out?
Find more beauty stories here.
| | |
| --- | --- |
| SHARE THE STORY | |
| Explore More | |