We took a trip to Paris with Ex Nihilo to get an exclusive, intimate look at the brand from its founders—here are five fascinating things we learned…
In just a short decade, Ex Nihilo has gone from a radical concept to a global brand that's redefining the world of high perfumery. First opening the doors to its Paris flagship on Rue St. Honoré in December of 2013, the brand had one mission: to disrupt and to innovate.
READ: Exclusive: How Ex Nihilo is using tech to reinvent the world of fragrance as we know it
Since then, it has established itself as a coveted leader in the niche fragrance space with its tech-led innovations and anti-traditionalist ethos. In fact, as of this year, Ex Nihilo is officially available in 33 countries across the world with seven flagships across major cities.
We headed to Paris to celebrate Ex Nihilo's (early) 10-year anniversary and to get an intimate inside look at the fragrance house from co-founder Benoit Verdier. Here are five fascinating things we learned during our whirlwind trip:
Fact 1: None of Ex Nihilo's three founders are perfumers by trade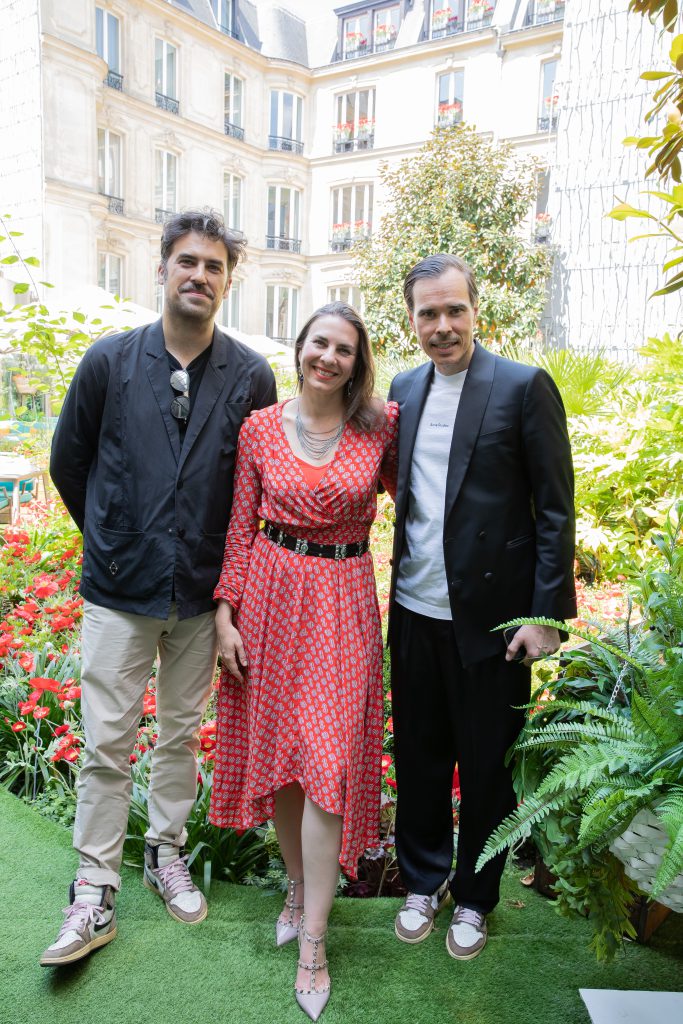 This may be unexpected for a fragrance brand—especially one of this calibre—but the varied backgrounds of Ex Nihilo founders Benoît Verdier, Olivier Royère and Sylvie Loday are the reason for the indie brand's immense success.
Verdier explains that the varied backgrounds of the three co-founders have allowed them to bring a fresh perspective of fragrance to the otherwise traditional space: "We don't share the more conservative ideas of most of the fragrance industry, so we have been very open to change. That's how we've managed to evolve and carve out our own footprint."
"Not being perfumers was a great advantage for us to see Ex Nihilo as more of a platform that could offer a 360º experience. We take inspiration from the perfumers we work with, but also from architects and designers, and from places that people in our field don't normally look for [inspiration]," he elaborates, going on to describe the dynamic of the trio within the company. "I think we all complement each other's skills, which has been very important in our growth. I'm more of a marketing and creative direction guy, so I needed people to back me with the financial and operational aspects. Sylvie had a former background at Givaudan, so she made the link with our brand and the industry and also the perfumers. Olivier had this very serious and eye-level banking background, so he handles the financial aspects of the business." 
Fact 2: Ex Nihilo was one of the first brands to bring its perfumers into the spotlight
View this post on Instagram
While storytelling is now a core part of fragrance marketing today, it's really only a recent development for the fragrance industry—and Verdier's longstanding experience in marketing within the luxury sector is exactly what inspired him to push to highlight the master perfumers behind each of the brand's scents. 
"10 years ago, when Ex Nihilo first started, no one was communicating on the nose of the perfumes nor the materials used, except for Frederic Malle and us. I think it gives more choice to the customers—more transparency," he says. "Knowing who is behind your favourite fragrances and how they came to be from concept to production is a nice evolution for the future."
Fact 3: They are one of the few beauty brands in the industry to offer a fully customisable fragrance service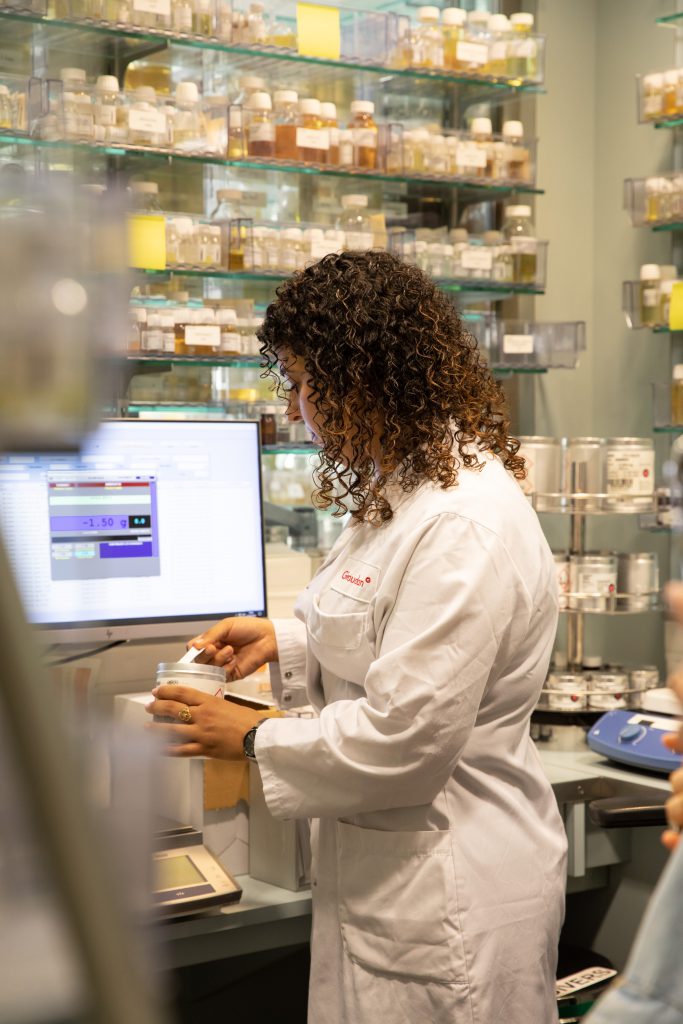 Inside the Givaudan Laboratory…
While we were in Paris, we had the pleasure of visiting both Givaudan Laboratory and Ex Nihilo's Rue Saint Honoré store—that's where we saw both the creation of the brand's fragrances in action, as well as experienced its personalisation service. Introducing: The Osmologue. It's the highlight of the brand's Paris flagship store and is the physical culmination of the brand's tech-forward identity. 
View this post on Instagram
The prototype Osmologue—the first of its kind—pictured in the Ex Nihilo Paris flagship.
Essentially a scaled-down version of the fragrance-creating machinery at Givaudan Laboratory, the Osmologue allows Ex Nihilo customers to personalise any fragrance from the brand's Initiale and Babylone collections with the absolutes of iris padilla, vanilla bourbon, musk and more.
"The Osmologue is exactly the same Swiss technology from the Givaudan fragrance laboratory, but we made it more tailor-made for our needs," Verdier explains. "We managed to make it smaller, a little bit smarter, more easy to use, and more convenient. We wanted it to be more visual, more entertaining and more transparent so our customers would be able to see the whole process behind the creation of our fragrances."
View this post on Instagram
The fragrance personalisation in session…
"I think this is what people are looking for—to be part of the process," Verdier continues. "And, you don't have to wait for six months to get the results! You can go home directly with it. Post-pandemic, people are craving that sensorial, experiential experience. That's why we're also keeping it very exclusive, creating a destination experience in-store makes it very special."
Fact 4: The packaging is both practical and pretty 
View this post on Instagram
Regarding attention to detail, the Ex Nihilo team has really thought of it all. The packaging for the luxury brand's fragrances is neither boring nor grandiose. Rather, it's a thoughtful compromise between aesthetics and functionality. Each fragrance is packaged in a foam box wrapped in a card sheet, the former made from recycled material and the latter fully recyclable.
It's a simple design that has been chosen for an ingenious reason: "What makes the packaging from the box special is the foam we use. It's a recycled material," explains Verdier. "It has a function. When I travel, I don't want my fragrance to break in my luggage! And I don't want to travel with it in my shoes or in my socks—I want something that will protect my fragrance from the light (all fragrances are photosensitive) and that will protect my precious fragrance from changes in temperature. The foam does all this. 
"Plus, all our packaging does also have a second life," he adds proudly. "Once you're done, you can throw it in the paper dustbin and it can be reused. It's crushed into a powder and can be used to create roads in the streets." Fun fact: The foam was initially used by Dom Perignon on certain precious champagnes, and its many applications gave the Ex Nihilo trio the idea to introduce it to the fragrance industry. 
The flacon itself, of course, is as luxurious as they come, complete with a clear glass bottle, weighty metal caps and delicate embossing. "We love this idea of being neoclassical. We discussed techno-craftsmanship, where a lot of technology and innovation goes into our brand, but also a lot of things are made by hand," Verdier begins. "When you remove the box, you have this beautiful, timeless, made-in-France, very minimalist glass bottle. But it goes together with the outer packaging as an experience."
Fact 5: All of Ex Nihilo's fragrances are genderless
View this post on Instagram
The philosophy behind Ex Nihilo's fragrance collections revolves around comfort and versatility—these are scents to be lived in. Moreover, the brand's fragrance creations are meant to be worn by everyone, according to Verdier: "All our fragrances are genderless, something we can share. The ambition of the brand is to talk to a new generation and to keep disrupting the status quo of the industry. It's not too elitist."
The interview excerpts have been edited for length and clarity. Find more beauty reads here.
| | |
| --- | --- |
| SHARE THE STORY | |
| Explore More | |