Having started her blog in 2012, Ella Mills, or better known as Deliciously Ella, has came a long way since then—becoming a social media star (she currently has 960k followers on Instagram) and global wellness warrior advocating for wholesome plant-based recipes and a positive, healthy lifestyle, an author of sell-out cookbooks, and a café owner. Her debut cookbook Deliciously Ella was named as Amazon's biggest selling book of 2015, and her second book Deliciously Ella Every Day was just released earlier this year.
Most recently, Ella embarked on a collaboration with Neal's Yard Remedies, a brand that takes pride in harnessing the benefits of ethically sourced, organic plant-based ingredients. Together they created two products: the Rose, Lime & Cucumber Facial Wash and the Rose, Lime & Cucumber Moisturiser—both suitable for all skin types.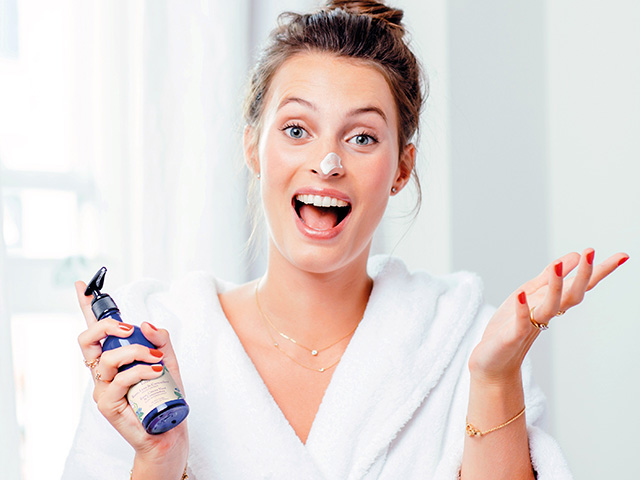 Here, we speak to Ella herself to find out more about this collaboration:
How did this collaboration with Neal's Yard Remedies come about?
When I changed the way I ate I started looking at the types of products I used on my skin and switched to natural and organic skincare, and immediately fell in love with Neal's Yard Remedies products. They've been my go to brand for years now. I worked with them to develope recipes for their superfoods, and the more I worked with them the more I learnt and understood about the importance of choosing organic when it came to skincare—sustainability, impact on the world etc. Our values were so aligned, making them the natural choice.
Then I visited their HQ in Dorset, which was so inspiring—I loved seeing organic ingredients being grown in their gardens which they use in their products. I spent time with formulators mixing up products and loved that it was like mixing products in a kitchen but on a bigger scale.
What are your thoughts on Neal's Yard Remedies approach to organic beauty? Does it resonate with your own take on it?
My approach to cooking and feeding your body with the best quality organic ingredients is the same approach Neal's Yard Remedies has taken to developing skincare for the past 35 years. It's all about positively inspiring people to make healthy choices to live the happiest, healthiest lives possible.
How did you decide on creating a facial wash and moisturiser for the collaboration?
In my first meeting with the formulations team, they asked me what I wanted from a skincare range. Radiance and a natural glow were key, but I wanted the products to smell beautiful and feel great on my skin, as well as being easy to use in a simple everyday skincare routine. My readers are always asking me what I use on my skin. My skincare routine has always been really simple and I wanted to create something that I would genuinely use myself and that my readers could enjoy too. So working with Neal's Yard Remedies, we created products that work, using ingredients that I love. They also smell amazing and the blue bottles look great on your shelf!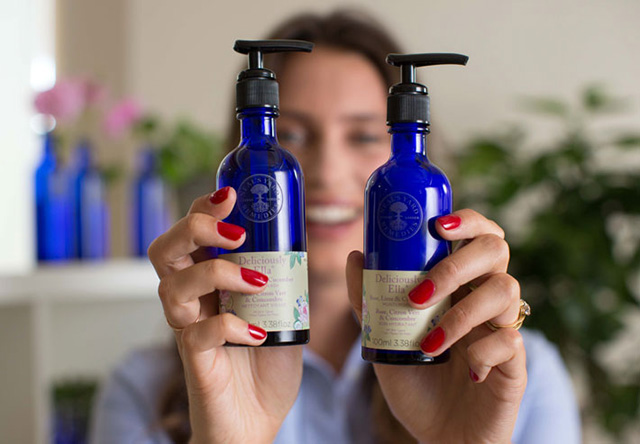 What was your favourite part of the whole process?
I loved going down to the Neal's Yard Remedies factory in Peacemarsh, it's really incredible to see how authentic the company is and how sustainable their ingredients are. The quality of what they produce is so high and I felt that their ethos really fitted with mine, so it's been an amazing collaborative process, and I've been able to get so involved in every decision from the fragrance to the ingredients right through to the packaging.
Tell us about the ingredients used in the products. Are they ingredients that you normally work with?
We worked on a 'shopping list' of ingredients and I chose the ones which resonated with me most. The ingredients I chose are all my favourite beauty foods. I use them in my cooking for their benefits internally, but they also have amazing benefits for the skin when used topically. I am also obsessed with the scent of rose, if you open my bathroom cabinet it's rose everything—I just find it the prettiest smell in the world.
What is your daily skincare regime like?
I keep things pretty simple to be honest. I'll wash my face, moisturise and use a bit of natural makeup on top for the day. A couple of times a week I'll exfoliate—it's my favorite thing to do, it's so satisfying—and then moisturise afterwards, adding a few drops of Organic Argan Oil into my moisturiser to intensify it a little bit more for night time. I really like getting home, exfoliating and putting on something really hydrating: it's like you're giving love back into your skin.
A couple times a week I'll also use Neal's Yard Remedies Wild Rose Beauty Balm, which is dreamy at night. I just think when you have a simple routine that works, you're so much more likely to do it every day, rather than if you have 30 products you need to get involved with.
Have you experimented with home remedies for skin before?
I love making products myself using ingredients in my kitchen like coconut oil and avocado, but it's not always convenient to do this when you're constantly on the go. It doesn't always go to plan though, I remember once making a turmeric face mask and literally just rubbed the powder straight onto my face, not realizing that I should have mixed with an oil to make into a paste and it stained my face so bad, I literally looked like a Simpson! Coconut Oil however is my absolute desert island product—you can use it for almost everything! It's your cleanser and moisturiser, mix with a bit of sugar and you have yourself an awesome exfoliator!
Could you tell us about how changing your diet those years ago has impacted your skin?
I did notice a big change when I changed my diet and started to eat more natural foods, in that my skin just got clearer and brighter. To maintain healthy skin, I try to get in lots of fruit and vegetable, so smoothies and juices are often my go-to's, as they're so easy to throw together. A delicious smoothie is a really easy way of taking on lots of amazing skin boosting ingredients and is my first port of call every morning—I love adding a scoop of baobab to add a zesty tang, especially in the run up to winter when I need to boost my Vitamin C. When I look back at how grey my skin looked during university (when I was pretty much just living of sweets, chocolate, ice cream and pasta!) to now, there is no comparison—it's amazing the difference it makes.
What are three essential beauty products we'll find in your vanity kit?
Coconut Oil—it's my desert island product.
RMS master mixer and concealer—I use them everyday
Rose, Lime & Cucumber Facial Wash—I love the scent so much; it's my favourite way to start the day!
And what are five ingredients that are mainstays in your kitchen?
My five go-to's are avocados (can't get enough of avocado on rye toast with lots of chili, lemon and rocket-arugula), sweet potatoes, bananas, blueberries and carrots.
Do you have a go-to comfort food?
Peanut butter. It's nothing new or revolutionary but I just can't stop with it, nothing makes me happier than eating a jar of it with a spoon at the moment!
One advice on healthy eating that you'd like to share?
If you want to change the way you eat, you're so much better off for example starting off adding one portion of fruit or vegetable to every meal for the next three weeks. By the end of the three weeks, you would have eaten 63 more portions of fruits and vegetables. That's a lot and makes for such a positive step that doesn't feel overwhelming as you're not even changing anything—you're just adding something so it's more positive rather than negative.
What does a typical day look like for you?
Whizzing up a smoothie in the morning is incredible as it always starts you off on the right track for a positive day, while giving you an abundance of goodness and energy. I love things like frozen banana with spinach, oats, almond butter, almond milk and blueberries—it's the easiest on the go breakfast. Energy balls are also fantastic, I just blend dates and nuts with a mixture of spices like ginger or cacao and love having those in the fridge all the time to snack on or take with me when I am travelling.
I am also an avocado addict, I just love them so much and try to get them into at least one meal a day—whether it's a simple avo on rye toast with chili, rocket and lemon for lunch or blended into a pesto and stirred through some brown rice pasta with peas. I am living for the day the avocado emoji is introduced!
In the winter months I love warming stews for dinner with lots of spices, like turmeric and cumin, coconut milk, garlic and tons of veg, potatoes and beans. When it comes to eating out, I love Middle Eastern food, mainly because they love hummus, tahini and spices as much as I do!
What is your favourite thing to do to unwind after a long day?
When I come home from a long day I love to indulge by having a relaxing bath, infusing some essential oils and then making my way to the sofa to chill out with my husband and dog, Austin.
Best thing about living in London is…
I love how amazingly varied it is with food—you can eat great food from anywhere in the world here.
Is there a life mantra you live by?
You get back what you put it—the more love, time and effort you put into anything in your life, the more you'll get back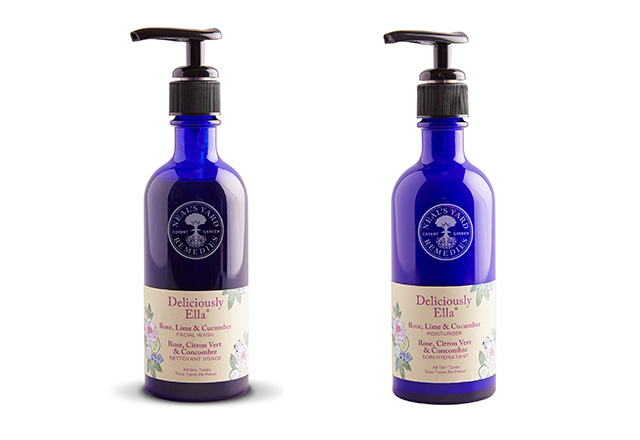 Related stories:
Organic Holistic Facial: Skin-changing results that will get you hooked
| | |
| --- | --- |
| SHARE THE STORY | |
| Explore More | |