The skin is one of the most complex organs in the human body. With two main layers—epidermis and dermis, we're protected both from within and out. But as we age, you'll start to notice that the skin barrier slowly gets compromised by a number of factors including the environment and lifestyle. We start to lose our once youthful feature and it's as though we got ourselves a one-way ticket to ageing skin.
But the great thing about this intricate skin system is its regenerative capabilities. It responds to what we feed them and how we nurture them. So everything that we do internally and externally can potentially bring us forward. Based on the concept of integrated beauty, Decorté introduces its newly improved skincare line—Absolute Quality or simply known as AQ.
The concept – how the skin is transformed?
Decorté approached its new AQ skincare range with the help of neuroscience. Through research, it was discovered that a type of neurotransmitter called creatine transporters, found in the cellular membrane plays an important role in binding, transporting and releasing energy into the cells. It works to ensure a good turnover rate of the skin. But due to ageing and a number of aggressors, this process can slow down significantly. Thus, the new AQ line is formulated to boost the skin's responsiveness and promote healthier skin from deep inside.
The absolute formula
Along with neuroscience, AQ is developed based on the correlation between skin regeneration and relaxation. "When the mind is at peace and the body is relaxed, you generate different chemical materials that are typically known as amino acids. It was discovered that these amino acids can rejuvenate the cells," explained Dr Ken Inomata from Kosé Research Institute. Thus, Decorté believes the skin can be guided to a state where it is able to use its healing signals efficiently.
For this reason, Decorté's AQ sought to be the "trigger" that will fill your mind with a sense of relaxation while boosting the skin with energy through the interactions of scents, textures and skin effects. This helps to enhance the skin with better turnover rate in order to maintain its beauty and health. Ultimately, the Japanese brand hopes to help you reveal a tone that is plump from within and soft throughout, and with a vitality that is beyond just your skin texture.
WHAT'S INSIDE THE AQ SKINCARE?
In the AQ range, you will find a few rare ingredients including:
• White mucuna extract
Traditionally used as a herbal medicine to improve circulation, the white mucuna extract is found to help boost the skin's healing signals
• White birch water
The rare sap, which can only be harvested in the four weeks as the snow begins to melt, has a high concentration of natural minerals and amino acids to strenghten skin and fight signs of ageing
• Night-blooming cereus
Also known as the 'Queen of the Night', the mysterious blossom – said to only bloom once a summer's night – provides AQ its soothing and elegant scent
• Plant extracts
AQ also utilises plant extracts that are derived from freshly picked herbs and herbal medicines to deliver energy and vitality to the skin
MEET THE STARS
With the carefully selected formulas as well as the selection of rare ingredients, Decorté ensures a luxurious skincare range that blends exceptionally well into your skin. The smooth texture and soothing scent instinctively comfort you from within to induce a relaxation of the mind and kickstart the skin's responsiveness.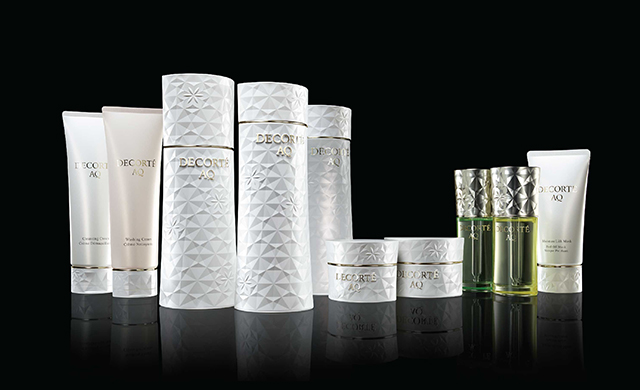 Here's what you will find in the AQ line-up and the suggested steps to use each product:
Step 1: Cleansing
Go with the AQ Cleansing Cream to remove makeup and sebum, followed by the AQ Washing Cream to cleanse deep within the pores.
Step 2: Softening
Soak a cotton pad and sweep your face with the AQ Emulsion to leave it soft and supple.
Step 3: Balancing
Pat on AQ Lotion to saturate skin with moisture for enhanced clarity and translucency. For days when skin is susceptibly dry, use AQ Toning Lotion to hydrate and comfortably tone the skin – this will also help makeup lasts longer.
Step 4: Moisturising
The AQ Cream is a rich and smooth night cream that melts into the skin, leaving it soft, firm and tone.
Key highlight of AQ
The AQ Oil Infusion is a non-oily beauty essence that is suitable for all skin types and age group as it will help enhance the health and condition of the skin. While the AQ Botanical Pure Oil is a richer facial oil for older skin type that delivers essential fatty acids to improve its resilience and tone as well as maintain moisture balance within the skin.
Extra personal care
If you want something a little extra, use the AQ Massage Cream to improve sagging skin. The peel-off AQ Moisture Lift Mask instantly tones and firms skin besides removing dead skin cells and dirt within the pores.
Decorté AQ skincare line starts at RM209 onwards and it will be in stores beginning this October 2017. Available at Decorté counters in Isetan KLCC, Isetan The Gardens, Isetan The Japan Store, Parkson Pavilion and Parkson Gurney.
Related stories:
Here is Decorté's secret to crystal bright skin
Why Cosme Decorte's new lotion and emulsion is the moisture-packing duo you need
| | |
| --- | --- |
| SHARE THE STORY | |
| Explore More | |