Beauty
These dangerous beauty trends on TikTok aren't just 'harmless fun', from pegging noses to DIY vagina bleaching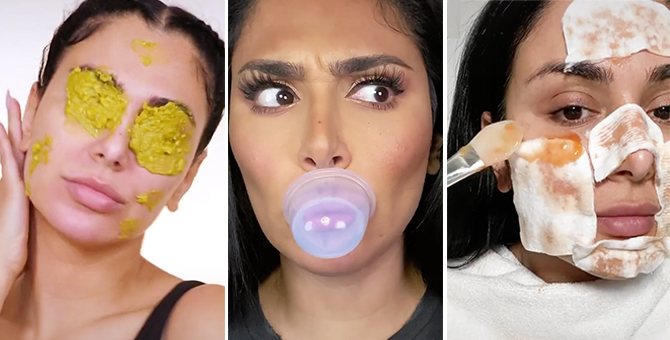 Of all the things lockdown will be remembered for, TikTok is one. There were countless attempts to dance in phalanx to The Weeknd; to try and recreate a dalgona (aka a whipped coffee); and a triumphant effort from Gen Z to sabotage a Trump rally via the app. In addition to the already 800 million TikTok users worldwide, in February alone it was downloaded 113 million times. And of the millions of uploads, beauty videos make up a significant proportion.
The stakes to produce creative, innovative and exciting videos are high, because the amassed followings—and thus, shots at fame—are huge. Within the beauty world for example, there's @abbyrartistry, who has 9.8 million, and 'twinfluencers' @shanaeandrenae who boast more than 23 million views for their vlog-style videos and identical outfits.
Under the #DIYBeauty sit 40 million tagged videos. The first video that sparked my interest was the bathrobe curl trick, which is as innocent and bizarre as it sounds. You wrap a thin towel around your head and braid your hair around it, fall asleep and wake up with hair that looks like J-Lo's at the Superbowl. The simple tutorials seem like a game changer, especially for people like me that aren't especially talented in the hair and make-up department.
From the nifty to the downright weird, however. TikTok'ers are also trying to make their noses more 'streamlined' by wearing pegs on them for a week, and procuring snails from their gardens to put on their skin, in pursuit of luminous complexions. Then there are those claiming to be able to get rid of spots 'in just two steps!' It was appealing, until it involved the vicious scrubbing of a face with a toothbrush, rubbing toothpaste into the spot.
For a beauty editor, and one with sensitive skin, it was the equivalent of nails scratching down a chalkboard. If only acne could be scoured away. Alas, all this actually does is create micro-tears on the skin's surface which compromises the skin barrier, leading to sensitivity and—yep, you guessed it—more spots and potential scarring.
I soon got to even more problematic stuff. A 'trick' for internally bleaching your vagina with baking soda and almond oil—oh, and a lemon being placed inside it. It made Goop's jade eggs seem pedestrian. Then there's #skinbleaching, which has 1.8 million views. Granted, some videos highlight how harmful the practice is for skin and the issues surrounding colourism, but lots were offering homespun recipes with ingredients such as lemons, potatoes and baking soda. Or you could just purchase Intimategel's 'Booty Bleach' which will apparently whiten your intimate areas for $40.
The fact that brands are using the platform to sell stuff, which by and large, seems unregulated, is worrying. For example, Truly Beauty claims to be able to lift breasts to the height they'd be if you'd had a boob job, with their acai berry magic cream. "Feed your boobs," the video instructed me, all for a bargainous $28. It's easy to dismiss as nonsense, but considering the account has over 7.2 million likes across their content, their sales pitch is clearly resonating.
There are however, some good Samaritans. @dermdoctor educates people on acne, as does @skincarebyhyram who unpicks the aforementioned viral videos and explains why they are so harmful. But with all the noise on TikTok, it's hard for it not to get drowned out. So what are the repercussions?
"I definitely expect to see a rise in issues in young people such as acne and scarring. The things that you do in your teens and 20s will show up in your skin in your 30s and 40s. It's worrying because the TikTok audience is young and impressionable," believes Dr. Ifeoma Ejikeme, Consultant Physician and founder of Adonia Medical Clinic. (According to Oberlo, 41 per cent of TikTok users are aged 16–24).
I deleted the app for now, but I imagine it's like blocking your ex, eventually it's just one accidental iCloud account restore from re-downloading.
This article was first published on BURO London.
| | |
| --- | --- |
| SHARE THE STORY | |
| Explore More | |