Beauty
Carolina Herrera launches Bad Boy EDT, Timothée Chalamet gets a bowl cut and more beauty news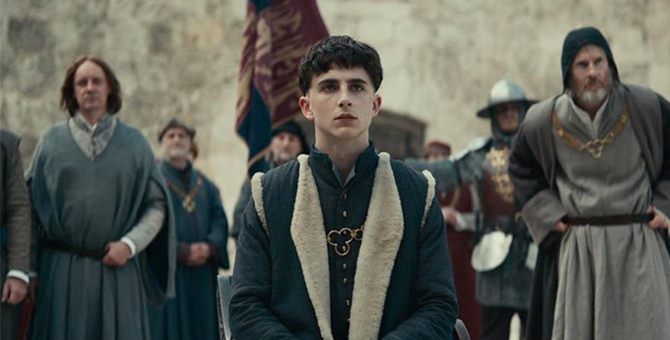 From Carolina Herrera's new Bad Boy fragrance to complement the iconic Good Girl perfume, to our #ManCrushEveryday Timothée Chalamet's latest bowl cut, these are the beauty news you don't want to miss out on from this week. Also, our favourite celebrity looks of the past few days include Cara Delevingne's head-turning makeup look for another Carnival Row film premier and supermodel Iman's bold take on redefining summer beauty.
Carolina Herrera has a new fragrance for men and it's unlike anything you've seen before
From the same brand that gave us perfume in the form of a stiletto, Carolina Herrera has launched a new fragrance that's worth some tongue-wagging for its both design and scent—Bad Boy. The lightning bolt-shaped bottle encases a perfume that's masculine and sensual. Tonka beans and absolut cocoa pay homage to Carolina Herrera's Good Girl EDP, while bergamot, sage, black and white pepper give it an Oriental redolence.
From now till 3 September, drop by Suria KLCC Centre Court to learn more about Carolina Herrera Bad Boy at the pop-up.
Calvin Klein launches its first influencer campaign for Eternity for Men
Calvin Klein is redefining what "masculinity" means at this day and age with a new influencer campaign featuring a diverse set of men—Olympic gold medallist wrestler Jordan Burroughs, American actor and singer Matt Dallas and Blue Hamilton, footballer Thiago Alcântara and actor Rick Gonzalez.
In various scenes throughout the film campaign, the stars are seen interacting with their children—from play-wrestling to frolicking by the beach. This family-centric direction in the brand was first seen in 2017 with Jake Gyllenhaal who starred as a dad in the Eternity fragrance campaign.
Cara Delevingne wears the colours of summer on her eyelids at another Carnival Row premiere
Cara Delevingne is on a roll with a delectable range of beauty looks on her string of Carnival Row film premieres. The actress and model sported an eye-popping summer-ready makeup look at the London premiere, shortly after blowing us away with her lilac-tangerine look just last week. This time around, it's splotches of vivid yellow, orange and pink around her eyelids, expertly hand-painted by makeup artist Lisa Eldridge. The final touches? An edgy faux quiff to show off her peepers.
Bella Thorne faces backlash for using lemon juice on her skin
A Reddit thread on Bella Thorne's skincare routine comprising lemon juice, olive oil and sugar has gained some backlash. In a 10-minute beauty video for Harper's Bazaar, the former child actress dishes on her skincare routine—one that retractors say is not safe for the skin. Its higly acidic pH can cause severe skin irritation and sensitivity to the sun, and even chemical burns for those with sensitive skin.
Redditors have taken their disagreement to the thread—some comments include: "These are so aggressive to the skin and can cause scarring," and "I used to put lemon on face when I was a teen and it ruined my skin. My young and naive days."
Iman's Venice Film Festival look is redefining the dark lip for summer
Whoever said summer brights are only made for, well, summer, have not seen supermodel Iman's latest look at the Green Carpet Fashion Awards Luncheon in Venice Film Festival. Her berry pout is proof that you can—and should—rock a dark lip in the height of summer. Instead of wearing it matte, make it glossy to keep it easygoing.
Robert Pattinson and Timothée Chalamet's hairdos in The King will make your jaw drop
Want to see Timothée Chalamet in a bowl cut? The latest official trailer of The King is what you need to watch right now. If his portrayal of King Henry V isn't convincing you just yet, check out Robert Pattinson as Louis, Dauphin of France and his long wavy blonde locks—likely the longest hairdo we've seen him sport.
Teddy Quinlivan is the first trans model to work for Chanel
Model Teddy Quinlivan has just announced on Instagram that she is the first openly transgender person to work for Chanel. In her harrowing caption, the leggy model (who has appeared on the runways of Gucci, Louis Vuitton, and more) stated that: "I find I don't cry anymore when things are sad, but isn't it interesting when we shed tears in moments of triumph. This was one of those triumphant cry moments for me…I am the first openly trans person to work for the house of Chanel, and I am deeply humbled and proud to represent my community. The world will kick you down, spit on you, and tell you you're worthless. It's your job to have the strength to stand up and push on, to keep fighting, Because if you give up then you will never experience the tears of triumph."
| | |
| --- | --- |
| SHARE THE STORY | |
| Explore More | |