So we've covered toilet paper lips and KFC-scented sunscreens, but this month's edition will render you speechless with one main theme: hair sprouting from just about everywhere. Ahead, read three hair-filled stories that are outlandish to say the least—just a heads up that you might want to unsee it right after.
A little less than a month ago, the selfie nail trend took off in a jiffy, with Korean vision illusion artist Dain Yoon of @designdain spearheading the look on Instagram. Fun fact: She actually painted miniature portraits of herself on every nail, but not forgetting to add hair for a closer depiction. The effect? Eerie nails that uncannily resembled her face—no surprises there, she is an artist after all. While this isn't the most feasible trend for everyday life (just thinking about toilet sessions have got us cringing), it's definitely Halloween worthy for its high spook rating.
Another trend that screams bizarre with a capital B is the clever (or just plain disturbing) use of sticking fake lashes around the nostrils. What started out as a joke has spawned a legit Insta-beauty trend—hashtags including #NoseHairExtensions among many variations, with beauty bloggers taking it to the next level by pasting lashes on their lips as well. If your first thought is along the lines of creepy-crawlies slithering out of nostrils… let's just say you're not the only one feeling this way.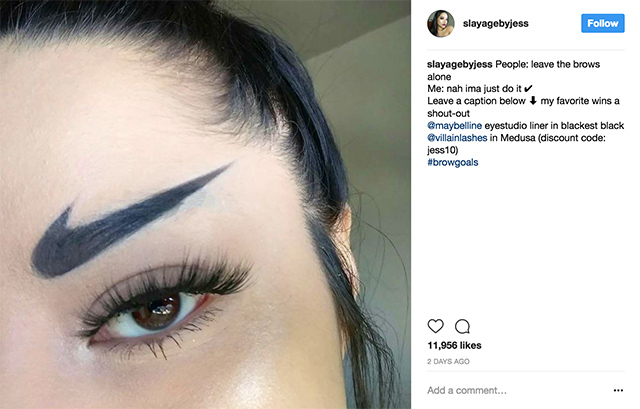 Make way for the Nike Eyebrow trend—created by makeup enthusiast Jessica of @slayagebyjess who did it as part of a meme, only to be bestowed with a repost by the Huda Kattan of Huda Beauty. (This only means that your post will likely go viral and your engagement numbers will multiply tenfold thanks to her wide reach.) But we digress. We can't decide which we love more: Her tongue-in-cheek caption or the fact that she aced the swoosh logo to a tee on her brows. While this tops the squiggly eyebrow anyday in terms of wearability, we suggest repping it only during Halloween lest you come across as someone who's got perpetual anger management issues.
Related stories:
#BizarreBeauty: Toilet paper lips and other stories
| | |
| --- | --- |
| SHARE THE STORY | |
| Explore More | |