Ahead, we speak to the youngest French perfumer in the fragrance industry to learn about his award-winning brand, BDK Parfums.
BDK Parfums may have been established in 2016, but the art of fragrance has been an integral part of founder David Benedek's life for generations. His grandparents, originally from Hungary and Romania, arrived in Paris in the early '50s and opened their first fragrance boutique near the gardens of the Palais-Royal in 1959. That business was soon passed down to his parents and would set the precedent for Benedek's background in perfumery.
Then freshly graduated from the French Institute of Fashion and armed with a lifetime of experience, Benedek would soon seek pastures beyond the family business, eventually moving on to launch BDK Parfums. Now, nearly seven years on, Benedek has built an impressive fragrance brand from the ground up. With a vibrant portfolio of niche fragrances that have captured the attention of the industry worldwide, he's a force of nature. His latest creation is the Pas Ce Soir Extrait—a tribute to the original fragrance in the BDK lineup.
We spoke to Benedek at the Malaysian launch party for the new scent to glean some insights into his brand's beginnings, his journey, and the future. Read the full exclusive below: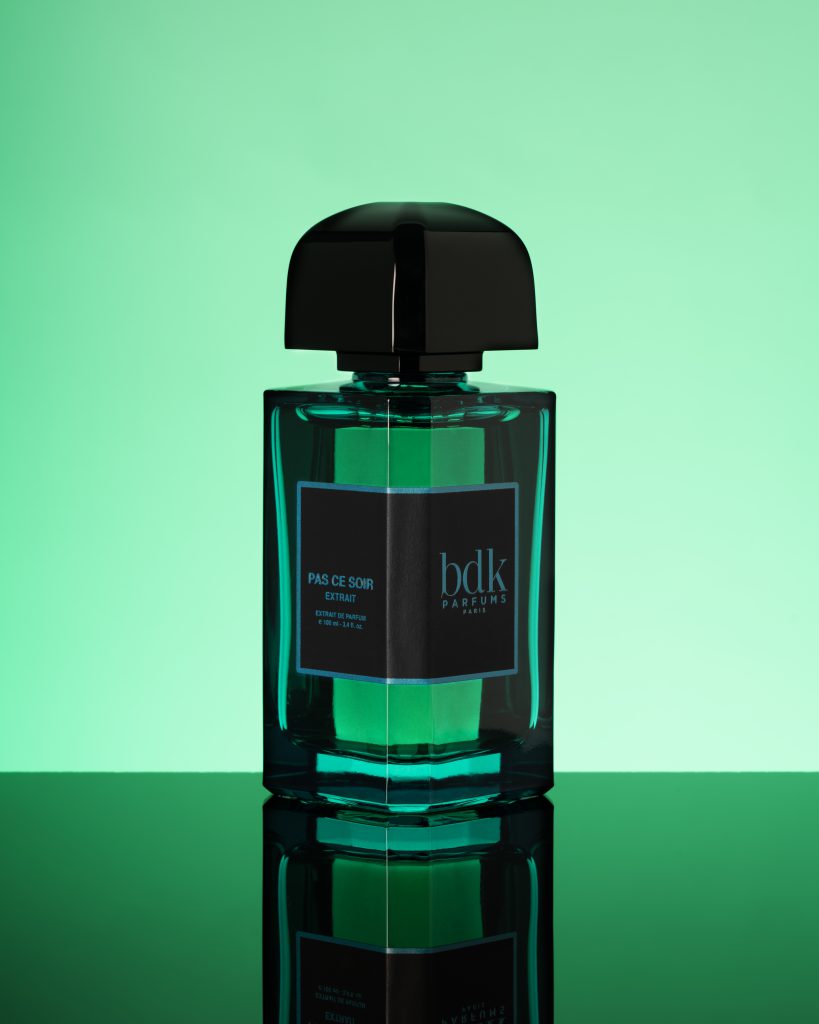 The fragrance industry is vast in 2023, but it wasn't always an accessible one. We have to ask—where did your interest in perfume begin?
"My interest in perfume started from a very, very young age—I still remember drawing perfume bottles in the living room, when I was seven or eight years old. I was very close to my grandmother. She was retired when I grew up so I spent a lot of quality time with her. When I used to go to her place, we would share a lot about perfumes. She used to have a very beautiful collection of bottles of perfume in her bathroom, so she was always explaining to me the history of her house of perfume and the intricacies of each scent."
Your family owned an established fragrance brand, also based in Paris—why did you choose to start BDK instead of joining the family business?
"I wanted to make my own story in the perfume industry. I was always attracted to perfume, but I realised that there was only space for the big brands in the industry. But, when I did my Master Degree at French Institute of Fashion in 2012, there were more and more niche brands coming into the market, like Byredo or Ex Nihilo or Frederic Malle. These brands were becoming more and more famous with the public, so then I said to myself, 'okay, maybe it's the right time to create your own brand', because now people are interested in more niche brands. So, when I ended my master's degree, I decided to focus on what vision I wanted to bring to the perfume industry, and that's how I began to write my story with BDK."
You are the youngest French perfumer in the industry. What are some of the challenges that you faced when trying to get BDK off the ground?
"Mostly to convince the perfumer and the house of perfume to work with me. I was 26 when BDK launched, and at 26 I looked very young. So, it was very hard for me to convince the master perfumers and big companies to work with me. People were not ready to see such a young man wanting to create his own perfume brand, but fortunately, I met some good people on my way who agreed to work with me. I'm still working with them today and it's a very big trust that we have between each other."
View this post on Instagram
During your time at the French Institute of Fashion, you were trained at Givaudan with the real masters. What does the art of fragrance mean to you?
"I think that it's a hard question because when you think of art, you think of creativity. I think I have a more down-to-earth vision of perfume. The challenge when you have a perfume brand is that you have to convince the customer to choose your perfume, right? So I think the very important thing is to find the right balance between art, creativity and wearability. That's why at BDK, I try to be very creative and very artistic, but in the end, I still want to wear my perfume and I want the people to wear my perfume. So my perfume has to be understood by the public, which is important. But when you mention art, it means for me to be very creative, and to be inspired by the world, by nature, by human beings, by colours—so, actually, you can find inspiration in everything you do."
The draw of owning your own brand is that you get full creative control but also as a business owner you have to think about how to make that marketable for the masses…
"Yes! As the designer, I'm the creative director of my brand, but as in this role, I want people to wear the perfume, I don't want them to smell it on the paper and say, 'Oh I love it, it's so interesting' and they just throw the paper away. I want them to say 'Oh I love it' and they put it on their skin and they buy it, and they wear it every day. This is how I would be proud of myself.
"It's a question of being proud of doing good work, or quality work. This is very important to me, to bring quality to what I do. I try, at least."
So who are your biggest inspirations in the fragrance industry?
"Oh, so many, but I'm very impressed and inspired by all the talented perfumers that I know, as I would say Dominique Ropion, Mathilde Bijaoui with whom I created BDK's Gris Charnel and Gris Carnel Extrait. All the perfumers, actually. I don't care whether they are very famous or not famous, they're all so creative and they have their own world, their own visions so they have all inspired me for different reasons."
On that note, what does the process of developing a fragrance look like for you? 
"I always start from a white paper, and then I like to put words down. The words can be colours, can be places, can be feelings, can be raw materials—I have my moodboards and I mix the words together. So, I will mix love or sensuality with grey or pink, and then I will talk about ingredients. At the end, I have my list of words and I create my scent starting from this list of words. And then, I associate words with colours, because when I used to be a teenager or young adult, I used to paint a lot. And, when I associate raw materials, I associate the materials with colours, and then it makes my map to create a scent. And then I work around the scent. But I don't work first on the scent, I work on the words and the colours I want to bring in the perfume."
View this post on Instagram
Fragrances aside, one of the most striking things about BDK Parfums is the packaging—what was the process of designing your packaging?
"I designed all my packaging and my bottles with a very good friend of mine. We went to school together and she's a designer. At the very beginning, I was alone in creating my brand, but I asked her because I'd been working with her on some cases at university and I had a very good connection with her, so I asked her if she could help me to design my bottle. But I already knew what I wanted.
"I wanted a very minimalist art deco-style shape for the bottle, and the cap is inspired by Le Grand Palais in Paris. Le Grand Palais is the monument we have Le Champs Elysees, and for the cap, the inspiration comes from the roof. I mixed the shape of the roof with the shape of the bottles, and ended up with this flacon, which we then named as the Flacon Grand Palais."
This is going to be a difficult question for you, but if you had to pick one BDK fragrance as your favourite, which one would it be?
"It's a very hard question, because you know, usually I always say, they're all my babies. But, to wear it every day, I would say Gris Charnel, because for me it's a very sensual perfume. I feel confident, I feel sensual, so I really like it. It's cosy, it makes me feel good."
View this post on Instagram
The fragrance market is one that's constantly evolving, and it has grown so much in the last decade. Even niche fragrances now are huge, so what do you think sets BDK apart?
"Quality. I think really, honestly, it's quality and creativity. As the creative director of BDK, I know the raw materials that go into the formula, I know the approach we have at BDK, and it's really a high-end perfume with high-quality raw materials. I think it's creative. When you smell BDK Parfum, you don't smell anything else like it in the industry.
"I don't look at what's happening in the industry. I just focus on my vision and inspirations, and I think it's the best way to please the people. Because you know, when people come into the Amaris store and look for a new perfume, they don't want to buy a perfume that they've already smelled. They want to buy a perfume that they would be surprised by. So this is very important.
"And also. of course, authenticity. Because at BDK all the stories I tell are very authentic because they come from my life, from the things that I have experienced, so authenticity is one of the values of the house."
Would you ever want to venture out of perfumes, or maybe expand BDK past perfumes? 
"I would love to! I did a collaboration with a ceramic artist in Paris, her name is Lucia Mundadori, and we created a ceramic diffuser. And there was this artistic collaboration that I did for Galerie Lafayette in Paris. But for the next few years, I would like to associate the brand with an artist and design objects for the house—still focused around scent. Perhaps some nice diffusers, objects, a book of papers and a perfume book, maybe. I don't know, just something around design and the home."
For more beauty insiders like this, click here.
| | |
| --- | --- |
| SHARE THE STORY | |
| Explore More | |