Now in its sixth year, the Sulwhasoo Hundreds of Families Quilt – Share the Wish for Warmth campaign continues with the luxury beauty brand's annual charity plight with great success. Funds were raised through the sale of the Sulwhasoo Charity Quilt Kit as well as different campaigns across different countries. Sulwhasoo Malaysia raised RM20,00 for World Vision Malaysia, while Sulwhasoo Hong Kong raised HK$768,931 for Chi Heng Foundation to pay for education expenses of orphans affected by AIDS in China.
In Asian tradition, parents would collect pieces of cloth from many families, sewing them into a patchwork quilt for children which represents warmth and blessings. For this campaign, Hong Kong fashion designer Bonita Cheung created the "Hundreds of Families Quilt" by sewing photos and art pieces donated by the celebrities into one, symbolizing a collage of support by the participating celebrities towards the cause.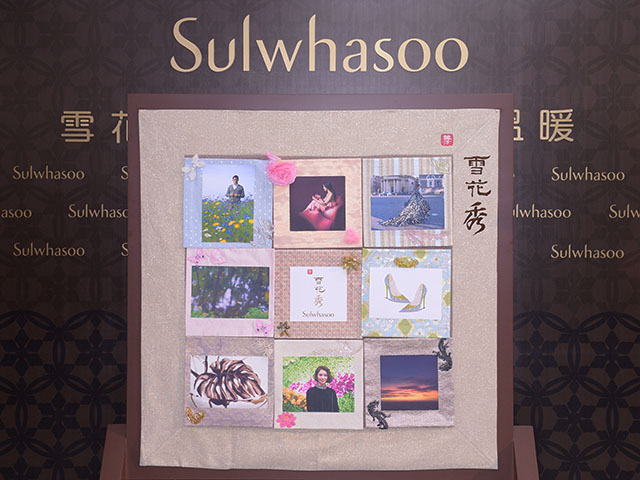 This year, the campaign took on a significant first as Aaron Kwok and Jimmy Choo were invited to personally present quilts to low-income families living in the subdivided flats in Kwai Chung, bringing warmth and love to these families in the middle of winter. Here, we speak to the two renowned personalities, learning about the meaning behind their quilt design as well as their thoughts on the charity campaign.
Aaron Kwok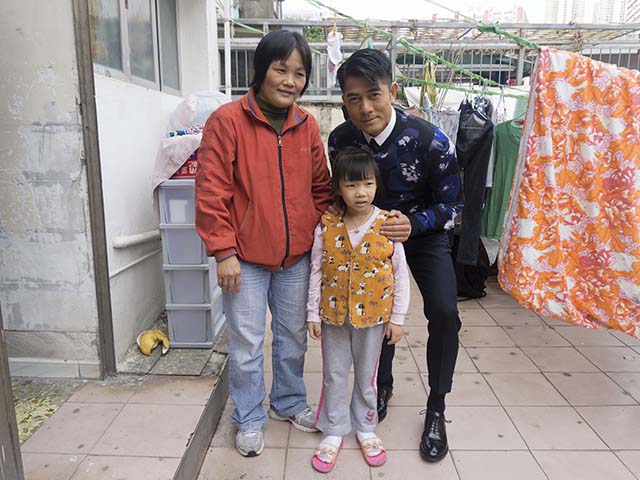 What have you been up to recently?
The filming for Cold War 2 just wrapped up, but right after this I'll be busy with a new production. I'm looking forward to it as the new film will be based on the true life story of an informant that lived in 1937 Shanghai, and I've never played a role of that era. It's a really interesting and dynamic role – as an informant he has to conceal his identity, thus he took on the façade of a tailor, as well as a beggar and an old man. So it's quite challenging, and I'm excited to see what's in store.
How does it feel, being able to participate in this charity event?
I'm thankful for the opportunity to be part of this great event. This is my third time participating in the event, but it's the first time that we actually went to deliver the quilt personally to the families in need. It was a humbling experience, seeing how these families in such a small space, a space where you see everything in just one glance. It was basically just a bed, simple kitchenette and a water closet. Winter is here, yet there was no quilt or blanket on the bed. The quilt that we delivered to them, it may not last forever, but the thought and love behind it is something that is eternal, letting them know that there are people out there who care for them. In return, we gain invaluable lessons from them as well: getting by daily is not easy for them, yet they face each day with such optimism and a sense of gratefulness that is really admirable.
How would you encourage the younger generations to engage in more charitable actions?
It has to come from their hearts, and I trust that if they participate in charity events like this personally, they will feel the positive outcome that this action generates. Also, why do we publicise events like this? It is to hopefully influence, in a way, and help the younger generation realise that they can do something to help.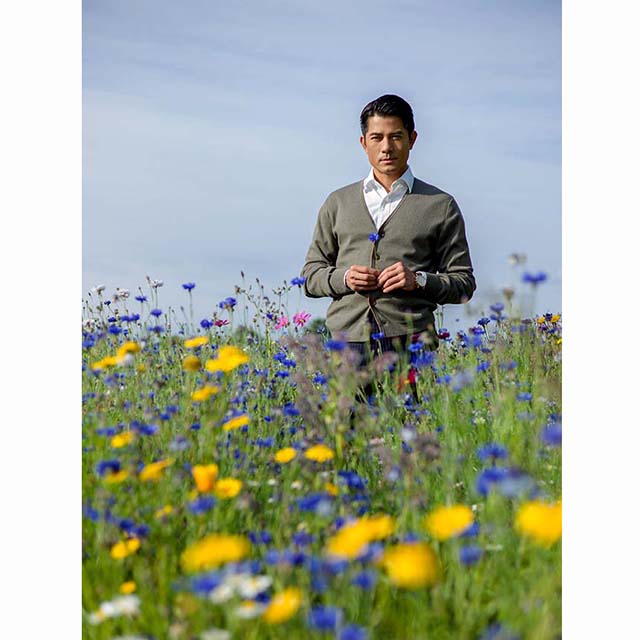 Tell us the meaning behind your quilt design.
The field of green grass and flowers are both dependent on the sun, and the sun represents this pure energy, an energy that helps living things flourish and prosper. Through this design, I hope to send out the message we can all carry this positive, pure energy with us in our lives and lend a warm helping hand to those who are less fortunate than us and help them get by however we can.
Any skincare secrets you'd like to share?
We should always look for something that suits our skin, and not take skincare for granted. In my profession, especially – when I acted in The Monkey King, the makeup process took seven hours. That causes a lot of stress to the skin, so I really have to take care of it after. But even on days off, and when you're just lounging about the house, we should always ensure we are taking care of our skin. I think skincare is as essential as clothes, and it is definitely not something we should neglect.
Jimmy Choo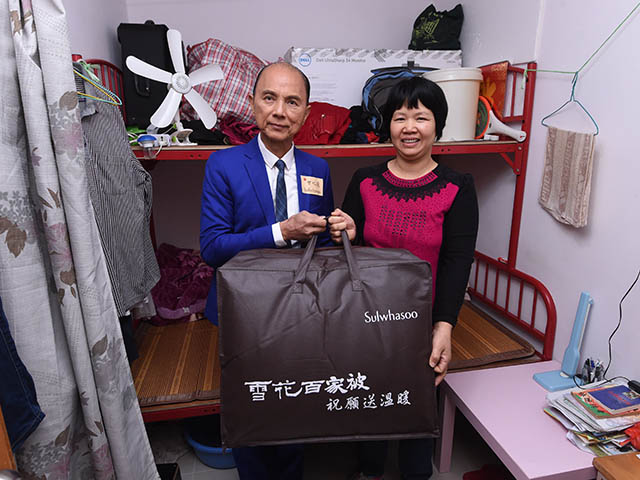 What was it like, delivering the quilts firsthand to the families?
The lady whom I delivered the quilt to lived in a very small room. Seeing her live in that small space, reminds me of how lucky we are. To be able to send the quilt to her, it was quite a meaningful moment for me, and brought back memories of my time in London. Although my room wasn't as small, but life wasn't easy there as I had to go to college and work at the same time to be able to support myself. So I was really touched by the experience of handing over the quilt to the less fortunate personally, and I consider it a privilege that Sulwhasoo has invited me over here to Hong Kong to join in this meaningful event
This is your second time participating in this charity. How was this experience different from the last?
The first time I took part in the charity, I was actually in London. To be here personally this time and see how so many people come together to help those in need, it was quite a heartwarming moment. It helps spread the message that we should always be thankful, always remember that there are people out there who has less than us, and try our best to lend them a helping hand.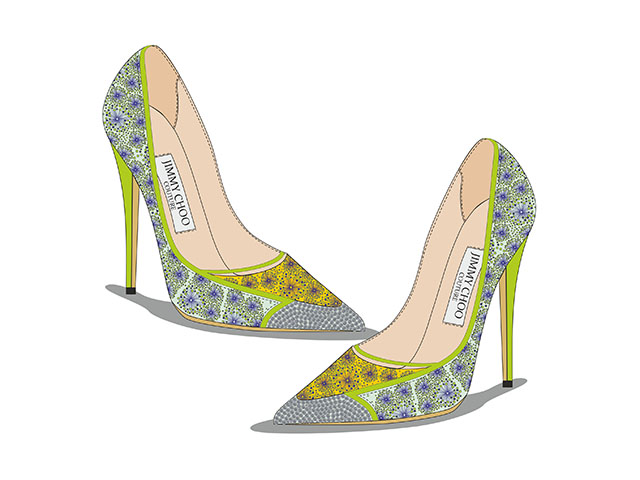 Tell us the meaning behind your quilt design.
I was inspired by the spirit of the dandelion, in the hopes of spreading love and best wishes endlessly. It snuck up upon us and is now larger-than-life, but we are now drowning in the perpetual white noise of every next-big-thing, of every modern advancements. Sleepless nights and high speed pace, all in the hopes of keeping up with this endless race. What wonders we can unlock if only we could learn to slow down, stay still and calm, then listen to the clarion in our hearts; spare a thought for the people we love, then take on the lightness of a dandelion as we walk along the path of life, never neglecting the beautiful dreams that are within us. Let this spirit shine through and spread love and warmth to all corners of the earth forever.
What kind of improvements do you hope to see through this charity event?
We hope that news on charity events like this can reach people all around the people. For example, when someone from say the US hears of this event, perhaps they will want to help out as well. It doesn't matter how much money you can give, as even a small amount will go a long way.
Related stories:
Share the warmth of giving with Sulwhasoo this October
Here's how this beauty pouches are changing lives
| | |
| --- | --- |
| SHARE THE STORY | |
| Explore More | |