When Lancôme released its first anti-aging serum that paved the way to scientific research in cosmetics, the Génifique flew off shelves so quickly that it soon became an emblem of their skincare line. With four bottles sold every minute, the serum became Advanced Génifique in 2013 with an optimised formula and self-loading dropper. Here are a few good reasons why it's on our anti-aging products must-have list.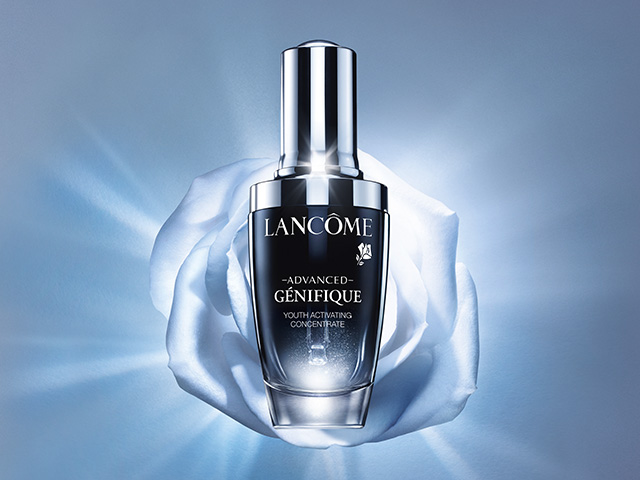 1. The empowering All Stars campaign behind this serum
With Hollywood starlets Kate Winslet, Lilly Collins, Lupita Nyong'o and Penélope Cruz as the brand's newest ambassadresses, the campaign focuses on the 'Aura of Youth'—an intangible personal glow that emanates from within, transcending age and ethnicity. By advocating the beauty of being yourself, the campaign draws attention to Advanced Génifique as a symbol of universal beauty beyond surface level.
2. The comprehensive scientific research on skin's radiance
After analysing the outcome of the skin's visible light, Lancôme found that the skin's radiance and visible luminosity is a result of a complex relationship between light and the different skin tissue structures. Research has found that the backscattering of inner light decreases with age, playing a key role in the skin's radiance.
3. Advanced Génifique's effects on the skin
Expect an increase in your skin's luminosity month by month after using this anti-aging serum, according to a study done on a group of 37 women for two months. With a lightweight, fast-absorbing texture, the concentrate leaves your skin softened with a plumped sensation.
Lancôme Advanced Génifique Youth Activating Concentrate, RM 381.60 for 50ml and RM 514.10 for 70ml, is now available at all Lancôme counters nationwide.