There has been a certain belly fat loss trend going viral over the past few weeks and months. Chances are you've seen a video of a 'coach' demonstrating the movement or someone else trying to emulate it on TikTok or Instagram Reels. You know—the one where the participant tilts their pelvis forward and back while crunching the abs and swinging the arms back and forth to a bouncy, fast-paced track.
Started by the user 'Janny14906', the movement—sometimes referred to as the "ab dance"—has been posted over several videos that each garner anywhere between thousands to millions of views. Janny claims that the dance "reduces belly fat" and recommends doing it for five minutes every day "if you want to become thin".
Little else is known about Janny or her credibility when it comes to fitness and weight loss, yet many have incorporated her TikTok weight loss dance into their workouts. Some users have commented on her videos saying that it works for them. Others have even shared before and after photos showing impressive results, with one of them claiming that she lost 20 pounds in a month.
However, some experts have warned against the movement, alleging that it can cause lower back problems if done incorrectly. Janny captions almost every post with "As long as you enjoy the skinny come together", which has raised concerns over unrealistic body goals and the obsession with aesthetic over health. Moreover, her claim that users can "exercise [follow the routine] for an hour a day and eat whatever you want" goes against an important aspect of fitness that many industry professionals stress on: nutrition.
We spoke to four local fitness trainers to weigh in on the trend and whether viral TikTok fitness videos like this actually work. Here's what they had to say.

Meet the trainers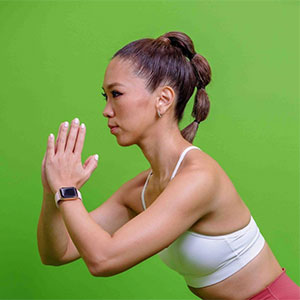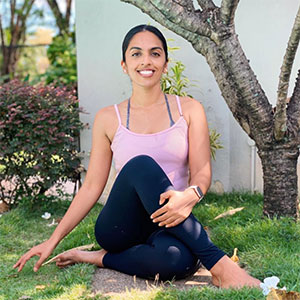 Gayatri Pillay is a nutrition coach, group exercise and yoga instructor. She helps busy working adults to find time in their schedule for healthy habits, so they can finally get their health under control.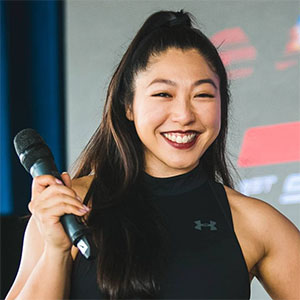 Linora Low is no stranger to the world of hosting and fitness, always bringing her bubbly energy to any stage. On top of her experience as an emcee, radio announcer and co-founder of Kapow Balls, she has shown her grit and prowess through various bikini competitions.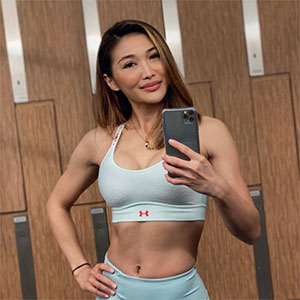 Nana Al-Haleq is a fitness model, TV host and certified wellness coach in Hypertrophy, Advanced Hypertrophy and Fat Loss Specialisation. Basically, the self-proclaimed fitness goddess is living proof that women can weight lift and ace their makeup game too.

Is this "belly fat loss" movement effective in burning belly fat?
View this post on Instagram
"The short and simple truth will be no. Sorry, guys," Gaya says. "This video shows that burning belly fat is a huge concern to many, but the solution isn't sexy. It really comes down to your nutrition and how well you are eating. If fat loss is your goal, then being on a calorie deficit plays an important factor."
Nana takes a more neutral stance: "There's no such thing as spot reduction or targeted fat loss on specific areas. But if we look at the entire workout or exercise routine shared by Janny, it will help people to shed fat, as her routines are similar to aerobic exercise moves."
Diane and Linora agree, viewing the movement as a means to burn calories, but not necessarily targeting belly fat in and of itself.
"I would say that purely movement is just one of the key things people will need in order to assist in fat loss. I would take this movement as cardio which is definitely necessary as well to burn fat," Linora comments, while Diane adds, "At the end of the day, any movement or dancing equates to cardio, which means you'll certainly burn calories and therefore shed fat from your entire body, including your belly."

What are the other more effective ways to burn belly fat?
View this post on Instagram
Gaya says upfront that it's normal for our belly size to fluctuate as our bodies are made up of 60 to 70 per cent water. Women, especially, will experience bloating when it's that time of the month.
"Begin by loving yourself as you are. Losing belly fat will just feel less of a resistance if you come from a mindset that you are looking to level up for yourself instead of beating yourself up for the way you look. I find that from there you will be able to better embrace the transformation that will take place more positively and maintain it—this is me speaking from experience," she shares.
View this post on Instagram
"To understand fat loss and get it to work, one has to know many other variables, such as taking into account a person's training routine (weight training and cardio), nutrition profile, how well the body detoxifies, how well they sleep, hormone imbalances and so on," Linora explains.
"Unfortunately, nothing comes easily. However, adopting better habits when it comes to your diet, exercise and even sleep and mental health will lead to a lifestyle change that will stand the test of time," Diane puts it simply. "One shouldn't focus on getting a six-pack but aim to be healthy inside and out."
To sum it up, all four trainers advocate these four factors for more effective and consistent weight loss progress:
MOVEMENT:
"Do more weight training—the more muscle you build, the less fat you have overall." —Linora
"Perform frequent exercises that are easy to maintain and commit to. The idea is to make these as part of your lifestyle and not time-pressing." —Nana
NUTRITION:
"Have a consistent nutrition plan that you enjoy and is at a calorie deficit." —Linora
"Manage your sodium intake and ensure you are consuming whole foods sources and less processed goods." —Gaya
"I advocate a more plant-based diet and reduction in sugar and dairy." —Diane
SLEEP:
"Be mindful of your sleep—get at least seven hours." —Linora
"Remember to get enough recovery time/rest after your workouts." —Nana
MENTAL HEALTH:
"Practise regular meditation/yoga and reward yourself every now and then!" —Diane
"Managing stress can help promote [weight loss] as well." —Nana
Do you think TikTok fitness fads like this work?
Nana offers a two-sided opinion: "Yes and no. We have to remind ourselves that whatever we see in TikTok is a snippet from the entire workout. If we perform the actual workout entirely, it will definitely help."
Having struggled with obesity as a teenager and young adult, Gaya is all too familiar with such fads. Instead of seeing them as right or wrong, she believes how we consume and implement them in our lives is more important. "We go down that road because we are lost, not sure what to do or where to start, and we face societal pressure. Today, there are many experts who share really valuable content out there. We should just be informed consumers of the content we absorb, and that's through educating ourselves," Gaya says.
Diane concurs: "I am always supportive of anything that motivates people to move (as long as it isn't harmful, of course), so if it takes a viral video to spark something in people to get them to be more active, I am all for it! Especially given the fact that we've had to go through MCOs that seem endless—feeling demotivated, seeking inspiration or amusement is completely understandable. Having said that, fitness fads aren't always long-lasting unlike fitness trends which again, goes back to my point about sustainability and longevity but the most important thing is to kickstart your journey to a better you!"
On the other hand, Linora says these fads do not work, but can "give bite-sized information and if people are keen to know more, they can reach out to the coaches who gave the tip."
BOTTOM LINE: If you're serious about weight loss or improving your fitness, consider reaching out to a professional coach or fitness trainer to be better informed on safe, effective and sustainable ways to reach your goals.
Keep up with Diane, Gaya, Linora and Nana on Instagram for more fitness tips.
PSA: #GetOurGymsGoing
View this post on Instagram
According to the Malaysian Fitness Coalition, gyms have loss over RM110 million since the first MCO in March last year. To help bring awareness to this challenge, Lushprotein is using its platform to feature local gyms to encourage more people to use their online services, be it classes, workshops or personal coaching sessions.
If you're a gym owner or fitness junkie, you can help spread the word by posting a photo of your favourite gym(s), tag @lushprotein on Instagram and hashtag #GetOurGymsGoing.
For more on health and fitness, head over here.
| | |
| --- | --- |
| SHARE THE STORY | |
| Explore More | |