In the midst of boxing gyms popping up in the past few months, a new and luxurious all-rounder fitness centre called Epique Fitness (or Epique+ for short) has recently opened in the heart of KL with a plethora of workouts to suit everyone. The most intriguing one of the lot, however, is Triple B — Booty Band Bootcamp. Coined as Malaysia's first HIIT Booty Band Class and an original workout at Epique+, it's meant to really shape that booty and torch a ton of calories. 'Nuff said. We quickly headed over to try the workout created by Creative Consultant Tracy Minnoch-Nuku — but not without gearing up in our spanking new Nike Metallic Sheen apparel.
Watch the video below to see what does Triple B looks like and read on for our testimonials. 
Cai Mei Khoo, Editor-in-chief
Just when you think you've got your lunges and squats down pat, along comes this Triple B class to really fire up your glutes and take things up a notch (both metaphorically, and hopefully physically). Don't let the size of the band fool you though; a thin band goes a long way in working out different parts of your leg and glute muscles. Even jumping jacks become that bit tougher with a resistance band on. I enjoyed the pace of the class, and the different exercises Tracy made us do — my sleeveless Nike tank top was drenched by the end of the class. I wore it with the Nike Indy Shine bra, a U-back type bra that I'm not used to as I mostly wear racerback type bras, so it felt as though the straps were about to slip off my shoulders at the start, even though they were not. A class worth adding to your weekly workout schedule.
Rating: 4/5

Rachel Au, Lifestyle Editor
I love sessions with Tracy and I've done enough to know they can be a real killer but in a good way. As an amateur with resistance bands, I figured it wouldn't be too intense and boy was I wrong. The strength required to keep those bands apart with my legs while doing squats or push-up planks was exhausted in 15 minutes going into the class. My heart was racing, sweat was dripping down and muscles were burning a message to me that I'm going to pay for it the next day. Again, that's a good thing. Through it all, the Nike Indy Shine Bra was a good support, despite it being meant for low-impact workouts. Personally, I feel the workout is great for toning up and yes, shaping the booty. If I had to give Triple B a score, it would be A+ all the way.
Rating: 4/5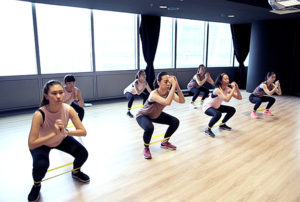 Joan Kong, Senior Fashion Writer
Booty Band Bootcamp. None of these words sounds appealing when it's related to an exercise, but to challenge myself (I worked out for three back-to-back days that week), I went anyway and it was an exhilarating workout — to say the least. Focusing mainly on the lower body, the resistance band was the main prop in our routine, coupled with HIIT workouts that definitely made me feel the burn (both during and after). This was my first class with Tracy and I really liked how approachable she was and how she constantly motivated us without being overly pushy — a good trainer really does makes a difference! Another thing that's important? A pair of slimming tights that helps to sculpt our lower body, not to mention the tiny perforations that keep our legs cool and comfortable. Located on the 31st floor of Naza Tower, the space at Epique+ was modern and comfortable. In addition, the view of the KL cityscape was definitely not bad at all.
Rating: 4.5/5

Wei Yeen Loh, Senior Fashion & Beauty Writer
When I found out what Triple B stood for (Booty Band Bootcamp), I was prepared to go home with quaking quads and sore glutes. To wit, I did go home with both, but it was the kind of burn that comes from an exhilarating workout that pushes your limits. Triple B at Epique+ definitely tested mine — I've never felt so much animosity over a resistance band before, but in all honesty, it was what gave this workout an extra kick. After the umpteen lateral squat walk and jumping jack, it's safe to say that this is the place to go to if you really want to tone up and strengthen your lower body — and if you'd like to whip your booty back in shape. Also, I quite like the Nike outfit we were strapped in — the training tights was stretchy and comfortable enough to last me throughout the entire lower body-focused session.
Rating: 4/5

Su Fen Tan, Senior Writer
I've worked out with a resistance band before, but this was the first time I actually used one throughout a whole 45-minute session, from warmup all the way till the ending stretches. Who knew there were so many ways you could incorporate it into a workout? Done right and it's not just your glutes and lower body that will be feeling the burn. It actually involves a fair bit of core work as well — try a couple of rounds of plank jacks alternated with squats and you might see what I mean. What I've come to expect from Tracy's classes is her infectious energy and a high workout intensity to match, one that will most likely make you feel the pain the day after, yet you won't mind doing it all over again… on another day of course.
Rating: 4.5/5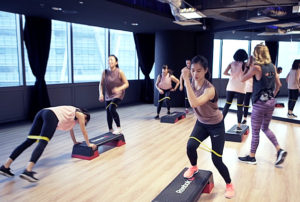 Stephanie Boey, Fashion Writer
The Triple B workout at Epique+ is as challenging as it is to say its name in full (I dare you to say Booty Band Bootcamp as quickly as you can 10 times). This isn't your everyday butt-focused workout class either. Sure, you have your regular burpees, push-ups, squats… but with the added challenge of maintaining the tension of the elastic band wrapped around your legs. The tricky bit for me was keeping the elastic band firmly planted on me — mine slipped down a couple times, interrupting my momentum. I did like Tracy's upbeat energy and music selection (her song choices included cheeky references to the derriere). Listening to Nicki Minaj's Anaconda while sweating it out really puts one in the mood to work that booty.
Rating: 4/5

Yi Suen Chong, Art Director
I've never done any booty band-focused workouts before but I have heard a lot of good things about them so I was intrigued what Epique+ had to offer. Our trainer, Tracy, has crafted a whole body workout for us that incorporated the band. Think jumping jacks and burpees but with a band strapped in around your knees or calves — it literally turned the intensity up a notch. Tracy was a great trainer as usual (watch our previous #FitnessFriday sessions with her!) and with her tremendous charisma and encouraging words, she managed to push us through the hard parts. I only wished the workout was slightly longer than 45 minutes but that might just be the part of me who enjoys getting 'tortured'. Another highlight of our session? My pair Nike tights that were quite thin yet surprisingly compressive, which is always a plus point in helping reduce muscle soreness.
Rating: 4.5/5

Triple B is offered at the new Epique Fitness on the 31st floor of Naza Tower. For more info, check out their website, Facebook and Instagram.
| | |
| --- | --- |
| SHARE THE STORY | |
| Explore More | |