In a blink of an eye, we're already one third through January! Have you been keeping to those New Year resolutions? Whether you're aiming for that hot summer bod or striving for a healthier lifestyle, here is a list of delicious salad recipes that will be the perfect complement to a wholesome meal:
Roll with the trend: Kale and Quinoa Salad with Dates, Almonds and Citrus Dressing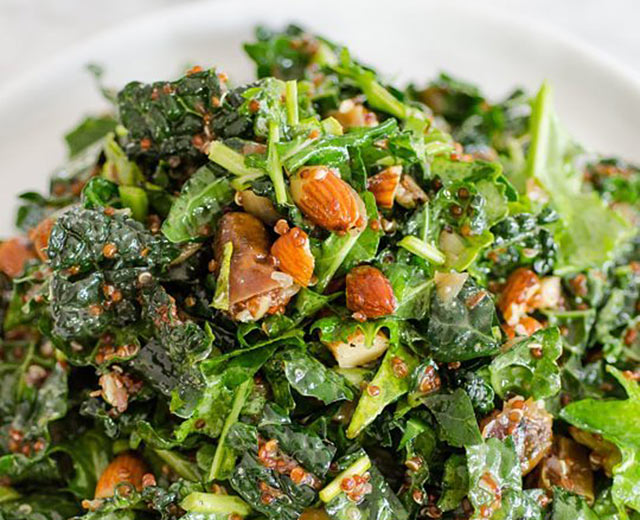 Ingredients (serves 6):
1 tablespoon olive oil
1 large onion, diced
Salt
1/2 cup red quinoa
1 small clove garlic, smashed
1 bunch lacinato kale (around 450g, with stems)
1/2 heaping cup whole dates
1/2 cup roasted salted whole almonds
For the dressing:
1 clementine or mandarin orange, juiced
1/2 lime, juiced
2 teaspoons maple syrup
1/4 cup extra-virgin olive oil
Salt and freshly ground black pepper
Method:
1. Heat the olive oil in a wide sauté pan over medium heat. Add the onion and sprinkle lightly with salt. Cook, stirring occasionally, until the onion has darkened to toasty brown and smells caramelised (about 20 minutes). Remove from the heat and set aside.
2. Rinse the quinoa in a fine mesh strainer. Add it and the garlic to a 2-quart saucepan set over medium-high heat and sauté for about a minute, both to dry the grain and toast it lightly. Add 1 cup water and 1/2 teaspoon salt and bring to a boil. Cover and turn the heat to low; cook for 15 minutes. Turn off the heat but leave the lid on for an additional 5 minutes. After 5 minutes, remove the lid and fluff with a fork.
3. Slice off the muddy bottoms of the kale stems, then slice the rest of the bunch into fine ribbons. Wash thoroughly and spread on a towel to dry.
4. Pit the dates and slice them into quarters. Roughly chop the almonds (into 2-3 pieces)
5. Make the dressing: Whisk the juices together (about 1/4 cup in total). Whisk in the maple syrup and olive oil. The dressing will be emulsified but still thin. Stir about 2 tablespoons of the dressing into the quinoa after it finishes cooking.
6. Assemble the salad: Toss the kale with all of the still-warm quinoa and the caramelised onions. Toss with about half the dressing and taste. Add the remaining dressing if desired, then toss with the dates and almonds. Taste a bite; add more salt if needed, as well as fresh pepper if desired.
Classic: BLT Breakfast Salad with Soft Boiled Egg and Avocado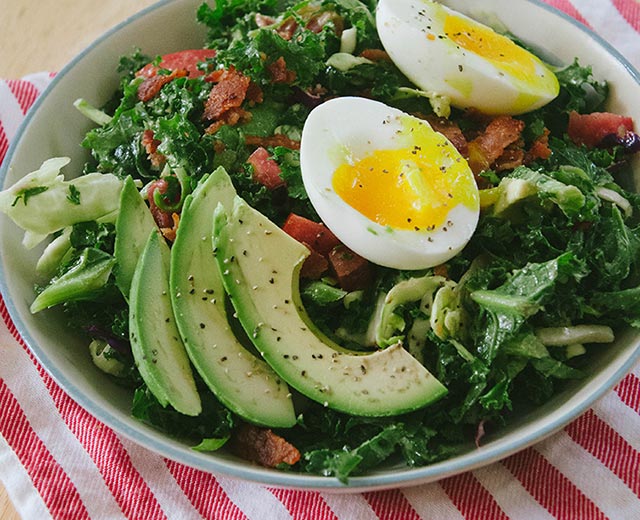 Ingredients (serves 2 generous portions):
1 bag of cruciferous greens blend (can be substituted with a head or two of kale chopped into ribbons)
1/4 red onion, diced
1 large tomato, seeded and diced
1/3 cup roasted sunflower seeds
6 pieces of bacon, cooked and chopped
1 ripe avocado, thinly sliced
2 eggs, soft boiled
Salt and pepper to taste
For the dressing:
1/4 cup olive oil
3 tablespoons apple cider vinegar
1 tablespoon dijon mustard
Juice of 1 lemon
Method:
1. In a large bowl combine your cruciferous greens blend, onion, tomato, sunflower seeds and chopped up crispy bacon in a large bowl.
2. Place all of your salad dressing ingredients together in a mason jar. Put the lid on the jar and shake until the dressing has completely come together. Pour the dressing over your salad and work it into the leaves. Use your hands if necessary. Set the salad aside.
3. Soft boil your eggs. Six minutes in boiling water is recommended for the perfect soft-boiled egg. Once the eggs are done, peel them, slice them open and serve them on top of your salad with some avocado slices.
Refreshing summer mix: Quinoa Fruit Salad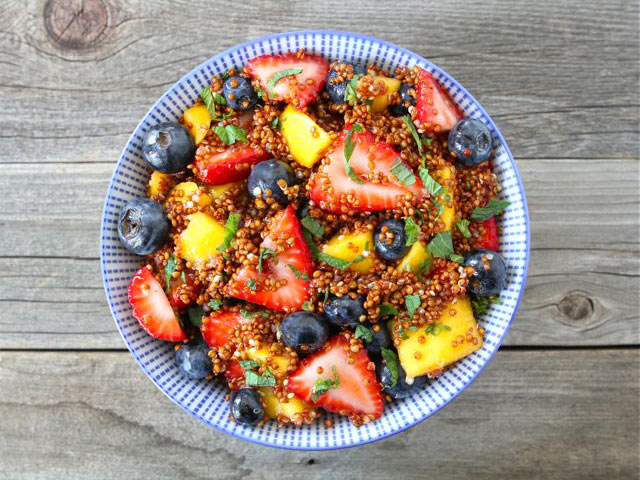 Ingredients (serves 6):
1 cup of quinoa
2 cups of water
A pinch of salt
1 1/2 cups blueberries
1 1/2 cups sliced strawberries
1 1/2 cups chopped mango
Chopped mint (optional: for garnishing)
For the dressing:
Juice of 1 large lime
3 tablespoons honey
2 tablespoons finely chopped fresh mint
Method:
1. Using a strainer, rinse the quinoa under cold water. Add quinoa, water and salt to a medim saucepan and bring to boil over medium heat. Boild for 5 minutes then turn heat to low and simmer for about 15 minutes, or until water is absorbed. Remove from heat and fluff with a fork. Leave quinoa to cool.
2. Make the dressing: In a medium bowl, whisk the lime juice, honey and mint together until combined.
3. In a large bowl, combine quinoa, blueberries, strawberries and mango. Pour honey lime dressing over the fruit salad and mix well. Garnish with additional mint, if desired. Serve at room temperature or chilled.
Superfruit invasion: Dragon Fruit Waldorf Salad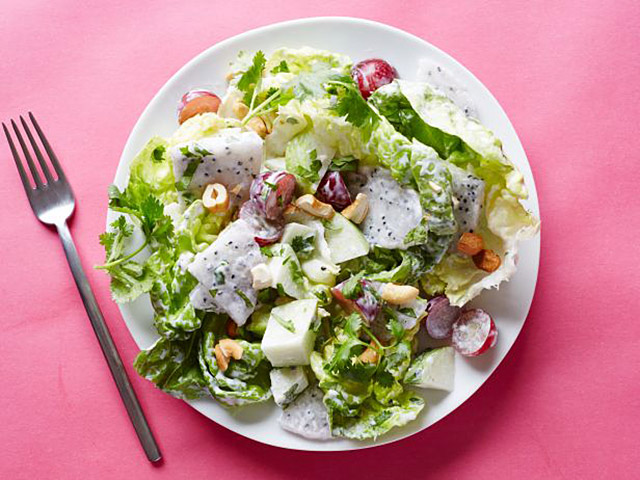 Ingredients (serves 4):
1 large, ripe dragon fruit
1/3 cup Greek yogurt
2 tablespoons mayonnaise
Juice of 1/2 lemon
1 teaspoon honey
1/2 teaspoon freshly grated ginger
1/2 teaspoon kosher salt
1 small Granny Smith apple, cored and into 1/2-inch pieces
1/2 cup red seedless grapes, halved
1/2 cup fresh cilantro leaves, chopped
1/3 cup cashews, roughly chopped
4 leaves Bibb or iceberg lettuce
Method:
1. Quarter the dragon fruit lengthwise. Work your finger under the skin, pull back and peel it away in one piece. Cut each quarter into 1/4-inch-thick triangles.
2. Whisk together the yogurt, mayonnaise, lemon juice, honey, ginger and salt in a large bowl. Add the apples, grapes, 3/4 of the dragon fruit pieces and 3/4 of both the cilantro and the cashews. Toss to combine, and refrigerate until chilled.
3. Put a lettuce leaf in each of 4 small bowls, and top with a scoop of salad. Garnish with the remaining dragon fruit, cilantro and cashews.
Related stories:
Detox your life: 9 things to clean up right now for a healthier you
Power snacks for a mid-day energy boost
| | |
| --- | --- |
| SHARE THE STORY | |
| Explore More | |