Located at St Mary Place in KL among a row of eateries and restaurants is EOS Wellness. This centre of wellbeing spans 7,400 square feet featuring four single treatment rooms and two couples rooms. EOS Wellness is equipped with a full-spectrum infrared sauna, a Jason MicroSilk Hydrotherapy bath and a Gharieni 360-degree floating bed.
I made my way there on a Tuesday morning; flustered that traffic was working against me and precious time was ticking away. Thankfully when I finally got there, parking was a breeze and the centre was easy to locate.
EOS Wellness is an oasis of tranquillity among the hustle bustle of the city's madness. There's a feeling of Zen when you walk through the door. With a quick consultation, I signed up for the Exfoliating Hammam Scrub (oh boy!) and the EOS Release treatment from its Signature Series.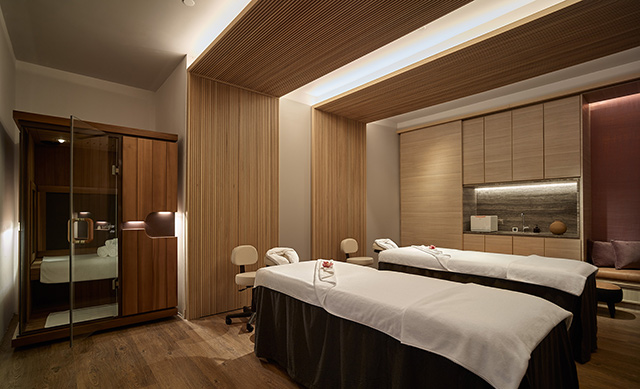 Every treatment at EOS Wellness begins with a Foot Ritual, in which tea tree and peppermint essential oils are used to cleanse and cool the feet. This is followed by an exfoliating foot scrub using mineral-rich sea salt mixed with lemongrass and tea leaves. I have to confess that I often neglect caring for my poor feet, so this was a soothing experience to put my guilt to rest.
Next, it was time to disrobe and get ready for my cleansing ritual—the Exfoliating Hammam Scrub. Truth be told, I was nervous about this as it was my first time stripping down for a hammam. As I laid down on the spa bed, a thousand questions ran through my head: How do I arrange my facial expression? Where do I put my hands? Oh, what's going to happen?
My worries were unfounded. I have on hand a professional who was after my best interest. The therapist slathered the black soap scented with eucalyptus oil all over my body. With an exfoliating kessa glove, the therapist energetically scrubbed me from top to toe, front to back in an effort to rid my body of dead cells.
It was a shock to my system! The scrub was intense and the coarse-textured glove left me feeling raw and exposed but in a good way. I was reborn again with new smoother skin.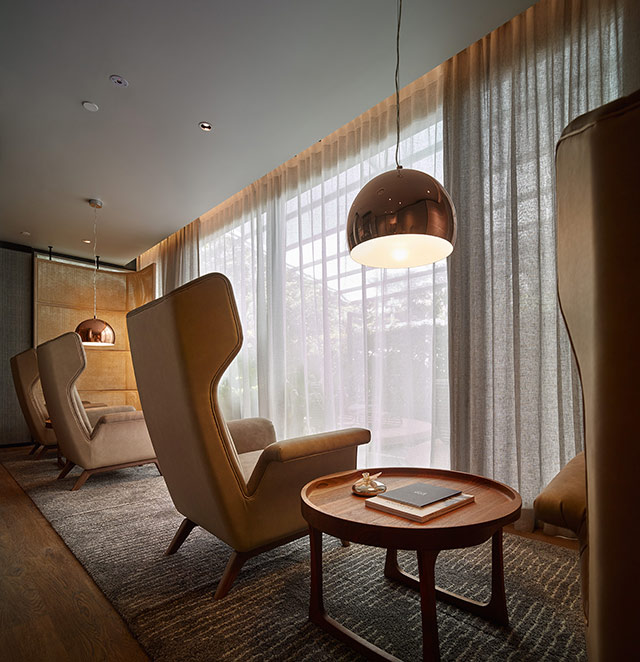 Then it was time to step into a steam shower. With the continuous flow of hot, dry air, I was sweating profusely from the heat. This was an important part of the treatment to ease muscle tension and detoxify the body. After about 15 minutes, I took a quick cooling shower before starting the EOS Release massage.
This incorporated the Abhyanga massage where the body treatment is based on traditional Ayurvedic practice to help restore the balance of the 'doshas' or the three energies that are believed to govern all our bodily functions. A mix of herbal oils was used for detoxification and stress-relieve of the muscles (namely: tight knots and sore points). As I was drifting between reality and semi-consciousness, the therapist carried out a scalp massage that really knocked me into a restful sleep.
After the treatment, I was ushered into the relaxation lounge for a cup of refreshing tea. I love how I was left alone to enjoy some contemplative time (and caress my smoother skin) before heading back to face the world. It was a much welcome respite in a full day of appointments.
EOS Wellness is located at St Mary Place, Jalan Tengah KL. Along with spa treatments, the centre also offers bespoke wellness sessions including Zumba, anti-gravity yoga, UFO training and aqua fitness classes. For more info, check here.
Related stories:
Review: Digital Detox Retreat at Mandarin Oriental Kuala Lumpur
A luxurious afternoon at Pañpuri Organic Spa in E&O Hotel, Penang
| | |
| --- | --- |
| SHARE THE STORY | |
| Explore More | |