Under Armour Athlete Recovery Collection — Terry Saw, editor-in-chief
Collection low-down in 20 words: High-performance recovery wear with infrared technology that works (even while you sleep) to help you bounce back quicker post-workout.
Fun fact:
"The collection was inspired by world champion footballer Tom Brady. While my daily activity comes nowhere close to being as strenuous as a professional athlete's, I pushed past my personal limits by checking off various hikes on a recent family trip to Switzerland—all decked out in Under Armour recovery wear (track jacket and pants), which was the most perfect (and scenic) opportunity to experience the benefits of the collection."
How it works:
Powered by Celliant, a patented infrared innovation that is infused into the bioceramic lining of the jacket and pants, the recovery wear is designed to convert the body's natural energy into infrared energy, before reflecting it back to the body for improved circulation and to aid muscle healing while shortening your post-workout downtime.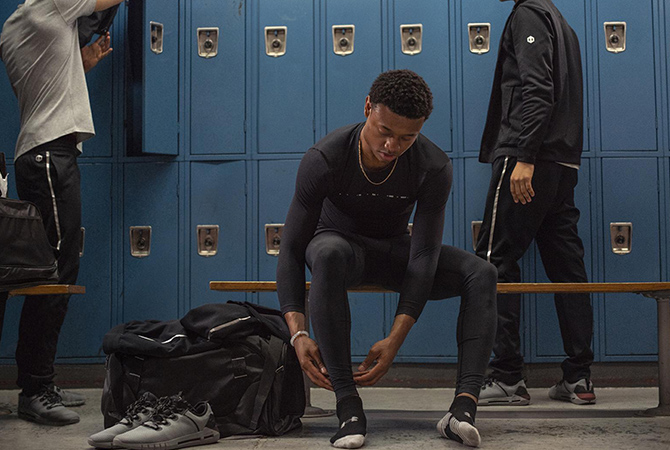 The results:
"May not be immediate, but they are evident. I made sure to really test it out for weeks to notice every slight improvement over time. The hikes I went on were, for me, rather intense and steep—on the upwards of four hours or more from base to the top and back again.
"Even with the unexpected heatwave, I didn't feel the icky sticky feeling because the fabric was soft, breathable and great at wicking sweat. Knowing my body though, I was bracing for the usual 'workout' aftermath in the form of muscle aches and fatigue that would usually last the week.
"While I was tired, I didn't feel the usual 'send help' level of exhaustion and could get through most hiking trips without the need for multiple stops. The usual strain on my ankles and recurring pains from knee injuries of active days past were also a lot less noticeable and by the next morning, I felt recharged and ready to go.
"One of the more obvious things for me while also reviewing the sleepwear collection (short sleeve top and shorts) was how quickly my bouts of stiff neck recovered overnight. The aches and stiffness that would, more often than not, bother me for up to four days, surprisingly subsided the next morning, which was half the time it would usually take to recover. Better circulation also improved my sleep as a result, even while I was dealing with jet-lag; I may not sleep through the night when adjusting to the time difference, but the hours that I get feels like good quality sleep, which goes a long way when you're traveling, and on your feet all the time.
"I'd recommend this even to non-athletes—whether you're into sports or dance; whether you're an active person or just prone to minor joint aches and pains in general, you'll definitely find value in this. Wear it on the go or while you sleep; it'll help you fix your body (and health) in more ways than one even when you're not thinking about it, which is way more than we can say or expect from all the other items in our wardrobe."
Under Armour Athlete Recovery collection (available for men and women) in hoodies, track pants and jacket, and sleepwear from RM199 onwards.
Nike Air Zoom Pegasus 36 — Rachel Au, editor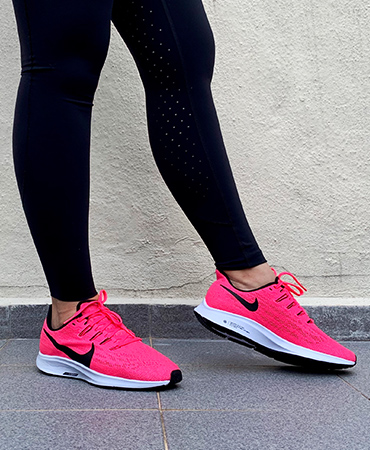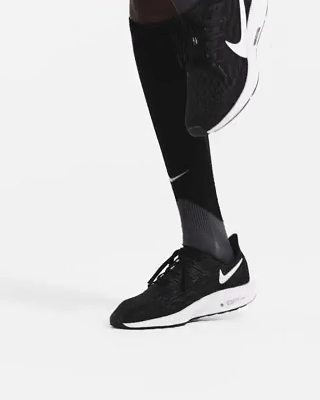 Personally, a good pair of running shoes would make me actually not mind going for a quick jog around the block. Within the first minute of wearing the new Nike Air Zoom Pegasus 36, that was exactly how I felt. Like I was limitless and perhaps going for a run at least once a week was attainable. The underfoot cushioning system was utterly comfortable (truly like running on plush cushions) and considering I ran up- and downhill, on sidewalks and tarred road, the Nike Air Zoom Pegasus 36 was responsive regardless. In addition, my issue with running (and walking, at times) is that I often land quite "hard" on the floor. This wasn't the case. The Pegasus 36 is made for most, if not all, surfaces and that means you get a lot of bang for your buck.
Apt fit and snugness aside, the running shoes have also been updated with more perforations and engineered mesh in the upper for better breathability—important to note because two words: Malaysian weather. Side note: Always get at least half a size bigger than your usual as Nike's shoes tend to run a tad smaller. On the other hand, I am, however, not a fan of the striking pink colour on this pair but as usual, Nike comes up with various shades for the various preferences out there.
Honestly, if you're a new runner, the Pegasus is made for you as it checks all the basic needs of a running shoe—especially for outdoor runs. Let's just say: you shouldn't waste a perfectly good pair of running shoes on the threadmill (although it'd still do its trick). Final note: The laces stay tied. The laces on my first pair of Nike training shoes tend to undo themselves every 10 to 15 minutes during a workout session at the gym and that can be quite frustrating. Apart from that, what else would you need out of a running shoe, right?
The Nike Air Zoom Pegasus 36 is now available in Malaysia at RM495 via the website, Nike stores and authorised resellers.
Onitsuka Tiger Rebilac Runner — Joan Kong, fashion editor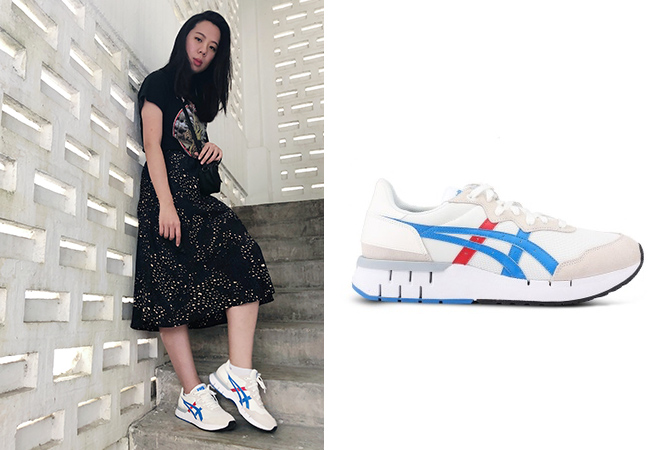 As someone with wide feet, I've had my fair share of struggles finding the perfect footwear all my life. And when it comes to sneakers, it's no different. So I know a comfortable pair of shoes when I wear one. I've never owned a pair of Onitsuka Tiger until my recent press trip to Bangkok, but let's just say, it was love at first step. My pair of Tiger Corsair—in classic white, red, and blue colourway—is oh-so-comfortable and perfect for walking, and since that's not always the case for my feet, needless to say, I was sold. But lo and behold, I've found something even better.
My first reaction when I got these Rebilac Runner in the same colour combo: It's definitely a bulkier design compared to the classic Mexico 66 and Tiger Corsair. It's likely the brand's take on the chunky sneaker trend that is still hot right now, and its slightly retro vibe is reminiscent of the '90s style. Inspired by its past running shoe design, these kicks include technology that ensures comfort, such as the OrthoLite that lends additional comfort support, and the FuzeGel is incorporated into the heel for shock absorption. Result? Comfy kicks that really add a spring in your step. When it comes to comfort, I really can't emphasise it enough! Here, I wore these on my day about town one weekend, juxtaposing the chunky kicks with a band T-shirt and satin midi skirt for a casual-cool finish. They'll be my go-to on my upcoming trips next.
The Onitsuka Tiger Rebilac Runner retails for RM469 via Zalora, Onitsuka Tiger stores or authorised resellers.
Under Armour Charged Bandit 5 — Loh Wei Yeen, beauty editor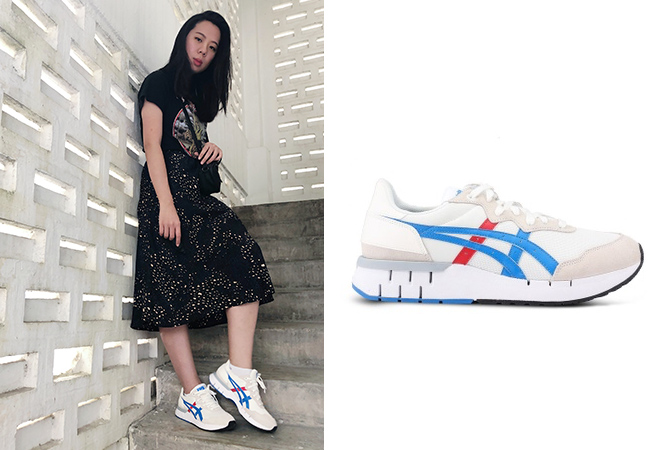 As a seasonal runner with a bad case of easily-injured knees, running is something I wished I could do more, but physically cannot achieve. That said, there are a few shoes that my feet will itch for (not for those reasons) just to see if it holds the fort when it comes to clocking in the miles. After learning more about Under Armour's UA Charged Bandit series, I was excited to put the new UA Charged Bandit 5 to the test.
First impressions: the blue-and-peach colourway is bright enough to turn heads if you're the kind of runner who prefers night-time jogs around the neighbourhood (no difficulty in spotting you in the dark). The signature two-toned mesh construction showed off hints of peach beneath the sprightly turquoise blue. Design aside, the shoes tip the scale at an impressive 201g—it's so light that my feet could hardly feel it had shoes on upon each stride.
The UA Charged Bandit 5 reportedly has a firmer heel and softer midfoot—the brand took constructive feedback and adjusted its impact-absorbing dual-layer Charged Cushioning to allow runners to land soft while pushing hard. As a runner who lands hard on the heels (i.e. me), this didn't come as handy as it would for those who are forefoot-strikers. But I quite like the flexible grooved outsole for easy manoeuvring in different terrains, including wet trails and inclined grounds.
That said, the shoes provided solid cushioning and flexibility—the soles felt firm yet well-cushioned, which sounds ironic but you'd know what I mean when you tackle your first mile in these. The "Comfort" collar and EVA sockliner made it a breeze to run in without any distractions—no in-shoe wobbling or stability issues with this pair. I had a wee bit of room in the forefoot area (I have very narrow feet), but those with wider feet may find the construction comfortable.
The Under Armour Charged Bandit 5 retails for RM429 via their website, Under Armour stores or authorised resellers.
| | |
| --- | --- |
| SHARE THE STORY | |
| Explore More | |