Inside Onitsuka Tiger's eventful year: Exciting collaborations, too-cool-for-school themes, and collections you shouldn't miss
News flash: Onitsuka Tiger turns 70 this year. To celebrate, going big is, of course, the only way to do it. The surprise collab that was unveiled at Givenchy's first standalone menswear show during Pitti Uomo back in June 2019 was one of the most talked about collections that month. While I can't think of a better way to kick-start the year of festivities, trust me when I say that was just a prelude of what's to come. I was recently at Onitsuka Tiger's Autumn/Winter 2019 press preview in Bangkok, and here's everything that was unveiled—including more exciting partnerships lined up!
Autumn/Winter 2019 collection
The Autumn/Winter 2019 press preview in Bangkok was held at Warehouse 30—the perfect venue to complement the Downtown Rave inspiration. Influenced by Europe's club scene in the '90s, this season's designs are fueled by the electric youth spirit and peppered with trendy streetwear elements—it's a collection cool kids won't be able to get enough of. While most pieces are in minimal, oversized silhouettes, bright colours and logo-play amp up the interest. The AW19 collection is divided into five main themes, with each being released every month starting from July onwards. They are "The Athleisure Mix", "The Printed Noise", "The Fluorescent Clubbing Snowboarder", "The Raw Urban Uniform", and "The Berlin Trilogy".
Onitsuka Tiger's idea of a rave party consists of laser beams that light up the warehouse, pipe structure frames for that slight industrial flair, and last but not least, the It-list of the region. Spotted at the event: Thai model-actress Baifern, Singaporean singers Tabitha Nauser and Aisyah Aziz, and our very own actress Lyn Lim and style influencer Andre Amir. After the model presentation, we were ushered into the after-party next door, where we had a night of fun over fresh kicks, drinks, and beats by DJ Montonn Jira.
Collaborations, revealed
To continue its anniversary celebration with a bang, the brand has announced a collaboration with seven exclusive designers from Japan and abroad, with collections scheduled to drop each month until the end of the year. Each of these creatives gave Onitsuka Tiger's signature designs their own reinterpretation, resulting in the best mash-ups that—fortunately, for us—money can buy. The list includes CINOH's Takayuki Chino; KKtP's Kim Kiroic; Christian Dada's Masanori Morikawa; StaffOnly's Shimo Zhou and Une Yea; Kye's Kathleen Hanhee Kye; Sulvam's Teppei Fujita; and a secret designer guest who will be revealed on a later date.
Takayuki Chino's collaboration is the only ongoing partnership of the lot, and the shoes are based on the Ok Basketball Lo, inspired by the brand's early basketball shoe silhouette with a low-cut. A hybrid design that combines leather and canvas, different colours are used for the left and right shoelaces for a subtle, yet eye-catching finish. In a statement released by the brand, the designer says: "To this I've added ease of movement, along with a combination of the Onitsuka Tiger standard colours of tri-colour and the distinctive "CINOH" signature colours of white and navy to give this collaboration a distinctive look." Aside from that, suits for men and women are also introduced in a classic deep navy silhouette, complete with tri-colour lines adorning the sides for a hint of sporty flair.
On the other hand, Kim Kiroic of Shanghai-based label KKtP's went down a more classic route by opting for the Tiger Corsair silhouette which is one of the brand's bestsellers. While the colours and design remain the same, take a closer look and you'll notice the entire upper is covered with a translucent material that give off a trendy vibe, striking the right balance between classic and contemporary. To complement the shoes, a transparent poncho is also introduced to be layered over the tracksuit in Onitsuka Tiger's signature hues.
Both collections are now available in the Onitsuka Tiger Suria KLCC and Mid Valley stores, with more drops scheduled each month.
Tried and tested
While I've heard many good things about the shoes, I've never actually owned a pair from Onitsuka Tiger until the trip to Bangkok (I know, I'm late to the game). But all things considered, there's no better time to test out the shoes than on my full day of activities in the city. From the airport straight to lunch, an interview, to the main event and after-party at night, I can honestly say that my pair of Tiger Corsair—in the classic white, blue and red colourways—kept me (and my wide feet) comfortable all day. They perfectly complemented my all-denim ensemble from the Onitsuka Tiger x Andrea Pompilio collection too.
7 Minutes with creative director Andrea Pompilio
Having served as Onitsuka Tiger's creative director for six years now, Andrea Pompilio has been taking the brand to new heights without straying too far from the brand's rich heritage. I got a chance to sit down with the Italian designer to get more insight into his creative mind, and listen to what he has to say about the brand, and fashion in general.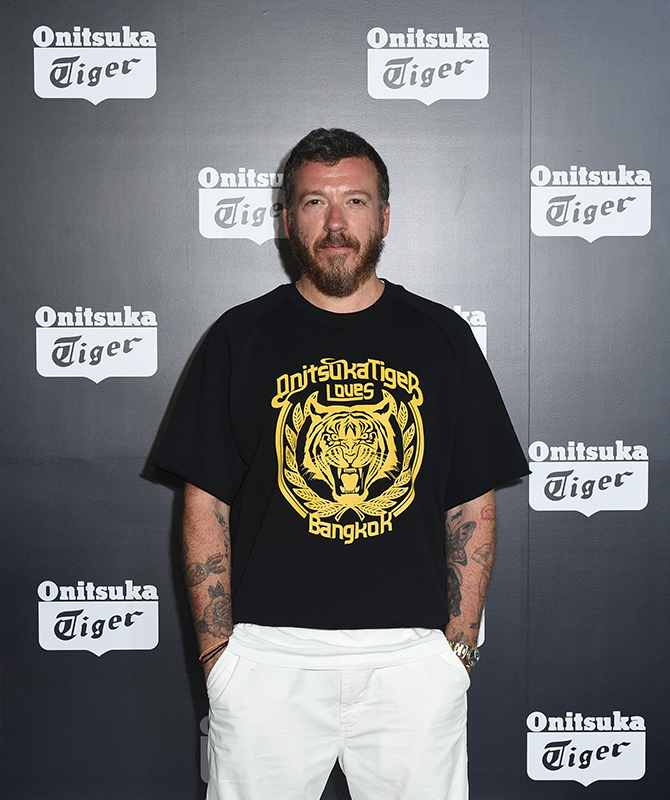 On the "Downtown Rave" theme this Autumn/Winter 2019
I've always loved taking inspiration from the street. By street I don't mean streetwear, but watching real people on the streets. For me it's all about the reality and what people want. This is why I'm always interested in new cultures and to hear what the new generations have to say.
On his design process every season
It's more or less the same, but sometimes it can be an image, or a person on the street that kick-starts it all. Personally, I think one of the biggest moments is the first fitting. It's where you can get creative, more so than the beginning stages.
On his favourite pieces from the AW19 collection
The puffer jacket, the new logo that's printed on a sweatshirt and T-shirt.
On his earliest memories of fashion
I come from a city in central Italy where some of the most exclusive stores are located. When I was eight years old, I had the chance to see and touch Gianni Versace and Franco Moschino's clothes up close. That was my earliest memory of fashion, and I used to save up to buy sweaters from Moschino and pants from Versace.
On how his experiences at Prada, Calvin Klein and Yves Saint Laurent shaped his approach to design
All the experiences were very interesting for me. I was at Prada for about nine months, and the way they work is very precise. At Calvin Klein, I was working on merchandising more, so that gave me an opportunity to study and figure out the American market. Yves Saint Laurent was a different world, especially after Calvin Klein where it's all about minimalism, the brand was all about eclecticism-it was completely different. All these experiences have now become a part of me.
On his favourite items in his closet
Honestly, I spend too much money on shoes. Socks and shoes can completely change how a man looks. My other obsession? Boxers.
On what's next for Onitsuka Tiger
We'll be opening a new store in Milan and Paris, and we'll be having our biggest event so far in Japan this year. Maybe one day we'll do a kids' collection, who knows?