You might have seen their name on social media. You might have heard about them. And now Ministry of Burn is officially ready for you. A new boutique gym nestled in the up-and-coming Damansara Heights, Ministry of Burn offers two types of classes: Move and Ride. The former is a tempo-driven high-intensity functional training workout while the latter is an indoor cycling class. The two share one thing in common: Routines that match the beat of the songs. Watch the video below to see how we tackled both and read on below for the team's thoughts.
Cai Mei Khoo, Editor-in-Chief
I personally enjoyed the Ride class more than Move because 1) I enjoy riding to the beat, and 2) I find it to be a great cardio workout. Rachel had great energy and was very clear in her instructions, which made it easy to follow without missing a beat. The Move class, on the other hand, felt more like an aerobics class—all moves are timed to the beat but unlike Ride, it didn't have the same effect or level of fun, and didn't quite have the intensity I like in my workouts.
Rating: 4/5

Gwen Ong, Deputy Editor
From arms aching to thighs shaking, oh I definitely felt the burn at Ministry of Burn alright! I should have known, seeing there was a big statement wall that shouts 'Turn the Heat Up'. Move was conducted by Janell and Josh, who together gave us double the trouble. We were stretched and conditioned to strengthen and tone up from limbs to core. By the halfway mark, I was sweating profusely. Or was that my fats crying? I couldn't tell anymore by the time we went in for Ride. So it was with heavy legs, and heart, that I started peddling and riding dirty—as encouraged by Rachel, our instructor for the day. She eased us into each move with clear instructions, which I appreciated and it somewhat lessened my disdain for spin. All in all, MOB really gave me a good workout that morning.
Rating: 4/5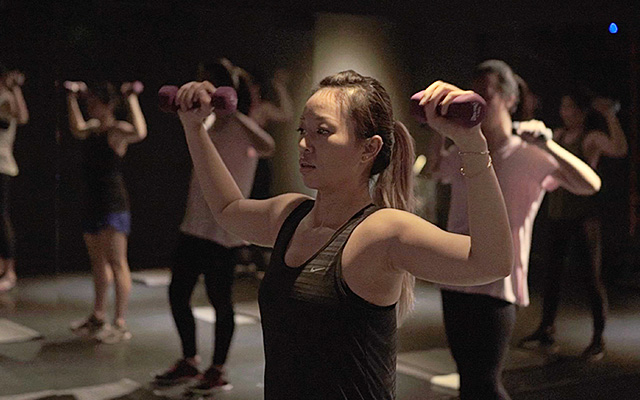 Joan Kong, Senior Fashion Writer
For someone (i.e me) who rarely exercises, doing two back-to-back high intensity classes for their first #Fitness Friday session is definitely the epitome of "go big or go home". As I usually prefer dance-based exercises, I initially assumed that the Move class would be of something similar, but it turned out to be a HIIT workout—burpees, high knees and mountain climbers are done to a catchy beat. Honestly, I struggled during the class as I'm not a big fan of an intense burst of exercises, but Janell and Josh's constant motivation and encouragement kept me going. Things changed when we were ushered into the Ride room for the second half of the workout; I love spin classes, and (more) catchy tunes aside, our instructor, Rachel's great energy made the ride really enjoyable. I definitely worked out a good sweat that morning.
Rating: 4/5

Rachel Au, Senior Lifestyle Writer
Two workouts in one hour? I was practically Move-d to tears for the first 30 minutes, trying to keep up with the beat, the instructors Janell and Josh, and their functional training routines. Personally, I thought it was intense but the others were saying it wasn't that hard. Then again, I'm not a fan of burpees, mountain climbs and high knees—or anything that involves a lot of movements faster than walking. This is, however, where I'll be contradictory. My spirits soared when it was time for Ride. I have discovered a huge love for indoor cycling. Like Janell and Josh, the instructor for Ride, Rachel, had great energy and I'm giving her extra points for including Taylor Swift's Look What You Made Me Do in her playlist. (Yes, I'm a proud Swiftie.) All in all, I didn't think I was going to survive and technically, I didn't; since I was sore for almost a whole week after! It was a good pain though cos that meant I deserved one extra currypuff that afternoon.
Rating: 5/5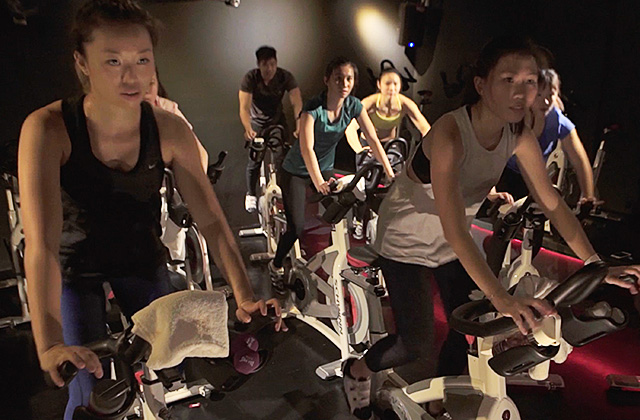 Su Fen Tan, Writer
Just one warm-up song into Move, and I was already breaking a sweat, no thanks to the high knees. But cardio (ugh) aside, I do love a good rhythm-based workout—it motivates me to keep going at a constant rhythm instead of caving in to a comfortable pace when I get tired. Janell and Josh kept energy levels at a high, and gave us a well-rounded set of movements to make it a total body workout. Later on at Ride, Rachel kept things rolling with another high-energy class. It was a fantastic spin sesh to end the day's workout, set to good beats, great pace, diverse moves, and a whole lot of fun.
Rating: 4.5/5

Yi Suen Chong, Art Director
As a gym junkie, I was really happy to see another new boutique gym open in KL. Eager to find out what Ministry of Burn (MOB) is bringing to the table, we set out to try not one, but both of their classes. Move is a high-intensity functional training class with a mixture of cardio moves and light weights thrown in. Within the first few minutes of the class, I was already out of breath. Josh and Janell gave very clear instructions, which is a huge plus point as MOB's classes are all rhythm-based. After a good 25 minutes of Move (it's usually 45 minutes), I went into Ride with a pair of wobbly thighs. Our instructor, Rachel, was super motivating as she pushed us through a variety of push-ups, sit-ups and sprints all on the bike. Seeing that I was sore for a few days after, I'd say MOB did give us a good burn after all. Can't wait to go back for more dirty rides.
Rating: 4/5

Ministry of Burn is located at Plaza Damansara. Find out more about them on their website.
Related stories:
#FitnessFriday: Team takes flight at Flycycle
#FitnessFriday: Team workout at Firestation.fit in Plaza Mont Kiara
#FitnessFriday: Team training with the Wonder Woman workout at Rev Publika
| | |
| --- | --- |
| SHARE THE STORY | |
| Explore More | |