Ainul Aishah, Maggy Wang and Siu Lim share at least one thing in common: Their healthy relationship with fitness. But when a lockdown is implemented, lifestyles change and questions arise: How does one cope? Who do you become? What happens next? The pandemic is far from over but at the very least, the majority of us survived the MCO as best as we could. And the least we could all do from here is to refresh the way we live in the New Normal, starting with our health and wellness. We spoke to these three strong Malaysian women on how they rode out the R/C/MCO period, the advice they have for anyone in a similar situation and what they're going to be doing differently in the New Normal.
WHO ARE THEY?
Ainul Aishah
---
With acting, singing and modelling experience up her sleeves, Ainul has since shifted her focus to baking and business. The result: Ainul Cookies & Co. Despite her attraction to sweet treats, she often hits the gym to keep fit and healthy.
Maggy Wang
---
A familiar face in both the hosting and fitness industry, Maggy is known for her fun and bubbly personality. She is a NASM Certified Fitness Coach and has even co-founded Move with Maggy and Motion Lab with her partner, Joseph Lee.
Siu Lim
---
You might recognise her if you've been to The Flow. A pilates teacher and a full-time single mother of four, Siu Lim's story has touched and inspired the hearts of many, clearly depicting that the strength of a woman knows no bounds.
First up, hi, guys! Hope you're well! How has the MCO treated you? What are some things you learnt during the 'lockdown'?
Ainul Aishah: "To be honest, the MCO was a complete rollercoaster ride. There were some days where I woke up and was excited to do things, and then on other days I was just so demotivated and felt really down. It took me some time to realise I wasn't alone in this so I definitely learnt a lot. I discovered a deeper love for cooking where I've started a daily mission to cook a new recipe and list down different ingredients for my grocery trips. I learnt more about myself, the business world, and brushed up my global knowledge on finance, politics and the economy. Most people don't know that I'm actually intrigued by talks about business and during this MCO, I had time to strategise my business for future expansion. Interestingly, I watched my first-ever Korean drama… and I think that would be last (laughs)."
Maggy Wang: "Hey! I have been well. The past few months were definitely challenging both on the personal and business front. The biggest lesson I've definitely learnt this year is that 'health is wealth'. I had two health scares during the lockdown period. Dengue fever in March and a recent surgery to remove a ruptured ovarian cyst and an inflamed appendix. I'm currently still recovering from my recent laparoscopy surgery."
Siu Lim: "MCO for me was great! I never realised how much I loved being at home! I don't know why I wasn't home more often or perhaps I am actually more of an introvert than I thought. I used to fear being by myself or eating alone but it's actually the best thing ever. During the lockdown, I even managed to learn about video editing and how to reformat computers. I've never been more proud of myself. (laughs)"
As our movements were rather restricted, how did you cope keeping a healthy lifestyle and working out at home? Was it more challenging?
Ainul Aishah: "It was definitely challenging as I was used to an active lifestyle, from attending events to running a business and meeting customers/potential clients to going to the gym to spending quality time with friends and family. To suddenly being stuck at home? I got depressed in a way but I managed to cope, thankfully. I did some home workouts but to be honest, it didn't feel the same as working out at the gym. The vibe is different, for sure, and there was a lack of motivation so I was a bit inconsistent. I finally got better in the third month!"
Maggy Wang: "I run a fitness studio called Motion Lab and we have been providing online virtual classes during the lockdown period. When I'm not coaching a class, I'd go for evening or night runs (when outdoor runs were finally permitted by the government). The only challenge I would say is the lack of the usual equipment but most of our workouts is very versatile and adaptable with body-weight movements that are both efficient and effective. Our current virtual training experience Get in Motion is still up and running even though gyms are slowly re-opening."
Siu Lim: "I had to have a routine! I would plan it the day before, even if I end up doing only 40 per cent of the plan. It always started with a workout which varied from a range of HIIT exercises, strength training, Pilates reformer (which I have at home) or indoor cycling (another piece of equipment I ended up buying for my home). It was, by far, way more challenging because I love working out in groups. But let's face it; I'm quite a competitive person so it's more like I love to see how the person next to me is doing to help keep me on my toes (laughs)!"
We're sure the Apple Watch came in handy for tracking your workouts. That being said, the Apple Watch comes with a treasure trove of features that not many might realise. What are your favourite features/tips when it comes to using the Apple Watch for the everyday life?
Ainul Aishah: "Oh wow! There are too many things I love about the Apple Watch but I have to say that the Cellular function blows me away. I can pick up calls and talk through my Watch, which is useful since my hands are often busy baking away. The voice on the line is so clear and they, in turn, can hear me just as well! It's really impressive and with just that one button, my life has become easier.
"Another convenient feature is the News app. I get instant updates on currents affairs thanks to the notifications on my Watch. I can sneak a peek to read the news even if I'm in a meeting, on my treadmill or having a chat with my friends. It's awesome!"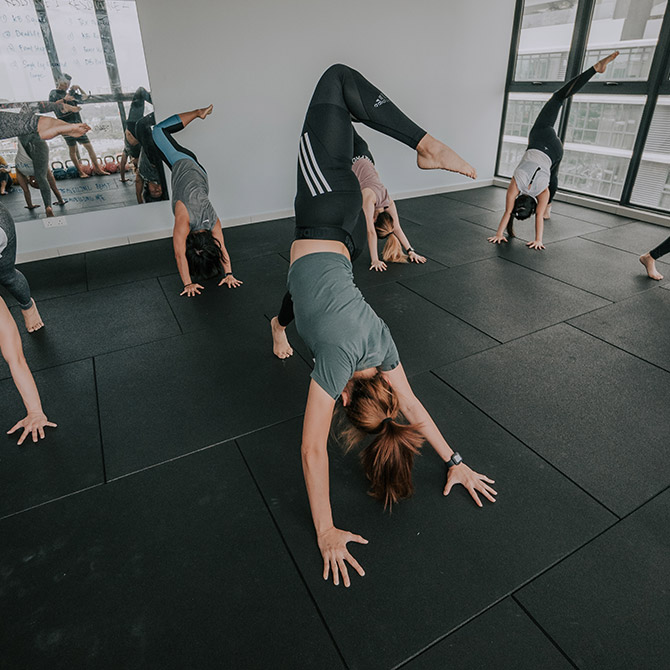 Maggy Wang: "I can list three!
Camera app — I do take a lot of photos/videos and the Apple Watch's camera app has made my life so much easier. I can access the camera screen through my Watch without having to go back and forth to my phone. I've been using this feature to film my workout videos and I love it! (FYI support page here)
Timer & Music — I used to have to carry my phone around during class to check for time and adjust the music in between workouts but with the Apple Watch, it's a game-changer. I no longer carry my phone around the class (which can get in the way most of the time) but instead, I just start the timer, adjust music volume and change songs with the click of a button on my watch. It's so convenient and makes the whole coaching experience seamless and enjoyable."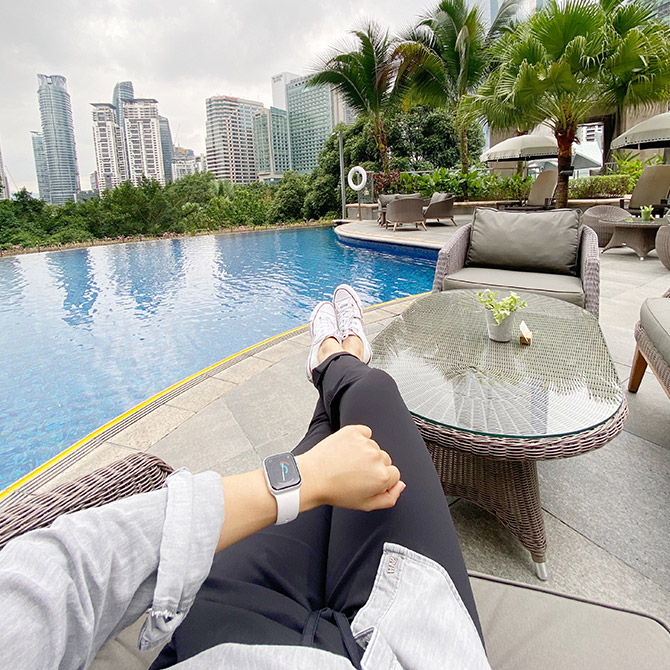 Siu Lim: "My absolute favourite would be the Find my Phone feature because how many times in a day do we misplace our phones and then spend minutes just trying to find it. I wouldn't know what to do without it now actually. Next, I love how the Watch looks after me and makes sure I close all my rings (and thus, making sure I stay active). It helps keep track of my workouts, calorie count and heart rate."
What was your initial impression/misconception of the Apple Watch and what changed after actually trying it out?
Ainul Aishah: "I just saw it as another sporty watch, which I don't usually fancy. I didn't care much for the "smartwatch" element. But thank God all that has changed. Thinking back now, it's funny how I once thought I would only use the Watch for workouts or if I'm wearing a funky outfit to go with it. Now, I can't leave home without it, regardless of what events I'm attending. It's now like my second phone!"
Maggy Wang: "My first Apple Watch was a Series 3. I initially got it in hopes of enhancing my coaching experience. I was using my phone for the longest time and realised that it was beginning to get rather inconvenient. I got it mostly for some of the basic features but was pleasantly surprised with the additional features that I slowly discovered along the way. I can even control my music during class without needing my phone or running back and forth to the speaker. It's honestly a really well-made smartwatch.
"I'm also no longer just wearing it when I coach, but also on the daily and even more so when I'm travelling. I love that I get to track my steps! During my latest trip to Hong Kong, I made sure to clock in 20,000 steps every day. That was a fun challenge with my partner whenever we travel."
Siu Lim: "I thought it wasn't a necessity to always keep track of my steps and workouts. Boy was I wrong! I needed it more than ever especially during the MCO. I had thoughts such as 'How many steps did I take?!??! Ok better move it, I still have six more hours to hit my target.' It helped me a lot. I used to think the watch was a bit bulky too and that it wouldn't go with any of my outfits. As it turned out, all it takes is the simple act of changing the bands."
After six months of (a very challenging) 2020, a mid-year refresh would be great as we navigate into the "New Normal". On the health and wellness front, what (and how) would you be revamping your lifestyle?
</stron >Ainul Aishah: "Once the lockdown became less restricted, I started being more motivated again to work out, and eat and drink healthy. I now feel the need to focus on building my fitness strength as well as to take care of my sleep quality. During MCO, I didn't have the best sleep. One of the keys to living a healthy life is to have enough sleep and rest!"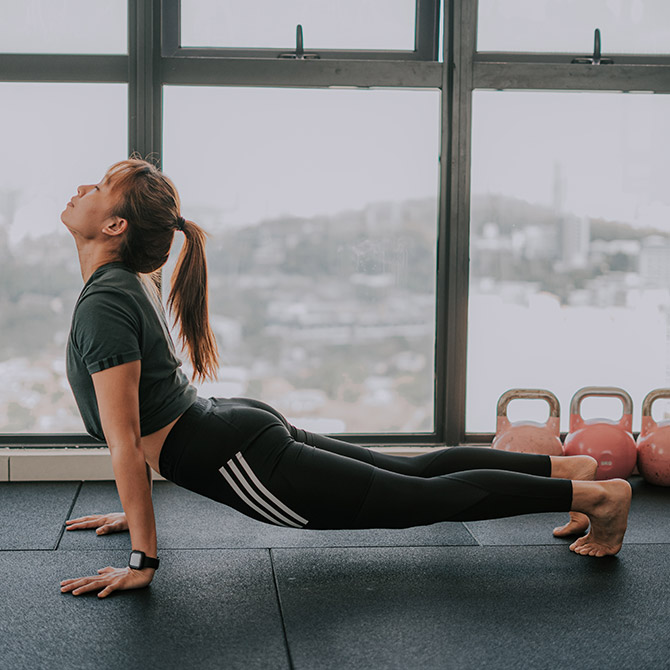 Maggy Wang: "To call it 'challenging' is an understatement but I believe this year is teaching us all a really BIG lesson. I'm currently still recovering from my surgery so I won't be able to workout or lift weights for a good few months. While I'm not able to do my usual routine or coach anytime soon, I do look forward to clocking in more jogs/runs when I finally get the green light from my doctor. Apart from that, we are currently in the midst of re-opening the Motion Lab studio. So while I'm on my road to recovery, I'll be focusing on continuing to help bring quality coaching to the community."
Siu Lim: "After MCO was changed to RMCO, I wanted to revamp my lifestyle by staying home more (laughs). This is to help with my stress levels because I felt like it was more manageable during the lockdown. The breathing feature on the Apple Watch helped remind me to take deep breaths regularly (yes, doing so makes a lot of difference!) and staying home made me reflect more on myself and my work."
Ainul, with a business selling addictive and delicious cookies (among other baking goodies), how do you balance your diet with indulgent treats and staying fit and healthy? Any advice for the rest of us who are often tempted due to our sweet tooth?
Ainul Aishah: "(laughs) A lot of people tend to be confused by me, seeing how I own a dessert business but also spend a lot of time at the gym and eat healthy too. So, first of all, I need to give a little background on this. I started my cookie business back in 2013 when I was stick-thin and didn't know a thing about fitness. It was only in 2015 that I started learning about my body and its correlation with fitness, and I've kept up with it till today. I'm not crazy about desserts but I do have a passion for cooking and baking. I understand that there are a lot of people out there with a sweet tooth. The key is to not overeat and stay on the lane. You have to know when to stop and balance it with exercise. Don't skip on healthy food too! You don't need to have a huge fitness goal but you should at least try to maintain your body weight and stay healthy. For me, I find that thinking of the consequences if we don't control our temptation helps us know when to stop."
 2020 has been a lot, and we know it has especially been so for you, Maggy. You're doing your best and that's an inspiration. What do you do in those moments when things feel like they're … a lot? And overwhelming. For anyone who's reading this and who might be looking for advice on that too.
Maggy Wang: "It has been a lot, indeed. To be completely honest, I'm still trying to process it all, especially with my recent surgery which has taken me many steps back financially, mentally and physically. Whenever I feel like it's all too much, I try to just take a pause and observe my reactions, emotions and how I interact with people. Of course, I was never this "aware"—to know what to do whenever my emotions are on a high. I have been going for mental health therapy for about two years now so that has certainly helped me cope better especially during rocky seasons.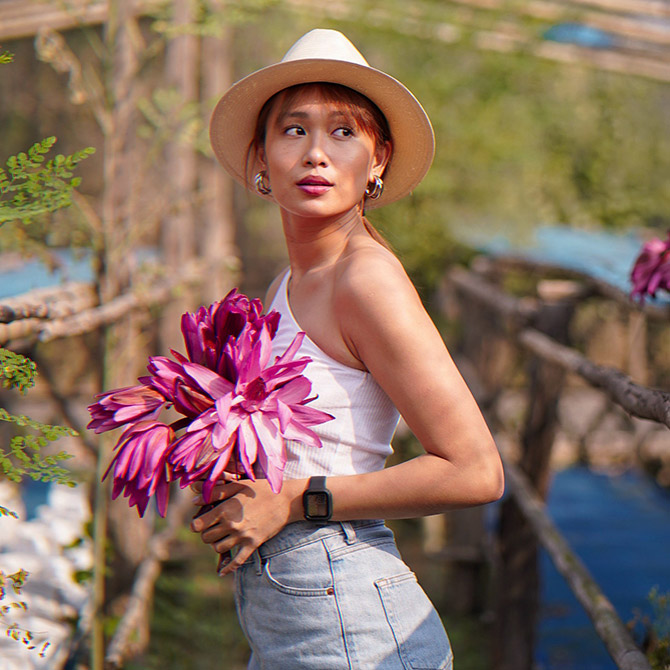 "I understand that not everybody is able to afford therapy, but having a good support system or even just a friend or someone to reach out to whenever you need a listening ear, makes all the difference. I also like penning down how I feel at the moment, sleep on it and look at my notes with a fresh mind the next day. My therapist told me, "sometimes the things that we're worried about and feel so much for are bigger in our heads than it really is in reality". And true enough, whenever I turn my feelings into words, I'm able to be more objective with my problems and emotions. There will always be good and bad days, so take it one day at a time. That's what I do."
And last but not least, Siu Lim! Most parents would say being stuck at home with the kids has proven to be both rewarding and challenging—what is your advice for maintaining one's sanity when circumstances equal less downtime to recharge?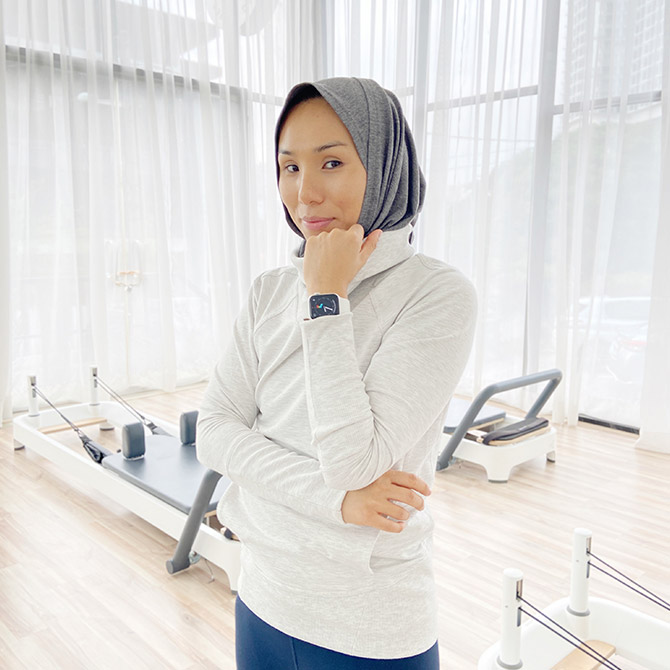 Siu Lim: "During the MCO, I stayed sane with a routine. This included time slots for when I wake up, shower, work, eat, talk on the phone with friends, do homework with the kids, cook, and most importantly… my downtime. Without a planned routine, the MCO would have been unproductive (laughs)."
| | |
| --- | --- |
| SHARE THE STORY | |
| Explore More | |