When it comes to massages, I'm generally game for it. From traditional Malay-inspired treatments to new-age-y sound therapy to Chinese gua sha massages, I've tried some pretty alternative methods. Now, add Psammotherapy, or hot sand therapy, to the list. First of its kind in Southeast Asia and only made available recently at The Spa at Mandarin Oriental, Kuala Lumpur, the treatment, however, isn't new.
The origins of Psammotherapy goes back to as far as thousands of years when it was once used by the ancient Greeks as a medical treatment for rheumatic and arthritic conditions as well as breathing difficulties. In more recent times, there's an even more interesting story. A woman who often felt pain in her lower back realised her condition improved after lying at the beach. But said beach was too far from her home and hence, her husband decided to build a bed for her with a similar effect (husbands, take note). Eventually, her lower back was completely fine. The couple went on to start a family business and a brand widely known today in the global spa industry, Gharieni.
They manufacture the hot sand therapy bed (but better than the original version, of course) and now, the Gharieni MLX Quartz bed is here in Southeast Asia, specifically in the luxurious 80-sqm Psammotherapy Suite at Mandarin Oriental, Kuala Lumpur. Despite its name, the bed does not hold typical sand you'd find at the beach but golden alpha-quartz sand instead. The bed gently heats these alpha quartz sand as it cradles the body. Generally, it's meant to help release tension, improve the body's metabolism rate as well as stimulate the lymphatic and immune systems.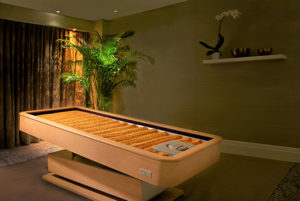 hot sand therapy bed kuala lumpur
With it, The Spa offers three treatment options: Psammo Gold Elevation (an upgrade of selected traditional and classic massages to the Psammotherapy Suite, RM180 surcharge); the three-hour Psammo Gold Serenity Ritual (the most immersive treatment, RM1,450); and one-hour-and-20-minute Psammo Gold Intensive Muscle Release (a dry massage ideal for before or after exercise, RM760). I chose the full three-hour treatment.
Psammo Gold Serenity Ritual: The experience
The Psammotherapy Suite, though part of The Spa at Mandarin Oriental, Kuala Lumpur, is actually literally a suite on a separate floor transformed into a tranquil escape. It began with a consultation with the therapist before proceeding to a foot bath and then a re-mineralising body scrub, which was first sparked off with sensory vibrations of Tibetan singing bowls. Then, it was a quick shower rinse before taking a bath soak with balancing Himalayan Sea Salt to truly destress the muscles and relax the mind for what's to come.
Once that was all sorted, the Gharieni MLX Quartz bed was warm and ready for the massage. After getting into the bed, the therapist then pushed and moulded the quartz towards my body so that it's fully supporting every inch. Don't worry though, there's a material that separates your body from the heated quartz so it's not actually touching your skin. Once I was practically wrapped and cocooned by the quartz, the therapist finally began the massage using myofascial release massage techniques.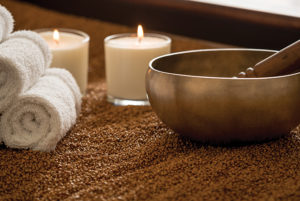 hot sand therapy malaysia
Was it uncomfortable or too hot though? Not at all. With some massages, your somewhat bare body can get a little chilly at some points due to the air conditioning—and even a headache. The hot sand therapy bed, on the other hand, was cosy; and because the quartz had been pushed to fill every gap or curve of the body, I encountered no stiffness or lower back pain as I usually would from lying down on a bed for long periods of time. I dozed off quite easily and had no headache when I woke up. It was bliss.
When the therapist moved on to give me a head massage, the bed would continue healing the body by having the quartz run up and down my lower back. It then ended with the vibrations from the Tibetan singing bowls and thus, my treatment was complete. Fun fact: The ritual used every Mother Earth energy – Earth (the golden natural quartz sand), Metal (the Tibetan singing bowls), Fire (myofascial release massage techniques), Wood (mineral body scrub), and Water (Himalayan Sea Salt bath ritual). After I changed back into my clothes, a refreshing drink and a generous platter of fruits were served in the lounge area of the suite, and the therapist gave a card containing some recommendations for the body's needs based on her earlier consultation and treatment. It was truly the full package.
Psammo Gold Serenity Ritual: The results
Personally, I don't think it did anything for my metabolism rate but as someone who constantly gets lower back pain due to my slightly curved spine, the hot sand therapy truly did wonders. My mind was more relaxed and I had a great night's sleep for several nights! But the hot sand therapy bed really did make a difference in terms of the massage experience for me. The temperature was just right and the support it gave my body during the course of the treatment was exactly what I needed for my slightly unbalanced back. A rejuvenated mind: Checked. A less tensed body: Checked. Happiness: Checked.
For more information and treatment reservations, contact The Spa at 03 2179 8772 or email [email protected].
| | |
| --- | --- |
| SHARE THE STORY | |
| Explore More | |