Beauty
Henna 101: All you need to know about its benefits, cultural significance, and more
A plant that does it all
Images courtesy of @dr.azra, @medinatrevathan, and @aarjavee on Instagram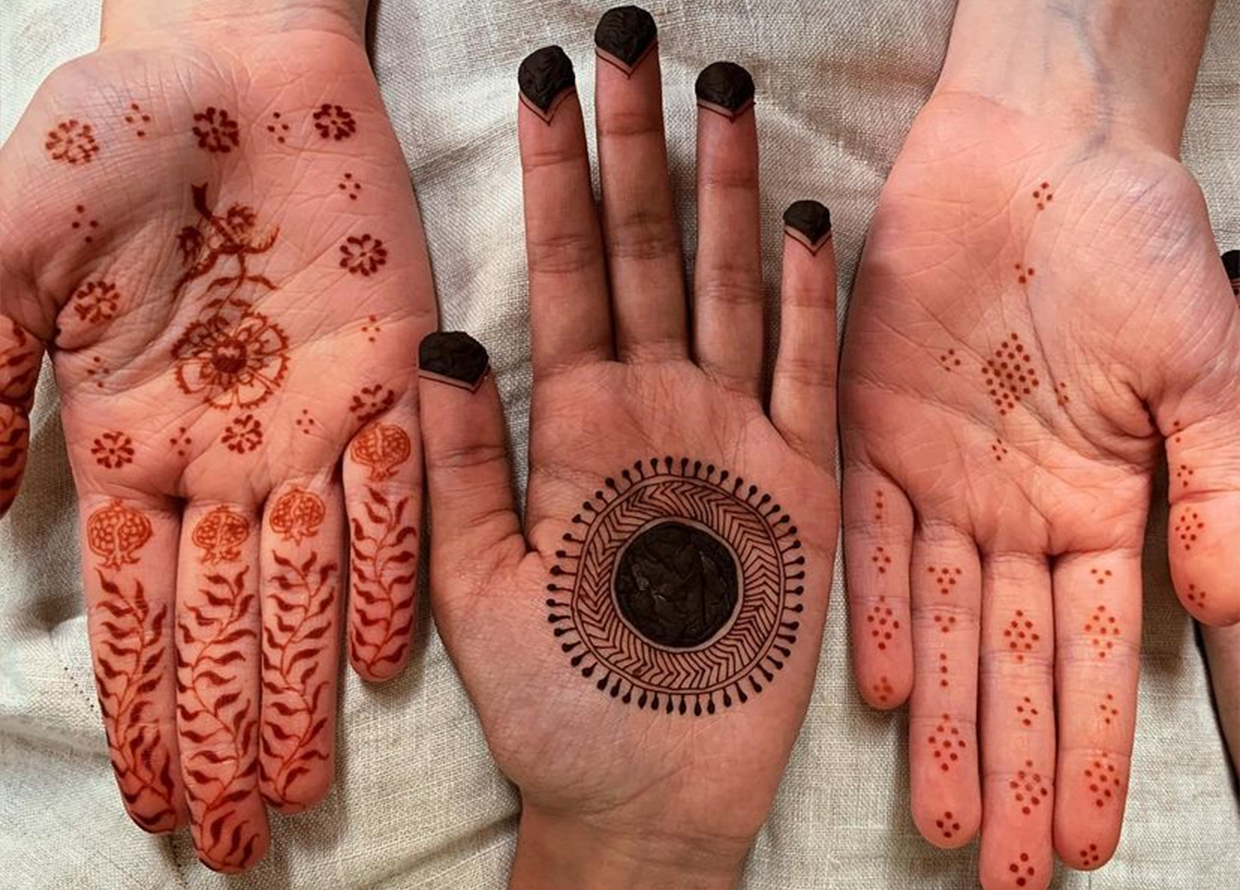 We're all familiar with henna, but do you know henna? Find out everything you need to know about the multipurpose organic dye below.
Henna, otherwise known as mehndi, has been widely used throughout the globe for countless purposes. From creating art to dyeing hair, henna has seeped into many traditions and is only growing more popular by the year. Ahead, we get into all things henna and its various benefits.
READ: 30 Stunning henna design ideas for your next special occasion
What is henna and what is it made of?
Henna is actually a shorter, more commonly used name for the Lawsonia inermis plant—also known as the mignonette tree, the Egyptian privet, or hina—which produces a reddish-orange dye in its leaves called lawsone. To make henna paste, the plant's leaves are harvested and then finely ground into powder before mixing with various liquids to achieve the desired consistency and colour.
View this post on Instagram
Every henna artist has their favourite recipe, which often includes ingredients like lemon juice and essential oils. The henna cones sold in regular markets may not be as natural as homemade henna as they most likely contain chemical ingredients for commercial use. Some brands may even include dangerous chemicals like P-Phenylenediamine (PPD) in their mix to boost its colour, which can cause severe allergic reactions or lifelong health problems when applied to the skin, according to Henna Rising. Because natural henna is red in colour, these harmful henna pastes are usually black—so avoid them at all costs!  
History and cultural significance
Although the earliest use of the henna plant is presumed to date back to around 9,000 years ago by the Pharaohs in Egypt, historians argue on its exact origins as it was used across numerous cultures in North Africa, Middle East, and India for centuries in many different ways. Archaeologists discovered that people in ancient Egypt primarily used the paste to colour their hair and nails, including Cleopatra herself who decorated her body with henna.
Aside from its aesthetic purposes, henna art is also practiced as a celebratory ritual for special occasions like Eid, birthdays, and weddings. On the other hand, some use henna for medicinal purposes as it comes with various health benefits—but we'll get more into that later!
View this post on Instagram
Of course, given its extensive history, the use of henna art is imbued with several superstitions too. In particular, Indians believe that the darker the henna's colour is on a bride's hand, the stronger her marriage will be. And if her henna art lasts longer than her groom's, she'll have an amazing relationship with her in-laws. Additionally, many traditional henna designs are also believed to hold symbolic importance such as bringing prosperity, wisdom, spiritual protection and more.
Benefits and other uses
Before henna was used for decorative and celebratory purposes, it was originally utilised as a cooling agent for people living in extremely hot climates by soaking their hands and feet in the paste. Over time, henna would be used for its many, many other benefits such as…
View this post on Instagram
Perhaps the healthiest hair treatment method out there, henna is also popularly used as an organic shampoo and conditioner. Not only does it seal in the moisture in your hair cuticles and prevents them from breaking, but it also increases the shine of your hair and promotes hair growth!
Treating various skin problems
For generations, henna has been used as a coagulant for open wounds and as a soothing agent for burns and eczema. The plant's leaves also works wonders as a topical antiseptic to treat a variety of skin conditions like infections and ringworms, as well as to reduce wrinkles and fine lines.
View this post on Instagram
While being an amazing natural alternative to regular nail polish, the use of henna for nails also helps protect your cuticles from infections and bacteria due to its antifungal properties.
Regulating blood pressure
As per Moolihai, henna is good for the heart too! If you consume henna seeds or tea, it effectively lowers your blood pressure by relieving stress in the cardiovascular system, preventing heart attacks and strokes.
Henna art aftercare
View this post on Instagram
For the best results after getting henna art, here are some important steps to follow:
Don't remove the paste for at least four hours, the longer the better.
Apply a mixture of lemon juice and sugar to seal in the paste to prevent it from flaking off.
To achieve a darker stain, keep your henna in warm areas or steam it over boiling water.
Once the paste is ready to be removed, do not wash it off. Instead, use a card to scrape off the paste and rub off the excess with oil if needed.
Do not expose the area to water for at least 24 hours. For showers, protect it with natural oils like shea butter or coconut oil—anything that doesn't contain petroleum.
Last but not least, keep it moisturised!
For more reads like this, click here.
| | |
| --- | --- |
| SHARE THE STORY | |
| Explore More | |