Most of the time, we really go all out when it comes to our #FitnessFriday episodes. Babel at Menara Ken TTDI is a gorgeous gym, no doubt, and the variety of classes would spoil any member. We wanted to do something we've yet to do for this fitness series of ours and thus, we chose Groove Thang. (Our last dance attempt wasn't the type to really break a sweat.) You'd be surprised by how much the beats and moves really worked out a sweat for us. And the best part is: It was fun.
Watch the video below to see how our Groove Thang session at Babel went—and read on for our testimonials.
Cai Mei Khoo, Editor-in-Chief
In a different life, I'd like to think I'd have the ability, agility and flexibility of a hip-hop dancer. Maybelline had great energy, and even though it was my first time at a hip-hop dance class, she was patient and clear in her instruction, which made it a lot easier to follow. My only gripe is that 45 minutes went by too quickly. It was lots of fun and I'd definitely go back till I can get my groove on.
Rating: 5/5

Joan Kong, Senior Fashion Writer
I may be a fan of Zumba and Jazzercise (don't judge!), but going for a real dance class is a whole different story. Having seen Maybelline's dance videos before, I know I'm in good hands when it comes to learning some moves though admittedly I did feel a little intimidated at first. As the team were mostly made up of dance newbies, Maybelline curated a relatively simple routine as we grooved to a mix of '90s and current music. Bad body coordination aside, I really enjoyed the class as I've always liked dance-based exercises, so getting to learn how to dance (properly) as a form of workout is great—on top of having a very patient (and fun) instructor! Spot my favourite part of the dance routine: The cool #girlgang pose at the end.
Rating: 5/5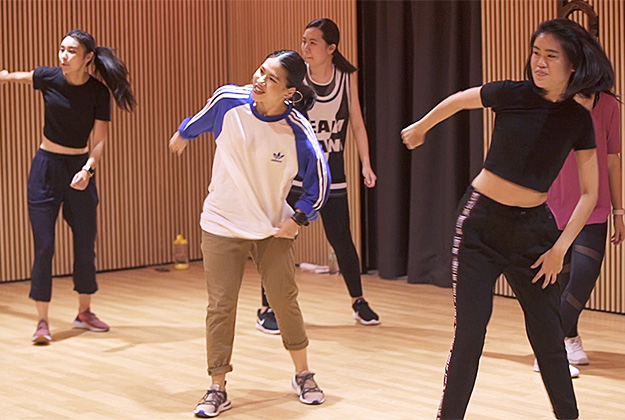 Rachel Au, Lifestyle Editor
I love to watch people dance. I don't love trying to dance. Note the emphasis on the word 'trying'. Rhythm and coordination are gifts that I'm not blessed with (though I secretly wished I could dance like those K-pop groups) and trust me when I say that with conviction. This is actually not my first hip-hop dance class. Even so, trust me when I say that Maybelline's class was fun—even for a tree-like student like myself. Out of all the dance classes available at Babel, Groove Thang is definitely the one to try if you're like me, unconfident but willing and curious. And I did work up a sweat!
Rating: 4/5

Su Fen Tan, Writer
Watching Maybelline dance always makes me go: "Ah, I wished I could move like that too". But the truth is, I always feel like I have zero groove—or swag—to pull off street dance. So I was a little apprehensive going into the class, feeling sure I was going to embarrass myself with awkward movements—maybe I did, but at least I had a good time while I was at it. One thing you can expect at Groove Thang is that feel good vibes are guaranteed. Maybelline put on some great tunes, the moves were simple enough for beginners like us to follow, and she was really encouraging too, giving us the confidence to just let go a little and have fun.
Rating: 4/5

Groove Thang is offered at Babel @ Menara Ken TDDI. For more info, visit their website, Facebook and Instagram.
| | |
| --- | --- |
| SHARE THE STORY | |
| Explore More | |