Once upon a time, edible bird's nest wasn't as easily obtainable as today. It was expensive and more of a luxurious treat, but recently, there has been an upward trend for this delectable superfood in the market, serving as both a form of self-care and a great gift. No longer are bird's nest drinks offered at that one local store, traditional Chinese medicine shops or high-class restaurants. Instead, these days, you'll find them as small businesses on Instagram and packaged aesthetically.
One of the most popular homegrown brands offering these, as they call it, "jars of nourishing goodness" is Golden Bird's Nest (GBN) and its founder, Carmen Yong, attributes the demand to the pandemic. "Due to Covid-19, people tend to choose what they consume more carefully. So they would search for products that are both traditional yet convenient for consumption. After all, bird's nest is proven to be beneficial for overall health, and it's rejuvenating," she shares with us.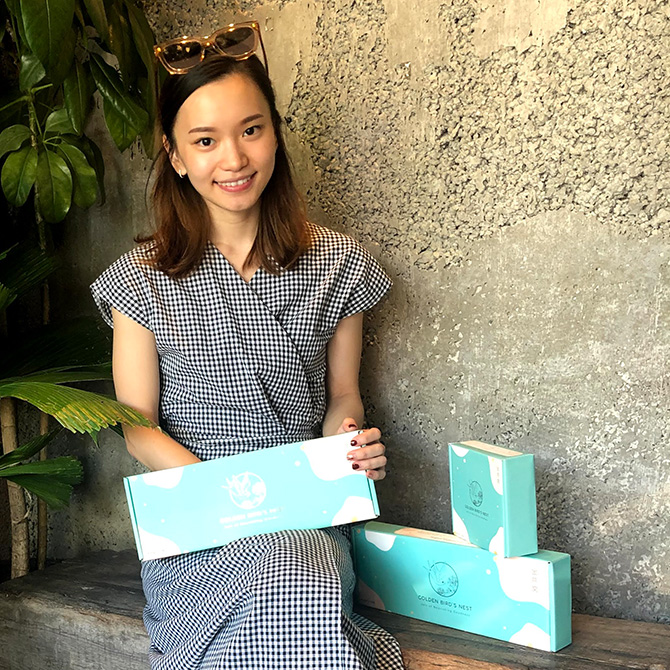 However, the first thing we had to ask was if it's true that edible bird's nest can improve one's complexion. "I do often get asked by strangers if I'm still a college student even though I'm already 30 this year. It does help to give you a youthful and fair complexion. Also, I tend to get fewer breakouts when I consume bird's nests regularly," says Yong.
"A lot of people still think that bird's nest is only for the rich, but it's affordable now. From as low as RM106, you'd be able to try our Twin Pack (two bottles) of ready-to-drink bottled bird's nest," she continues. "Our products are free from any form of chemical additives. Furthermore, we only provide pure, handpicked bird's nests without using any bleaching agents. Hence, it's safe to consume even for pregnant ladies! We've even been awarded the Best Bird Nest for Pregnancy for two years in a row."
So how did Yong end up taking the reins of managing this family business? It all began in 2014 when she and her family struggled to find bird's nest drinks in their honest-to-goodness form. "If it wasn't cloying with sugar, it was the added preservatives that lent an artificial taste to the product. My mum thought it was better to use organic sugar cane and boil our own bird's nest drinks. Whenever my friends visited, they would ask if they could buy them after tasting them!" she recalls.
"So my mum would be in charge of prepping and making the bird's nest drinks while I handled the marketing, especially by posting on Instagram and Facebook. It was only in 2016 that we started to OEM the product in the HACCP standard factory so that the bottled bird's nest can reach a wider market, whether it's people from the other states or overseas," Yong elaborates.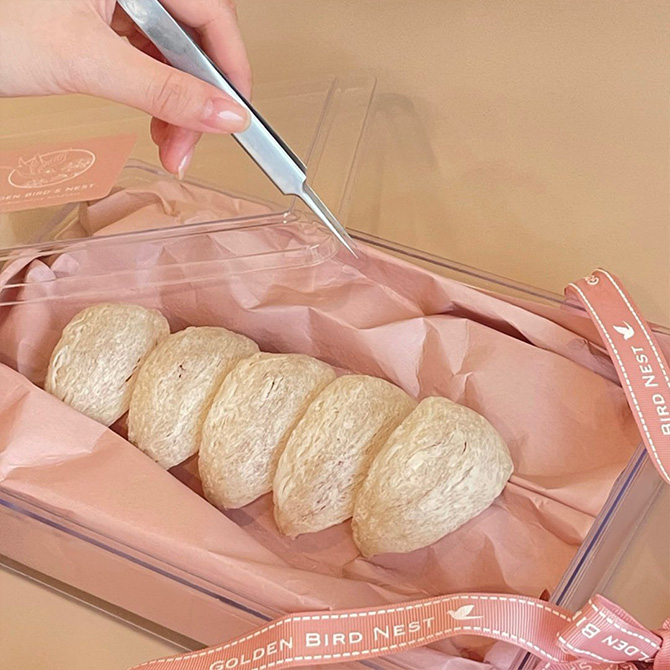 Golden Bird's Nest takes pride in its AAA-grade bird's nests sourced from a local birdhouse in Rompin, Pahang. They're soaked in purified water to wash away any residue impurities, then cooked in a retort machine and goes through five rounds of quality checks before being packaged. "We harvest the raw bird's nest from each nest house once every three to four months. It's like renting out the rooms to these swiftlets in return for their nest after their babies have all grown well. The farmers do not remove the nest if the babies are still in the nest," Yong shares.
With all that experience and work behind the scenes, who better to give us a deeper insight into the world of edible bird's nest than Yong? We gave her all the FAQs on everyone's minds to debunk and answer.
WHAT'S SOMETHING THAT PEOPLE RARELY KNOW ABOUT EDIBLE BIRD'S NESTS?
"People used to harvest bird's nests from caves, but now, it's mostly housed nearer to natural habitats such as the beach, a natural forest reserve or reservoir. Also, bird's nests aren't suitable for people who are allergic to protein. Another fun fact is that bird's nests contain sialic acid, which is the same nutrient found in breast milk!"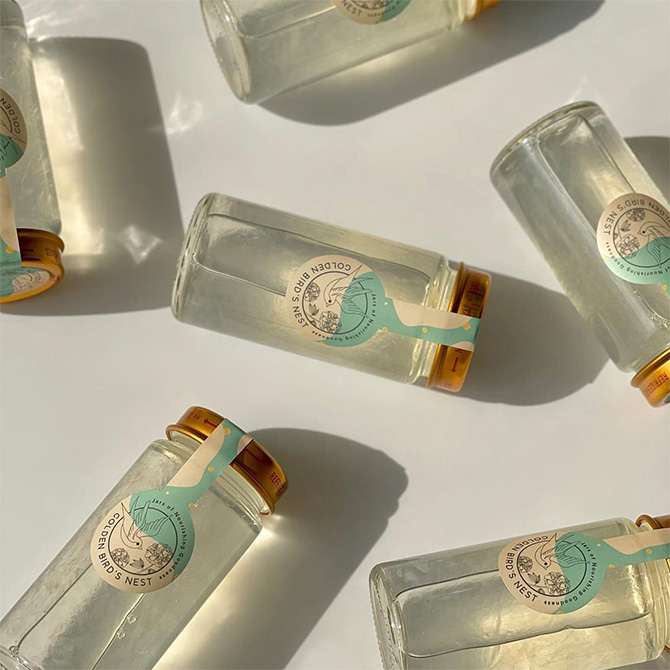 WHAT ARE SOME OF THE BENEFITS OF CONSUMING EDIBLE BIRD'S NESTS?
Boosts the body's immune system
Improves the skin's health and texture
It's an anti-ageing health/supplement food
Restores lung functions
Pregnant mothers who consumer bird's nests have been known to recover faster after delivery
WHY IS EDIBLE BIRD'S NEST GOOD FOR PREGNANT WOMEN?
Relieves stretch marks thanks to the natural collagen
Promotes the healthy growth of the foetus
With restorative properties from sialic acid, it can stimulate cell growth and increase blood supply while providing rich antioxidants to help eliminate free radicals
Promote the overall development of children
Reduce the risk of pre-eclampsia in pregnant women due to its glycine substances
Reduce stress, anxiety and fatigue as it contains tryptophan, a precursor of serotonin and melatonin
Regulates the respiratory system by cleansing the lungs
Aids in the recovery of muscles, tissues and skin due to its large amount of proline
Yong adds, "Pregnant mothers who consume bird's nests have been known to recover faster after delivery, experience lesser hair loss, and deliver healthier babies. In addition, the new mothers have more energy and enjoy a better sleep in terms of post-natal health."
WHAT'S A COMMON MISCONCEPTION ABOUT EDIBLE BIRD'S NESTS?
"That you can replace bird's nest with snow fungus. It's not true because snow fungus is 'cooling' whereas bird's nest is nourishing ('ping') and contains better nutrients like amino acids and sialic acid. Both of these can't be found in snow fungus."
CAN YOU DRINK 'TOO MUCH' BIRD'S NESTS?
"We recommend a consistent consumption over consuming too many in a day. Our body can only absorb two to three grams a day—anything extra will be excessive and eliminated. One should consume it regularly (daily)for three to four months to see the results."
HOW TO TELL IF THE EDIBLE BIRD'S NEST IS AAA-GRADE QUALITY?
"Through smell and sight. Check to see any chemical scents and note the different shades of whiteness or transparency. AAA-grade usually has translucent strands that are about three fingers in length."
WHAT ARE SOME OTHER WAYS TO ENJOY EDIBLE BIRD'S NESTS?
"There are so many! You can mix it with yoghurt, cereal, milk, or milkshakes as a healthy breakfast alternative. We've heard from some customers who mix it in fruit salads and add black goji berries. Bird's nest egg tarts are also famous for afternoon tea."
To learn more about Golden Bird's Nest and their products, check out their website, Facebook and Instagram.
| | |
| --- | --- |
| SHARE THE STORY | |
| Explore More | |