If you've never tried yoga, it's easy to underestimate it as pure stretching into simple and complicated poses where the only challenge is your flexibility. That, and its much slower pace which one would either appreciate or don't. That's just the assumption of yoga in general—it all depends on which type you choose. For the Buro 24/7 Malaysia team, we headed to Organica Lifestyle in our Lululemons, prepared for a Vinyasa Vibes session, and found out that it's nothing like the above.
Cynthia from Organica Lifestyle teaches the class and the main highlight slash difference is the use of chillstep music—her choice, not ours. Every movement flows smoothly from one pose to the next, and before you know it, you're breaking a sweat. Check out what the team thinks and watch the video below!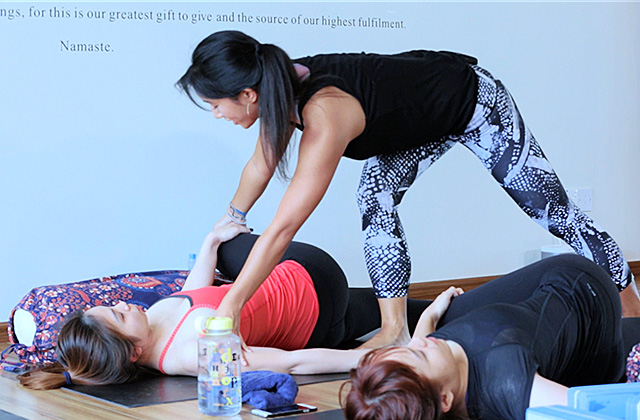 Cai Mei Khoo, Editor-in-Chief
I don't practise yoga frequently but have tried a few different styles like hatha and Bikram so when I heard about Vinyasa Vibes at Organica Lifestyle, I was intrigued. Vinyasa is essentially a branch of hatha yoga that focuses on a sequence of movements arranged in a nice flow, so instead of a step-by-step Sun Salutation, you're doing it in an almost continuous movement. The difference in this class is that the workout is done to chillstep music playing in the background, hence the 'Vibes' in its name. I found that the music helped me focus on my poses and be present in the room, where sometimes in a quiet environment, a sudden noise may disrupt your focus. If you're the type that works with music on, this is definitely a class to try.
Rating: 4/5

Wei Yeen Loh, Fashion and Beauty Writer
I haven't done yoga in ages, and the last session I went for was hot yoga where I underestimated how much I'd sweat throughout the class. Downward dogs in a stifling room isn't the most exciting prospect, to me at least. So during yoga at Organica Lifestyle, I was glad to find myself more in the zone than expected. My idea of a great yoga session comprises of 1) clear and concise instructions from the yoga instructor, and 2) a good playlist that doesn't make me want to doze off when we're working on our sun salutations. I was pleasantly surprised at Cynthia's choice of having chillstep music in the background for a slightly more upbeat vibe to the class, and she was also super professional with verbal instructions and demonstrating the right poses. I actually did work up a sweat towards the end and could definitely reach out an extra half-inch towards my toes now. Post-yoga calls for hearty smoothie at the cafe downstairs too!
Rating: 5/5

Yi Suen Chong, Digital Designer
After weeks of intense #FitnessFridays workouts, I was glad that we finally get to stretch our sore (and poor) muscles during our yoga session at Organica Lifestyle. Cynthia's choice of music was what set this class apart from the other ones that I've taken; you'd be surprised at how well trans-music and Vinyasa yoga actually go together! To be honest, though, I actually enjoy workouts that are more 'explosive' (check out our #FitnessFridays at Firestation) but i guess a good stretch is as important as being able to deadlift to achieve a balanced workout routine. All in all, Organica Lifestyle has yoga, good food (quinoa lemak!) and Sir Waffles (the fluffiest-looking dog around)-what's not to love about this place?
Rating: 4/5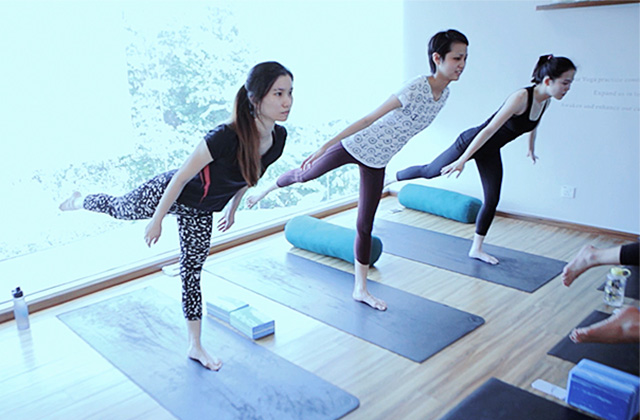 Jessica Fang, Culture Writer
When I heard we'd be doing yoga this time around, I was pretty excited. A massive contrast to all the other workouts the team had been doing, yoga always seemed so Zen and so fluid… plus, you get to sit/lie down and move slowly: perfect for a couch potato like me. But boy, was I wrong. As this was my very first attempt at yoga, it was much more challenging than I expected. Turns out the "downward dog" isn't very fun when you keep retreating into this near-agonising pose every two minutes or so. So there we were, for about an hour, holding our legs up in the air, here and there, and moving so slowly that my limbs started to shake, balancing and stretching endlessly; I felt like my joints were all cemented right into place. Plus, it was rather difficult trying to synchronise my breathing with each pose. But once I started to relax and follow the instructions without thinking about how much of a struggle it was—that's when the Zen kicked in. And it was surprisingly good, pulling myself away from all my worldly troubles for just that moment. The struggle was indeed worth it. I'd definitely do it again.
Rating: 4.5/5

Susan Lee, Digital Marketing Manager
Not to boast, but I have always been slightly more flexible than most (I was a junior gymnast) and I always find yoga enjoyable because I can pretty much do most asanas without feeling the strain. But what I would like to share is that yoga is more than just being able to do all those crazy poses you see blasted all over social media by advanced yogis. They are seasoned yoga goers and have been practising for many (many!) years. Don't be fooled by social media that all yoga classes will require you to do head stands and a Lord of the Dance pose; it is so much more than that. It helps improves your balance, blood flow and regulate your breathing, which is what this yoga class with Cynthia focuses on—which I find very important in my hectic lifestyle. What I like about yoga is that it also helps me relax my system and takes away my focus from the hustle and bustle. Do try out a yoga class at Organica Lifestyle and you will find yourself wanting to adapt to their community because it's such a calming and encouraging environment for personal well-being. Who doesn't want to feel happy and be present all the time right? Namaste.
Rating: 4.5/5

Rachel Au, Lifestyle Writer
I was pretty keen when I heard that the next #FitnessFriday workout was a yoga session. I've always wanted to try it even though I know I'm not very flexible—that, and I did try out some poses based on some YouTube videos but as the instructions weren't very clear, I looked more like an awkward duck than a downward dog. Cynthia, however, was clear in her directions and even came round to help correct our poses—I managed to at least achieve a crooked downward dog. Vinyasa Vibes is supposed to weave in your breathing and asanas to the music's tempo (love the chillstep!) but I found myself concentrating more on balancing myself than breathing in and out. It was actually a tough workout but I must admit, towards the end of the session, my muscles did feel like it had a good stretch and my mind felt more at peace. I definitely wouldn't mind doing it again (without the camera crew, maybe).
Rating: 5/5

Su Fen Tan, Editorial Assistant
I had my first brush with yoga just last year, and was pleasantly surprised that I rather enjoyed it—I thought that it will be too slow-paced to keep my interest. It turned out to be one of those workouts that might not feel like much at first, but it really works parts of your body which you'll be feeling the next day. Vinyasa Vibes at Organica Lifestyle was enjoyable not only for Cynthia's calming choice of chillstep music, but also the great view of KL behind us, which made the numerable downward dogs that much more bearable. It was great that the class comprised of a nice combination of beginner's moves as well as more challenging poses. While my body was still aching a little from the previous HIIT workout, I do like a good challenge thrown in the mix.
Rating: 5/5

Organica Lifestyle is located on Jalan Tempinis 1, Bangsar. Find out more about them here.
Related stories:
#FitnessFridays: Team workout at Fuel Athletics
#FitnessFridays: Team Xtend Barre workout at Urban Spring
| | |
| --- | --- |
| SHARE THE STORY | |
| Explore More | |