As you step into the beautiful space that is The Flow, you'll notice that everything has been thoughtfully curated to encompass your every need for a holistic experience — from the calming interior and positive vibes, to the complimentary herbal tea and juice shots, and all the amenities you might need to get ready before and after a class so you can arrive light, and leave feeling even lighter.
What better way to put the latest hotspot for yoga and pilates to test than trying out a class we have yet to do for #FitnessFridays? Watch the video below for a taste of the Reformer Dynamic class and read on for our testimonials.
Cai Mei Khoo, Editor-in-chief
The first thing that struck me about the studio is the bright, airy space — a definite plus point in my books. The workout itself was a good combination of cardio, strength, balance and a certain degree of flexibility. Exercise movements on the reformer machine were combined with props such as dumbbells and Pilates ring — don't let these 'simple' props fool you though, the ring will have your inner thighs and abs switched on and burning in no time. A great class if you're looking to tone up.
Rating: 4/5

Joan Kong, Senior Fashion Writer
Instructors and the workouts aside, one of the most important things about a gym is its interior, and The Flow has got it down pat. With its high ceiling and tall windows, the space is airy and minimal — it's really the perfect spot for a good yoga or Pilates session (plus point: you can also slot in an #OOTD shot). I was still pretty new to Pilates – this was my first class – but getting to do it on a reformer was a whole lot of fun! From the footwork to the arm circles, I loved how it works almost every muscle—it's a full body workout without being overly intense. Our instructor, Carina's clear directions definitely made it easier to follow. I've been trying out a few other Pilates reformer classes since!
Rating: 4/5

Wei Yeen Loh, Senior Fashion & Beauty Writer
Honest confession: reformer Pilates has never strike me as challenging or particularly strenuous, compared to HIIT classes and the like. But one class at The Flow and I have conceded — this workout kicks butt and I am totally sold. It helped that The Flow's Insta-worthy space made it a perfectly chill spot to train our endurance and stability. Our instructor was helpful in explaining each move and correcting our form throughout the workout. If you thought that lunges and tip toe squats were easy breezy, try doing it on a reformer — your core and lower body muscles might hate you the next day but it's all worth it.
Rating: 4/5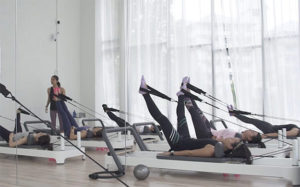 Su Fen Tan, Senior Writer
Having heard good things about reformer workouts, I was really looking forward to this class, and boy were we worked to the core — literally. Having the correct form is really important when working out on the reformer machine, so keeping the class small (each reformer class here is limited to just six people) meant that the instructor can be there to guide closely throughout the session. In Reformer Dynamic, even regular exercises like lunges and side stretches are amped up in intensity with the added element of balance, which means awareness and focus on core stability was essential from start to finish. You might not sweat as much as you're used to, but you'll definitely feel the soreness the next day — the makings of a stronger core and leaner muscles I hope!
Rating: 4.5/5
Stephanie Boey, Fashion Writer
The calming ambiance of The Flow immediately puts you in the right mood for a pilates class — the natural lighting, healing crystals and hot tea in a pot help get you centred. It was my first time on a reformer machine, and I've always been keen to try ever since I heard Naomi Campbell swears by it (have you seen the length and tone of her muscles?!). As with a regular Pilates class, you're working on core, coordination and balance, but at The Flow you have a choice of the added challenge of doing it all on a moving plank. Speed is not the goal here, it's about form and maintaining control. The moves were relatively easy to learn and you're allowed to choose the tension of the machine's springs to suit your fitness level. (Tip: The lower the tension, the easier it is on the muscles… but the harder it is to maintain control). If you prefer a slow-paced workout compared to high intensity cardio, give this a shot, but make no mistake — you will work up a sweat.
Rating: 4/5

Yi Suen Chong, Art Director
First off, can I say that I absolutely LOVE the space? It's spacious, filled with natural sunlight, and Rawsome is just next to it! #Interiorgoals aside, I have to say that the Reformer Dynamic class absolutely murdered my muscles. For someone who is not used to conditioning workout (and also a first timer on a reformer), I definitely find it challenging but at the same time, it's also super fun! The pace of the workout is not entirely fast, which is good as it makes one more aware of your movements and muscles engagement. Our instructor, Carina was really clear with her instructions, and it was easy to follow as we were lying on the reformer most of the time. Would love to go back again but I heard that it's hard to book a spot these days, so better act quick!
Rating: 4.5/5

The Flow is located at 7, Jalan Riong in Bangsar. For more info, check out their website, Facebook and Instagram.
| | |
| --- | --- |
| SHARE THE STORY | |
| Explore More | |