As we approach a brand new year, we decided to do a little mental exercise instead to refresh our minds and bodies for this month's episode of #FitnessFriday. Compared to last month's electrifying workout where currents zapped our muscles, this one has sound frequencies gently massaging them and synchronizing our fluctuating brainwaves instead. Sound Bath has been increasingly gaining popularity around the world and it's not hard to see why since it makes meditation so much easier than just sitting in a quiet room with your thoughts desperately trying to distract you. We gave it a go at Alchemie Boutique in Bangsar where the hidden gem is slowly getting traction for their Sound Bath sessions.
Watch the video below to see what a Sound Bath is like and read on for the team's testimonials.
Gwen Ong, Deputy Editor
Before heading into the Alchemie's Sound Bath session, I was in a flustered state of mind no thanks to the traffic-induced stress that had me feeling irritable and less than stellar. Perhaps, it was a good thing then that the session was all about relaxation and healing. Getting into the floating pods, I had my reservation if I could actually let go and unwind. I've never known how to quiet my mind, so with some coaxing I closed my eyes and listened to the sounds of gongs and crystal singing bowls playing in the background. It's supposed to be a "sound massage" that will bath you in vibrations and rejuvenate you from the inside out. While some of my teammates reported falling into a deep sleep, I drifted in and out of consciousness throughout the session. By the end of it, I woke up feeling parched, which is apparently normal as your body starts to detox. Though I didn't feel total relaxation, what's interesting was my mind felt light and I had the deepest sleep that night.
Rating: 3.5/5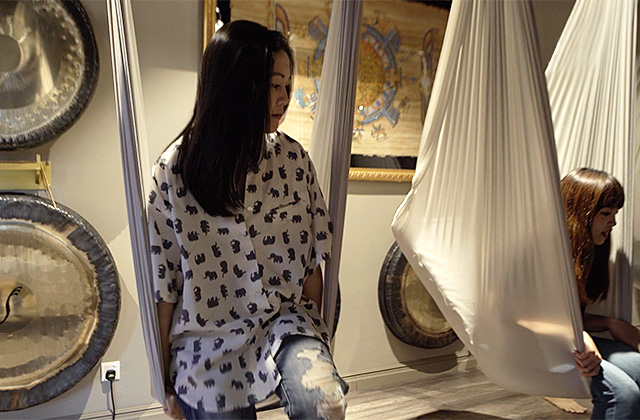 Jason Lim, Fashion Editor
Suspended in the air and all wrapped up in a comfy silk hammock, I knew I was in immediate danger of embarrassing myself by passing out hard enough to snore in the presence of my colleagues. I fought sleep for as long as I could but the wondrous combination of the hum of the bowls and the reverberations from the gongs that seemed to settle deep in my bones had me deader than a zombie in all of five minutes. But what a sleep. From that one session I have some vague moments of consciousness but was so quickly lulled back into the deepest rest—it was easily the most powerful power nap I have ever taken in my life. I woke up feeling spaced out but calm and in a good mood (I rarely wake up in a good mood, except on Christmas Day). I highly recommend a soundbath at least once a week, preferably on a Wednesday and absolutely during office hours. I will be fighting tooth and nail for said luxury as a very necessary part of my contract at my next appraisal. Also, silk hammocks should be mandatory in every workplace.
Rating: 5/5

Rachel Au, Lifestyle Writer
This is technically my second encounter with Sound Bath and based on my first experience, I knew I was going to be restless as I'm not one who can easily empty my mind and sit—or in this case, lie down—still for 40 minutes. And yet surprisingly, within five to ten minutes of settling into the hammocks (the same silk ones that are used in Fly Yoga, as Lou told us) and hearing Lou's soothing voice during the introduction followed by the gentle waves of sounds from the gongs and crystal bowls, I was fast asleep. Unfortunately, I woke up halfway to a very rejuvenated mind but also a very hungry stomach. While I felt quite spaced out after the session, I must say that I had immensely good sleep for the nights that followed.
Rating: 4/5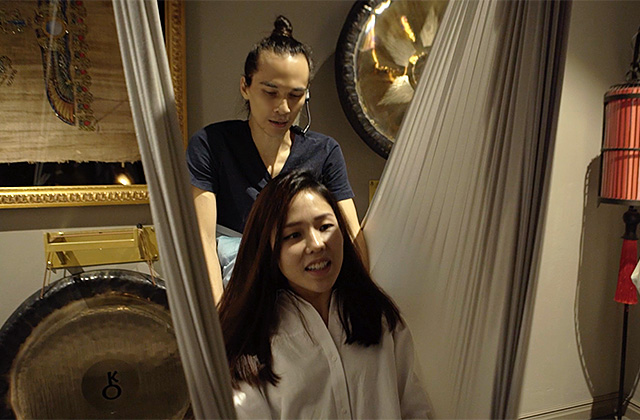 Loh Wei Yeen, Fashion & Beauty Writer
I have never experienced anything that's quite like this month's #FitnessFriday excursion. If I had to be honest, the first thought that came to mind when I heard that we were going for a Sound Bath was: "Do we literally take a bath?" Asinine thoughts aside, I was quite blown away by how transcendental the overall exercise was by the end of it. The reverberating sounds created by Lou via singing bowls and a xylophone lulled me to a comforting sleep on the silk hammock, and I woke up half an hour into the session without feeling groggy (I usually do after a mid-day nap)—and more well-rested than a regular night's rest.
Rating: 4/5

Yi Suen Chong, Digital Designer
Sound Bath is all the rage now in the US and UK and having read several articles about it, I went into the session with much eagerness to find out more about it, albeit with some reservations as well. Upon stepping into the studio, Devi gave us a warm welcome and a special tea blend before Lou introduced us to their collection of gongs and crystal bowls. As we began the session, it took me some time to relax but the feeling of Zen was soon gone when we had to climb into the hammock (you'll be able to relate to this if you have motion sickness like me). However, as we only needed to lie still, the dizziness subsided pretty quickly. With Lou and Devi playing the gongs and crystal bowls, the soothing sounds and Lou's calm voice had me dozing off before I even realised it. I woke up feeling a bit groggy—a normal occurrence as Lou explained prior to the session—but nonetheless, my mind felt refreshed, relaxed and above all, peaceful.
Rating: 4/5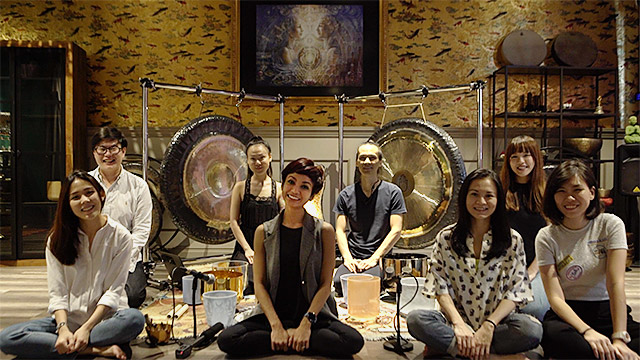 Sound Bath is available at Alchemie Boutique on Jalan Telawi 2. Check out their Facebook for more info.
Related stories:
#FitnessFriday: Team challenges Fly Yoga at Aravind Yoga Studio
#FitnessFriday: Team attempts Inversion Yoga at BE Urban Wellness
7 Things you can do this weekend: 31 December 2016 – 1 January 2017
Source: https://www.buro247.my/lifestyle/health-fitness/strike-ride-firestation-fit-gym-mont-kiara.html
| | |
| --- | --- |
| SHARE THE STORY | |
| Explore More | |