After last month's Fly Yoga challenge, we decided to go for another round of unique yoga session in this month's #FitnessFriday—Inversions and Arm Balancing Yoga at BE Urban Wellness. "It's a different approach," as Nor Soraya, the instructor of the class, describes it. While Fly Yoga requires you to depend and trust in the silk, this class will be using your arms and strength to carry your weight as you try to do headstands and the like—which is possible. With practice, we learnt that you'll build a stronger core and better arm strength. Check out the team's reviews and watch the video of our session below.
Source:https://www.buro247.my/lifestyle/health-fitness/fitnessfriday-team-challenges-fly-yoga-at-aravind.html
Cai Mei Khoo, Editor-in-Chief
For someone who doesn't practise yoga on a regular basis, the thought of doing inversions or arm balances is almost non-existent for me, so I found Soraya to be very patient and articulate in the way she teaches yoga. Unlike a regular yoga class, Soraya focuses on specific poses like the crow pose and breaks it down so even yoga newbies may attempt an inversion on their first class (although this is of course not the main goal of the class). Now all I need is the discipline to practise daily and I should be able to nail a headstand by next weekend.
Rating: 4/5

Wei Yeen Loh, Fashion and Beauty Writer
I've to admit that hearing Soraya welcome us to her "Inversions and Arm Balancing" yoga class before we started might have incited a feeling that was remarkably close to terror in me. But my fears were quelled along the way as she educated us about everything (and more) that we needed to know about embarking on our first headstands and Bakasanas, such as the importance of shoulder protraction, breathing properly, and gazing upwards. While I might need to seriously work on my arm strength, I'm glad to have learnt a lot from the class and Soraya herself—successful Bakasanas aren't merely a distant dream in my books anymore!
Rating: 4/5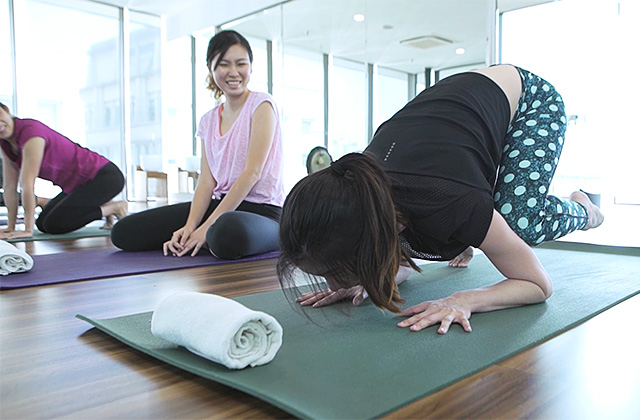 Yi Suen Chong, Digital Designer
I've been doing yoga on and off over the past few years, and I have to admit, when it comes to inversions (read: headstand), I always have that fear and uncertainty. With Soraya's class however, it was another story. She was really patient in guiding us throughout the class, and I found her lesson to be very educational as she always furnished us with extra information and tips on achieving each pose. By the end of the class, I had managed to do a baby Bakasana (personal achievement unlocked!) and I believe that with more practice, a full Bakasana will soon be within my reach. I have yet to conquer my fear towards inverted poses, but hopefully one day, I'll be able to achieve them with no sweat.
Rating: 4.5/5

Rachel Au, Lifestyle Writer
I thought Fly Yoga was tough, but then again, I thought I was pretty strong too. However, BE Urban Wellness' Inversions and Arm Balancing Yoga class is tougher; and my arms are weaker than I thought. The breathing exercises felt really good because most of us are probably usually not mindful enough to take deep breaths. The minute Soraya introduced the Bakasana (both the baby and adult version), I was mindblown. It looked really cool but no matter how I tried, my arms couldn't support it (I could hear myself silently nagging that it's really time I start working out regularly) and with my lack of flexibility, it was difficult to even accomplish the first few steps before the final pose. Still, Soraya (and her personal yogi journey) makes me believe that it's all practice and nothing is impossible. So… one day. One day.
Rating: 3.5/5

Su Fen Tan, Editorial Assistant
As we were all beginners of Inversions and Arm Balancing Yoga, it was understandable that there wouldn't be a lot of poses that we could actually do. But that doesn't mean we can't try and with the patient and helpful guidance from Soraya, I went from not being able to do the Bakasana to managing an almost baby Bakasana̛—achievement unlocked! I thought it was a great introductory class and Soraya was extremely informative; I liked how she broke down the fundamentals, which was everything from the breathing exercises to always remembering to be mindful about our postures. After the session, we went home with plenty of tips and exercises that we could practise at home to strengthen our arms and cores. It felt like with a few more classes, the Bakasana will soon be a possible term in my dictionary.
Rating: 4/5

BE Urban Wellness is located at Work@Clearwater in Damansara Heights. Find out more about them here.
Related stories:
#FitnessFriday: Team challenges Fly Yoga at Aravind Yoga Studio
#FitnessFridays: Team tries Vinyasa Vibes yoga at Organica Lifestyle
| | |
| --- | --- |
| SHARE THE STORY | |
| Explore More | |