The Buro 24/7 Malaysia team fought last month so this time, we decided to Forge. Fort is a relatively new boutique gym that offers a few house programmes and one of them is a 45-minute full body workout that simultaneously targets specific muscle groups. It requires a few functional tools and though the workout is set at intervals, you'll feel the burn before the class is even over.
Watch the video below to see our Forge session at Fort—and read on for our testimonials.
Gwen Ong, Deputy Editor
I was not prepared for my arms and legs to tremble when I stepped into Fort. But I should have my alarm raised when we were told to gather some weights and board for our session of Forge. The class put us through various upper and lower body workouts that had me really feeling the burn. It was challenging but I appreciated that the session was broken down into short, manageable intervals with a countdown timer so you can keep track of how many reps you're doing and when to speed up if you're up for it. I left Fort that day with a good kind of sore I haven't felt in a long time.
Rating: 4/5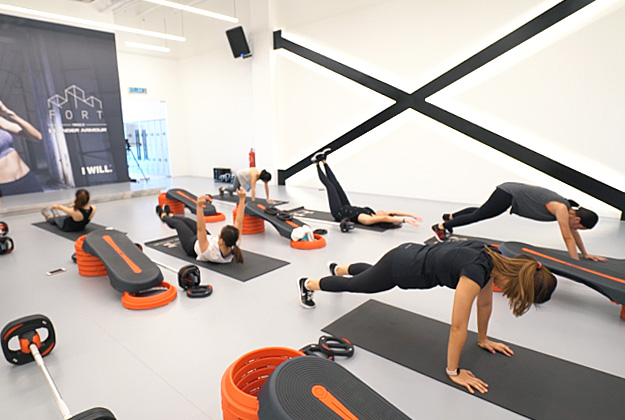 Rachel Au, Lifestyle Editor
Any workout that involves moving Jumping Jacks will be the death of my leg muscles. I know; it's hard to believe considering I'm into spin classes (and do it quite regularly too!). Since it was a full body workout, my legs were close to turning into jelly even before the mid-way mark of the class. That aside, the other component of Forge is that it uses weights but gives the option of how heavy you want them to be. I'll admit that I caved and took the 1kg ones (technically 2kg in the end since you put one on each end of the bar)—but hey, lifting weights as fast or as many times as you can in two minutes is hard work! Not my favourite kind of workout but it definitely is a challenging one.
Rating: 3/5

Joan Kong, Senior Fashion Writer
If you've read my previous testimonial, you'll know that my #NewYearNewMe attitude is in full swing. Not knowing what to expect, the Forge class at Fort turned out to be a strength and endurance-based workout—definitely not my forte (no pun intended), to be honest. While I struggled with some of the moves (bench press especially), I loved how Prudent encouraged us to go according to our own pace, and with weights that we're comfortable with. I'll be back to try out other classes next!
Rating: 3.5/5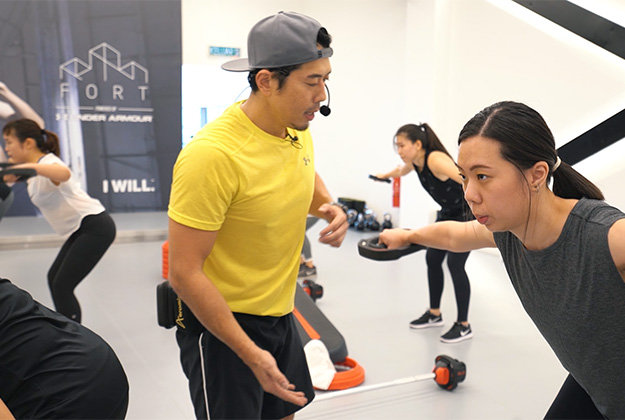 Wei Yeen Loh, Fashion & Beauty Writer
For someone who loves HIIT classes (coupled with light weights for good measure), Forge at Fort was right up my alley. The class started out with Prudent giving helpful tips on specific moves so that we don't jeopardise our form. While the pace was kept at a steady (yet quick) tempo, I like that most of the moves targeted specific muscle groups. Throw in a couple of weighted lunges, barbell shoulder presses and mat exercises—that basically killed my abdominal muscles—and we were done for the day. Definitely recommended for anyone who's up for a fast-paced, sweaty workout—and if you don't mind feeling the burn (the good kind) the next day.
Rating: 4/5

Yi Suen Chong, Art Director
If you're like me, who got frustrated with big, conventional, franchise gyms (be it with the fees or the management), Fort could be your next best choice. The workout that we did was called Forge, which in my opinion, is quite similar to Les Mills's Body Pump but a more intense version. We started with strength training then ended with a series of cardio and core movements, ensuring we worked our muscles from head to toe. And since the classes are catered to a smaller group, I feel that we could actually benefit more from the workout as the instructor's attention is constantly on you. Prudent was helpful and provided a lot of guidance throughout the whole session. What I like about the workout is that it's totally adjustable to your desired intensity by adding or reducing weights. Judging by how sore my muscles were a few days after our session, I would say that Forge definitely kicked my ass.
Rating: 4/5

Forge is offered at Fort in Tropicana Avenue. For more info, check out their website, Facebook and Instagram.
| | |
| --- | --- |
| SHARE THE STORY | |
| Explore More | |