Back in 2016, a certain new gym came into the scene promoting spin classes in a LED-lit room. It was refreshing for KL folks thus starting a new trend—one that has stayed on until today. Since then, Flycyle has grown in heaps and bounds, leading to the founders' vision to expand. Not just in terms of size or opening a second outlet, but creating a synergised brand with more workouts to offer. The result is Flyproject at DC Mall, offering Flylab and Flyfight. The latter is a rhythmic boxing class with some HIIT (and some dance moves) weaved into the routine. For now, the workout might seem fairly easy for some but founder Jason Choong explained the strategy is similar to when they first launched Flycycle. They want people to get used to their classes first before introducing more advanced levels. The Buro 24/7 Malaysia team is a group of people with varying levels of fitness so our review session was a great way to test that out.
Watch the video below to see what a Flyfight class looks like and read on for our testimonials.
Cai Mei Khoo, Editor-in-Chief
You might have already seen the space on Instagram—in reality, Flyproject is just as cool as it looks in photos. The minimalist space features two studios, and for this episode of FitnessFriday, we tried out Flyfight. I've been to a few boxing classes elsewhere and felt that in comparison, Flyfight felt more 'choreographed' because we had to move to the beat, similar to at Flycycle. While it was a good cardio workout that had me sweating buckets, it was perhaps more of a beginners level than I'm used to (or maybe I'm just competitive?) That said, I'm sure in time, Flyfight will be offering more classes for intermediate/advanced Flyfighters. Definitely a great class for those wanting to get some boxing into their fitness routine.
Rating: 4/5

Gwen Ong, Deputy Editor
At the office, I'm known as Zen Gwen—I think simply because my name rhymes with the word. But the truth is I'm far from zen; I have my moments and days when I really just want to hit the wall and vent my frustration. I've not found a way to do so that will not warrant a warning letter. But now rather than suppress my emotions, I know I can let it all out at Flyfight—the workout that combines boxing with a little bit of dancing. The choreographed moves can be a little confusing for someone who doesn't have the best coordination around, like yours truly, BUT what a relief it is to channel the energy into the punching bag and throw a mean punch or two. Yes, I do have issues.
Rating: 4/5

Joan Kong, Senior Fashion Writer
I've vowed to exercise more regularly this year as part of my #NewYearNewMe resolution so to be honest, I was actually really looking forward to this workout. Having been to a Flycycle class before, I kind of knew what to expect in terms of exercising to the beat. However, as Flyfight was my first boxing class ever (does Taekwando sort of count?), it was still an unfamiliar territory. Thankfully we started with the basics, so I still managed to get a good and enjoyable workout. My favourite part was when we went all out on the punching bag at full speed and intensity—it was a good stress-reliever, for sure. I'll be back if I'd like to build my upper-body strength!
Rating: 4/5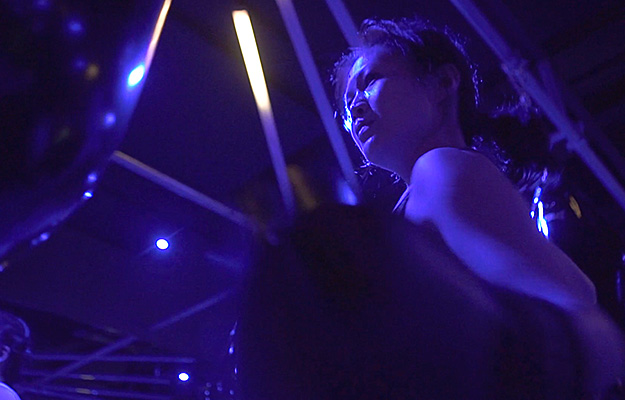 Rachel Au, Senior Lifestyle Writer
Out of all the #FitnessFriday sessions we did in the past, only one gym managed to win my unwilling couch potato heart to sign up and work out there regularly. Yes, everyone on the team was 'shook' and yes, that was Flycycle. However, I realised I did quite like boxing classes too so Flyproject's introduction of Flyfight couldn't be more timely. Unlike the other ones we've tried, this one is seemingly less serious since there's a music element to it (to help get your mind—and muscles—off the hard work). You hit according to the beat. In between, there are high knees and a minute or two of jogging on the spot. They HIIT my weakness and my enthusiasm dwindled a little. Then there's the fact that I'm horrible at coordination. His right confused my left, and I ended up doing my 1, 3 and 5s (they number the boxing patterns) in opposite directions. That's not to say I couldn't do it at all. I was just slower in catching up and once I got it, it was a thrill. I was sore by the afternoon (is that a sign I did it wrong or too passionately?). I'll be back for a second match.
Rating: 4/5

Yi Suen Chong, Art Director
I have been frequently going to Flycycle ever since we did our previous #FitnessFriday there. What I like about their routines is that it's always rhythmic-based so I was pretty excited to try Flyfight out as it's the first rhythmic boxing in town. To be honest, I've never been a big fan of boxing but Flyproject's class sure changed my mind. As we boxed along to the pumping music (and within such a great atmosphere—those glowing lights!), it added elements of fun and got us sweating buckets in no time. However, I do have to say that it wasn't as intense as I had imagined it to be so I'd say it's perfect for beginners if you're worried about keeping up. They'll have advanced classes in the future so I'll definitely be back for more then.
Rating: 4/5

Flyfight is offered at the new Flyproject in DC Mall. For more info, check out their website, Facebook and Instagram.
| | |
| --- | --- |
| SHARE THE STORY | |
| Explore More | |