You might have noticed a surge of boxing classes in KL in the past year, and understandably so. It's a full body workout that really tests your stamina, strength and speed. Despite the tough competition around, co-founder Christian (or Chris) Lee told us in our #BuroAList special on fitness entrepreneurs that there are a few things that set Tribe apart from the other boxing studios. Thus, we had to head to the studio and put it to the test. The results? Well, watch the video below and read on for our testimonials to see how we fared.
Gwen Ong, Deputy Editor
Ever since I got my first taste of boxing in a previous #FitnessFriday session, I've come to realise that I actually do enjoy throwing punches. I find it to be a good overall release when you're having a bad day or you just want to have a great top to toe workout. The class at Tribe with Chris got me sweating buckets as if I was in a real boxing match. He had us working our upper and lower body in a series of timed exercises that will really leave you feeling the burn. While I still need to work on my 'jab-jab-cross' coordination and my 'twist and turn' stance, I will not hesitate to return and be part of the boxing Tribe there.
Rating: 4/5

Rachel Au, Lifestyle Editor
I've always loved workouts that keep my mind distracted from how tired I feel and thus, boxing was surprisingly one of them. My only issue is that I'm bad with coordination so trust me when I say Christian's instructions, and the way Tribe teaches their combos, were very easy to follow — but also very intense. The routines kept varying while the pace constantly kept me on my toes. At the end of the session, I might have finally had a taste of endorphins, and the day after, my usual dose of post-workout soreness.
Rating: 5/5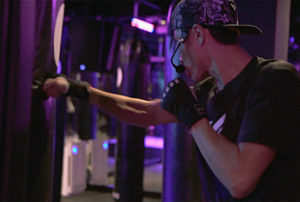 Joan Kong, Senior Fashion Writer
My newfound love for boxing saw me trying out different gyms since my first taste (or should I say, first punch) earlier this year, and I'm glad to say that most of them did not disappoint, including Tribe. Having been to the other instructor, Emilio's classes twice before, I was already familiar with the concept and pace of each session. However, this was my first class with Christian. Aside from his clear instructions, I liked how he incorporated different workouts such as squat jumps and sit-ups in between the sets for a more well-rounded routine. The playlist was great too, which definitely made the class more enjoyable. I worked up a good sweat that day and was terribly sore the next, but I'll be back for more!
Rating: 5/5

Wei Yeen Loh, Fashion and Beauty Writer
Boxing isn't usually my go-to workout — there's something intimidating about the moves and also, there hasn't been a boxing class I've been to that didn't result in my hands smelling absolutely fetid (I should probably get my own gloves). But, one class at Tribe and I'm a convert. The adrenaline-pumping moves were fun and fast-paced, and I think it's a great outlet for you to vent (or punch something) for stress relief purposes. The best part? You get to burn a lot of calories in an exhilarating way. The HIIT part was a killer — if you're cool with pulse squats as a form of recovery, this one's definitely made for you. P/S: My hands didn't stink after class too, so one extra point goes to that.
Rating: 5/5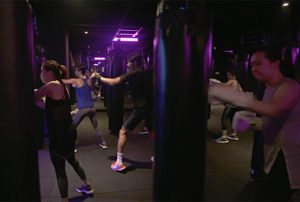 Su Fen Tan, Writer
Having had a great first class at Tribe just last month, I went into this #FitnessFriday session expecting a good sweat — and Chris' class did not disappoint. It hit the sweet spot with a nice balance between boxing combinations at the punching bag and HIIT exercises off it, so you get in some squats, planks and the likes for a total body workout, heart-pumping music included. One of my favourite stress-relieving workouts for sure — I'm already looking forward to going back for more.
Rating: 5/5

Yi Suen Chong, Art Director
The workout at Tribe was not like any ordinary boxing classes. It's a full body workout that incorporates a lot of HIIT movements. Think throwing several combos of punches then stopping halfway for a series of squats; or imagine a whole four minutes of just doing a variation of planks. We were in for a wild (cardio) ride. Chris was really clear with his instructions, and the mixture of the workouts that he provided was a killer set, making sure that we worked out from our head to toe. The sped up combos were ultimately the death of me.
Rating: 4.5/5

Tribe Boxing Studio is located at Lot LG5-3 Arcoris @ Mont Kiara. For more info, check out their website, Facebook and Instagram.
| | |
| --- | --- |
| SHARE THE STORY | |
| Explore More | |