Body + Wellness
7 Beauty-related questions to address if you're working from home (and have time on your hands)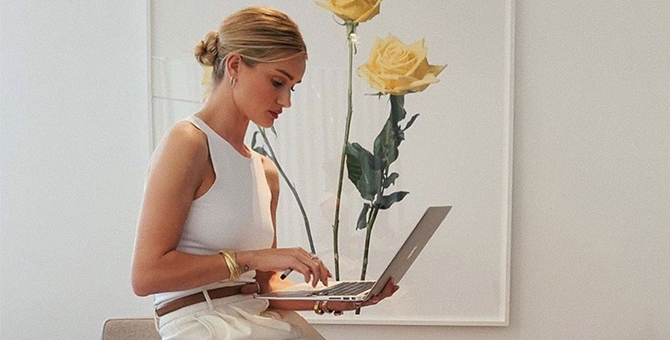 Now that the government has officially imposed a movement restriction order from March 18 to 31, we're officially shacking up at home (with enough essentials, tqvm)—and realising that we've got pockets of free time that we can further explore our beauty routines with.
While working from home shouldn't mean that you can choose to shower later in the day (or not at all, which is gross), here's a couple of burning beauty-related questions that we've taken the liberty of answering in case you start having ballsy ideas about bleaching your hair from home:
Q: Do I still need to shampoo my hair since I'm not leaving the house?
A: Working from home doesn't automatically mean that you should regress to Neanderthal-ian instincts. Yes, it's almost tempting to stay behind your laptop screens in comfy sweats without heading to the shower first. But let's not forget to shampoo on a daily basis (or alternate days, at the very least) to ensure that our scalps stay as clean as our hands.
While it's true that your hair and scalp can adapt to your shampooing routine (or lack thereof), it may take more than a pair of strong nostrils to get past the icky phase—the buildup of dirt, grime and everything else.
Bottomline: Shampoo for the sake of your mane, or use dry shampoo if you must.
Q: I can keep my hand-washing to a minimum now that I'm stuck at home. Or can I?
A: Unless you've literally been stuck in the same position for 12 hours now without going to the loo, eating, or touching anything else (even your face/hair/body)—then no, you still have to wash your hands.
In case you need a clearer picture of when you should be washing your hands, here's a helpful guide on before/after scenarios. If you're worried about cracked skin from the constant lathering, score these liquid hand soaps that won't dry your palms out, followed with hand-care solutions to seal the moisture in.
Q: I can go without makeup for days now—what does my skin need?
A: Real talk—one *good* thing we're gleaning from this work-from-home situation is that our skin can take a break from makeup.
There's no better time than now to go foundation-free—better yet, you have more time to wear those sheet masks as you're working away on your laptop. Stick to your usual skincare routine and don't forget your sunscreen for good measure (more below in our next point). Tip: Chuck some of your beauty faves in the fridge to treat your skin in this sweltering heat.
Q: Who needs SPF when one is working from home?
A: A piece of advice for anyone who thinks SPF is only for the outdoors: newsflash, it isn't. Wear sunscreen at all times, even if it means you're indoors as well. Did you know that UVA rays can penetrate glass and cause premature skin ageing? Unless your WFH situation constitutes working in a basement with no windows in sight (which is pretty bleak, tbh), slap on sunscreen to better protect your skin.
Q: How do I restock my beauty supplies?
A: If it's not urgent enough for you to leave the house for, stay home and shop for your needs online. One-stop sites including Sephora, Kurator and Althea are where you can score your skincare and makeup essentials from; not forgetting a slew of other brands who have rolled out e-commerce channels for you to conveniently shop for your must-haves, including Clarins, M.A.C Cosmetics, Kiehl's, L'Occitane and more.
Q: BRB, catching up on YouTube tutorials—where do I begin?
A: You're in luck—hit up all the right vloggers to learn more about makeup, skincare and the like. Our playlist includes skincare guru Liah Yoo for useful skincare advice, Pony Syndrome for the best K- beauty #lewks, and Matilda for ASMR-esque flatlay reviews.
If you're feeling adventurous—and have a Dyson Airwrap Styler at your disposal—learn how to style your locks under 10 minutes; or finally get a hang of your brows with our useful brow guide here.
Q: I may have time for that scrub-down session I've been putting off for months. But how do I start?
A: Good on you for finally taking a first step to baby-soft skin. If me-time is what you're planning to indulge in, here's what you can do: check out our nifty neck-to-toe guide here on how to truly pamper your skin.
Find yourself running out from body scrubs and butters at home? Worry not—combine brown/white sugar and coconut oil for an indulgent exfoliating scrub. Alternatively, make full use of coffee grounds by adding 'em to the above combo and a dash of vanilla extract to improve blood circulation while sloughing away dead skin cells.
| | |
| --- | --- |
| SHARE THE STORY | |
| Explore More | |