When a timepiece is launched (literally) by being thrown against a bullseye target with no holds barred, you know it takes its shock-resistance claim seriously. That was how we were introduced to the latest additions to the G-Shock family, the GA-2000 and GWR-B1000 Gravitymaster, two new shock-resistant collections with the new ultra-tough, ultra-lightweight Carbon Core Guard structure at their cores.
Third generation of toughness
Of course, the watchmaking world is no stranger to the use of carbon fibre. Made by combining the lightness of resin and the strength of carbon, carbon fibre is known to be incredibly robust and lightweight, with strong resistance against thermal change and deformation—which is why it is commonly used in the aerospace industry as well. Casio harnesses these properties to create the new Carbon Core Guard structure, taking G-Shock's shock-resistance calibre to the next level.
First up, the GWR-B1000—the lightest Gravitymaster yet. One glance and you will probably recognise the use of carbon fibre by way of the distinctive textured pattern of the bezel, rendering it both tough and beautiful. Pick it up and you will marvel at the lightness of the timepiece, thanks to the carbon monocoque case that is made from carbon fibre-reinforced resin. The ultra-tough case bears a modified plate that holds the circuit board in place—this inhibits direct impact to the button shaft and circuit, thus eliminating the need for button guards. The Triple G Resist (shock-, centrifugal force-, and vibration-resistant) construction is complete with a carbon-fibre insert strap.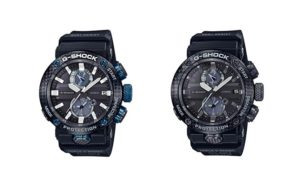 G-Shock Gravitymaster GWR-B1000, RM3,999
Available in blue/black and grey/black colourways.
The Carbon Core Guard structure is also utilised in the new GA-2000 timepieces. A more casual option for the urban adventurer, the analog-digital model is fitted with a carbon fibre reinforced resin case and a dual-layered caseback (stainless steel and resin glass fibre) to protect it against shocks. Fun fact: it is the first G-Shock in which the bands can lay completely flat with the case. The colourful resin bands can also be easily switched out with a push of the slide lever to the back.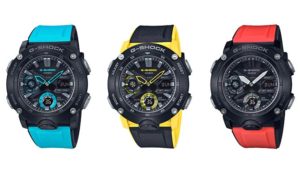 G-Shock GA-2000. The blue and yellow versions retail at RM579. The red version is a limited edition and comes with two additional bands in black resin and green fabric at RM799
Available in blue, yellow and red colourways. 
| | |
| --- | --- |
| SHARE THE STORY | |
| Explore More | |